The new MacBook Air is cheaper and faster, but is it worth buying?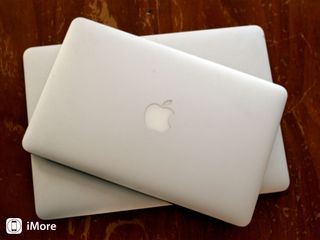 On Tuesday Apple quietly released a new version of the MacBook Air with an upgraded processor and a lower price. Is the refreshed MacBook Air worth getting? Let's take a look.
On a scale of mild to wild, this upgrade is squarely on the mild side: clock speed has been improved by 100 MHz from 1.3 GHz to 1.4 GHz, which gives a modest, almost negligible bump in performance.
Overall graphics performance remains the same — the Intel i5 processor that Apple uses in the refreshed MacBook Air has the same graphics operating at the same speed as before. Other specs like Thunderbolt, USB 3.0, 802.11ac Wi-Fi and Bluetooth 4.0, are unchanged. The MacBook Air keeps 4 GB RAM and 128 GB flash storage in its base configuration, so memory and storage remain unchanged as well.
Battery life remains at an estimated 9 hours between charges for the 11-inch model, 12 hours for the 13-inch model. Apple says that power efficiency for iTunes movie playback has improved with this new CPU bump, however, if that's important to you.
More affordable than ever
What Apple has done, however, is to drop the price of both base models by $100. This means you can pick up an 11-inch MacBook Air for $899, while the 13-inch model will set you back only $999.
Since Apple's Retina MacBook Pro refresh last fall, Apple's 13-inch laptops have been the most crowded product segment of the Macintosh line — up until yesterday, the 13-inch MacBook Air, 13-inch MacBook Pro and 13-inch MacBook Pro with Retina display were separated by $200: $1099 for the MacBook Air, $1199 for the MacBook Pro and $1299 for the Retina MacBook Pro.
This created confusion for many Mac customers not intimately familiar with the technical differences between systems. They were faced with a what seemed to be a perplexing array of choices. For the uninitiated, the mix of CPU speeds, features, and storage options seemed bizarre: A 1.3 GHz laptop, followed by a 2.5 GHz laptop with four times the storage, followed by a 2.4 GHz laptop with the same storage as the system on the other end of the spectrum.
Adding some breathing room
That $100 drop gives the 13-inch MacBook Air a little headroom to differentiate itself from the MacBook Pro line. It also drops the tiny 11-inch model squarely into the high end of the Ultrabook price range. Apple doesn't compete on price with the Mac compared to the much more commodity-priced Windows PC (and now Chromebook) market, but it has made the 11-inch MacBook Air a more palatable choice for budget-focused Mac customers.
Refreshing the MacBook Air now suggests that Apple won't touch the line again in June when WWDC rolls around; WWDC was Apple's venue to refresh the line in 2012 and 2013. Intel's still working to get its delayed Broadwell processors out the door, so it's no great surprise that Apple's providing a modest bump to the MacBook Air now.
As an aside, I find the standard 13-inch MacBook Pro still the odd man out in this revamped product matrix. It hasn't been refreshed since 2012 and I don't think it will be again, simply because it doesn't reflect Apple's current design or performance aesthetic.
Even though it's squarely two-year-old technology and showing its age, the 13-inch standard MacBook Pro remains a popular seller with many Mac buyers. It's the only model left in Apple's entire Mac line that still has an internal CD/DVD drive, and the 500 GB of storage capacity make it a popular option with digital pack-rats concerned that the 128 GB of speedier flash-based storage just won't be enough.
Despite that, I'd be very surprised if the standard MacBook Pro survives the year. Apple's expected to be adding another MacBook somewhere in the line this year; right now the odds-on favorite among the rumor sites is a 12 or 13-inch MacBook Air with Retina display. A new Mac laptop in the mix would be another nail in the coffin for the venerable standard MacBook Pro.
Who should get the MacBook Air?
If you're looking for Apple's lightest, most portable laptop, the MacBook Air is a better value than ever before. The refreshed processor isn't that much of a draw — it's the new lower price that's key.
Obviously if you have a 2013-era MacBook Air, this mild update isn't really worth jumping ship for — the performance update is negligible, and I doubt many Mac users will want to upgrade last year's model just to get improved battery playback while watching iTunes movies. Having said that, if you have an older MacBook Air and you're thinking about a replacement, now may be the right time, unless rumors of a Retina display-equipped MBA come to pass.
The 11-inch MacBook Air may be a bit too small for some users; I could never get mine to fit comfortably on my lap without awkwardly locking my knees together, for example. Having said that, the 11-inch MacBook Air still has a full-sized keyboard and trackpad, which make working on it just like any other MacBook, except for the smaller screen.
The 13-inch MacBook Air, at $999, is a no-brainer for anyone who values light weight and easy portability over performance. It's a spectacular Mac laptop that runs all day without needing a charge, though I might recommend bumping the RAM up to 8 GB (another $100) to help give it a bit more headroom to run memory-intensive apps.
Still undecided?
If you're still having trouble deciding if the MacBook Air is the right Mac laptop for you, make sure to pay our Apple notebooks discussion forum a visit and ask questions there, or just post a question or comment below.
Master your iPhone in minutes
iMore offers spot-on advice and guidance from our team of experts, with decades of Apple device experience to lean on. Learn more with iMore!