Chipotle Scarecrow wants you to save the world from industrial food production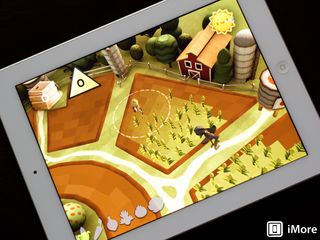 Chipotle Scarecrow is a new game from Moonbot Studios and Chipotle Mexican Grill. An adventure game that takes place in a world where the evil Crow Foods, a stand-in for factory farms, has a monopoly on food production. You play as the Scarecrow as he tries to keep his fresh vegitables safe, move confined animals to open pastures, plant diverse crops, and feed better food to the people living in City of Plenty.
Navigation is done either through tilt mechanics or touch controls. There are twenty different levels in the game, spread out over four different areas. Achieving goals will have a positive impact and change City of Plenty for the better, loosening the grip of Crow Foods and their Crowbots over the city. The game also includes a short animated film set in the game world. Additionally, players have the possibility of winning an offer of a free burrito for playing the game. Chipotle says that up to one million players could get a buy-one-get-one-free offer for unlocking all the levels in the game and completing them all with at least a three-star rating. Chipotle Scarecrow is a free, universal download in the App Store. Below is the short film that comes with the game.
Joseph Keller is the former Editor in Chief of iMore. An Apple user for almost 20 years, he spends his time learning the ins and outs of iOS and macOS, always finding ways of getting the most out of his iPhone, iPad, Apple Watch, and Mac.
Too bad Chipotle's quality went down the drain after they went this route. I'm sure it's not the source of the food... but whatever they did made all of their food bland. This coming from a Colorado native that was eating burritos when it was just a small shop downtown. Qdoba has totally passed them, hands down.

WOW, big time liberal propaganda.

Or actually, reality, a reality that dumb people won't accept because Fox News has them brainwashed. I'd like to hear you actually explain how this game is "liberal propaganda", of course you cannot, anyone can just google Monsanto or Syngenta and see what big corporations are doing to the worlds food supply. But continue to take pride in your ignorance, at least it's good for a laugh.

A beautiful, beautiful lie. Chipotle is not this. Does anyone really believe this is a true reflection of the (still) mass-produced food Chipotle makes?... Chipotle may take an approach that is better than the current factory farming, but that's not setting the bar very high. Ask Joel Salatin what he thinks of Chipotle. Now his is a measuring stick to really judge quality by: http://www.youtube.com/watch?v=-T9UaP1AsMI If I'm wrong, then someone prove it to me with on the ground facts, not with fancy computer graphics.

Agreed. I am struggling with why Chipotle has anything to do with this. It is a good message, but they are just as guilty as any other food chain that serves meat.

What's up with so many games being released for just one OS at a time? And when will Chipotle Scarecrow be up on GooglePlay?
Thank you for signing up to iMore. You will receive a verification email shortly.
There was a problem. Please refresh the page and try again.