Coach's Apple Watch bands may launch on June 12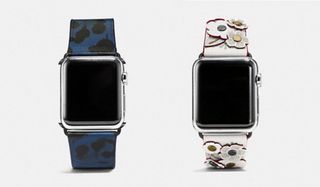 Luxury brand Coach is gearing up to launch its own set of Apple Watch bands on June 12, according to a new report. That's according to fashion blog Haute Écriture, which learned of the possible June 12 launch from a Coach boutique sales representative. The sales rep also provided photos of all three styles, which you can see below.
From Haute Écriture:
It should be noted that the June 12 date is when shipments of the bands are expected to arrive at stores. It's possible Apple could announce the bands at WWDC, which is set to take place just a day later on the June 13. Additionally, Haute Écriture notes that the straps may only be available at select stores in California, Nevada and New York with no plans for online availability.
Get the best of iMore in in your inbox, every day!
Can you say "Overpriced"?

Actually, I think $150 might be considered cheap for most designer brands. Fashion has always been overpriced. In fact, the "high" in high fashion has always reflected prices, not quality or design.

Tim Cook: Hello Developers! We have fantastic, amazing, gorgeous new hardware products we'd love to share with you today. (whispers and murmurs ensue) "A new display!!" says one wide eyed developer. "It has to be a new MacBook Pro..." says a young woman. Tim : We've been working really hard this year on delivering products that you, the hardcore base will love and enjoy. I'd love to show you our new... (more hushed anticipation) Tim: Coach bands for Apple Watch! Aren't they just gorgeous? Audience: -_-

Bahahaha! Love it. Sent from the iMore App

Those official lugs must cost a ton. $88 for a Coach leather band with quick release for my Gear S2. Found it this weekend at a local Coach store.

Only in certain states and no online availability? eBay price gauging to commence. Sent from the iMore App
Thank you for signing up to iMore. You will receive a verification email shortly.
There was a problem. Please refresh the page and try again.