Coin for iOS now available, allows backers to register for beta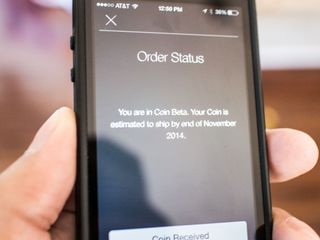 Coin backers will be happy to know that the iOS app is now available for download. That may not mean much since no one actually has a Coin just yet, but it does allow you to register for the public beta. As stated earlier this week, Coin apologized for the delay on getting things done and is now offering a widespread public beta for any backers who are interested is testing one out.
To sign up, you simply need to download the free Coin app, login or register a new account, then opt-in to the beta program. As it stands now, cards are set to ship in November — not the greatest news since they were supposed to be here already — but stuff happens. The beta is limited to 15,000 users who will be able to updgrade to a first generation device free of charge when they become available. When you get your Coin you'll be able to use the app for adding cards, checking your account details and more.
Download Now - Free

(opens in new tab)
Get the best of iMore in your inbox, every day!
Editorial Director - High Yield
Getting his start writing about BlackBerry in 2008, Adam is the Editorial Director of High-Yield content at Future. Leading an outstanding team, he oversees many of the articles the publisher produces about subscriptions and services – VPN, TV streaming, and antivirus software. From buying guides and how to watch content, to deal news and in-depth reviews. Adam's work can be seen on numerous Future brands including TechRadar, Tom's Guide, T3, TTR, Android Central, iMore, and Real Homes.
The app has told me the beta is now full. Spring 2015 for the rest of us.

Me too. I'm requesting a refund.

I just signed up for the beta a minute ago. It said my Coin would be shipping soon.

I signed up 2 hours ago, how does that make any sense?

It's not based upon anything you're doing or not doing today. It's based upon when you ordered last year. You could have waited until 5 days from now and still gotten beta if you ordered within the first 15k. It seems the beta cutoff was somewhere around 3PM CST on 11/14/13. They easily sold more than 15k in one day.

Ah...yeah I ordered mine 11:00AM PST on 11/15 and I didn't make it into the beta :( It's disappointing that buying and taking a chance on a product WITHIN 24 hours of its announcement is still not enough to become an early adopter of it. Spring '15 it is.

I pre-ordered my Coin on 11/19/13. When did you pre-order if you don't mind me asking? I created an account through my "Claim Your Coin" link and it doesn't show anything but "Order Coin".

Coin had 20k orders in first 5 hours of Nov 14th 2013. So a very small number of people (15k) are getting into the beta...

Coin had 20k orders in first 5 hours of Nov 14th 2013. So only a small number of people (15k) are getting into the beta.

yep.. said beta was full and isn't shipping until Spring. It's a bunch of crap honestly. Why don't they just let everyone who is willing and understands the risks to join beta. Pretty disappointed with how they've handled the whole thing so far.

Agreed. My frustration is partially with their inability to deliver what they promised, but a much bigger part of it simply comes from their lack of transparency and handling of the situation.

Yep. Totally agree. I ordered on 11/23/2013 - why tell me the beta is "full" when it apparently is due to my pre-order date that I have to wait until the spring for something I thought would be available this summer? Stupid message if you ask me...

The coin app not available in Canada Sent from the iMore App

Beta full for me too. Grrrr

DOA product. Sent from the iMore App

Ordered coin the second day of kickstarter campaign. I got the Beta is full message. Sent from the iMore App

2013 Nov 16 02:37:53 UTC was my pre order date.... i didnt get in on the beta as well.... Spring 2015 i guess....