Comic: Giving Apple a Little Credit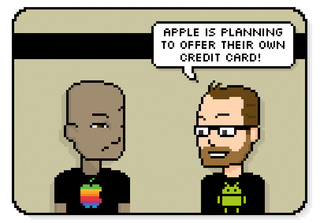 Read more comics from The Pixel Project.
Get the best of iMore in in your inbox, every day!
Pixel lover and cartoonist. Still have my original Apple IIgs. See more at clango.org or follow him on Twitter @rstevens.
Google isn't as creepy as Spybook. I don't use Google search, nor a Google browser and I say no to most location permissions. I don't have it tracking my location*, nor do I let it spam my notifications with "Hey this place is nearby". Apple on the other hand, wants to control most of what I do on my iPhone by censoring apps based on content vs malware intent. *No way I can PROVE it I know, but still.

Censorship is a very different topic to sharing/selling data. I don't like either, although Apple's censorship issues could easily be resolved by just allowing users to install apps outside of the App Store (with a warning, like the Mac)
Thank you for signing up to iMore. You will receive a verification email shortly.
There was a problem. Please refresh the page and try again.