Community Review: RhinoShield PlayProof Custom Case for the iPhone 7 Plus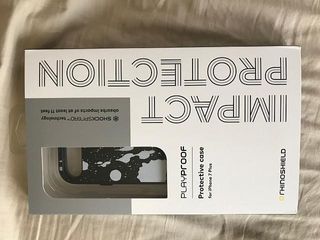 Editor's Note: This is a full product review created by a member of the iMore community. If you'd like to participate in this program, please reach out to our Community Manager or read this forum thread for more information.
Let me just start by saying this: RhinoShield is freaking awesome!
It has an amazing selection of cases, and if you're the type of person who likes to have some personality or customization with your case selection, then look no further than RhinoShield's Custom PlayProof case collection!
The brand caters to everything ranging from cool abstract animal designs to quirky art and everything in between. Whatever style you're looking for, RhinoShield no doubt has something for everyone.
Pros
So many fun and cool designs to choose from
Reasonably priced at $29.99
Provides excellent protection
Very satisfying button clicks
Cons
Maybe too many options: you'll go broke wanting to collect them all!
You won't be able to put your phone down it feels so good now
Just like the SolidSuit case that I reviewed, the PlayProof is an amazingly well-built case that feels incredibly sturdy, yet also very light at the same time. It's such a pleasure to hold in the hand and use day to day. With some cases, I just want to rip them off only hours after putting them on, but that's not the case (ha!) with the PlayProof.
The only downside with the PlayProof compared to the SolidSuit is the cutout for the mute switch is slightly smaller, so you are definitely going to need your nails to use it. Again, the buttons click with a very satisfying tactile feel.
Luckily this time I didn't have to test its sturdiness with a drop, but I'm confident it'll perform just like the SolidSuit.
The PlayProof is another stellar case from RhinoShield (I mean, I'm really impressed with these guys!) and with the custom options, you have a wide array of really cool cases to choose from to add to your collection.
See at Amazon (opens in new tab)
Nicely done! +2 for the community review team. Keep it up.
Thank you for signing up to iMore. You will receive a verification email shortly.
There was a problem. Please refresh the page and try again.