Contacts Journal for iPhone and iPad updated [giveaway]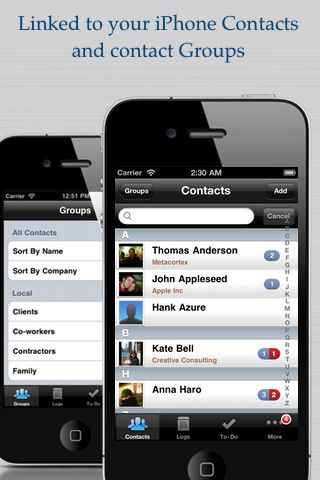 Contacts Journal for iPhone and Contacts Journal HD for iPad have updated with calendar integration and new badges. This Contacts Relationship Management (CRM) app is like having a diary and to-do list for each of your contacts, all in one app.
Log all your interactions with your contacts; review them to prepare for the next meeting
Add To-Dos for your contacts to remind yourself of important upcoming events and follow-up steps
To-Dos support adding local alarms, repeating events, and adding to your iPhone Calendar
View all your Logs and To-Dos across all contacts, sorted by date
Export your data for reporting by AirPrint, email, CSV or even to your iPhone Contact notes field
Call, SMS or email your contacts directly from the app, and
Save to DropBox from one device, and Fetch from DropBox on another, to easily transfer data
The update features are:
Calendar integration! Now you can add your To-Do item to your iPhone / iPad calendar!
Icon badges! See a count of your To-Do items right on the icon, on your home-screen.
Contact badges! See a count for the number of Logs and To-Dos attached to your contact. Great for quickly browsing through your list to see who you have already entered information for, and who you haven't.
Badges on the More tab-bar for unsaved DropBox changes. This will help remind you to save your changes to DropBox frequently.
The good folks at zaal have given us a few promo codes to give away to you, our awesome readers! For a chance to win, let us know how many contacts you have and which version you prefer: Contacts Journal or Contacts Journal HD.
If you pick this one up, let us know what you think! Screenshots after the break.
UPDATE: Congrats to winners Josh Kelly, Dpolleta, rclifestyle, Miltglyn, Hancheta, BigDog353, Mike Presley, Kyle & Melissa de H Wirth, and Wolff Craig. Enjoy!
[$4.99 for iPhone - iTunes link (opens in new tab)] [$4.99 for iPad - iTunes link (opens in new tab)]
Have an app you'd love to see featured on TiPb? Email us at iosapps@tipb.com, tell us about your app (include an iTunes link), and we'll take a look.
[gallery link="file" columns="2"]
Get the best of iMore in your inbox, every day!
Former app and photography editor at iMore, Leanna has since moved on to other endeavors. Mother, wife, mathamagician, even though she no longer writes for iMore you can still follow her on Twitter @llofte.
I currently have 295 contacts. I wouldn't mind the Contacts Journal app

I've got 400 contacts and the iPhone version would sure come in handy!

I have 146 contacts and would like this for iphone.

I have over 1300 contacts and could use something like this for iPhone.

I have over 700 contacts and would prefer the iPad version. I do a lot of volunteer work and this would help me stay organized.

600+ contacts ... This app would surely be useful.

I have 1250 Contacts, want to use it for my iphone 4

I have 1586 contacts and would be thrilled to have either version.

I have a little over 150 contacts and would appreciate the contact journal app.

I have 200+ contacts and would like to use this with my iPad2

I have 548 contacts and would love a copy for my iPhone 4 so Contact Journal for iPhone please

500 contact for me, having major issues losing new contacts added to my iPhone when syncing. Help! I need a new solution to keep them consistent thruout iMac,iPhone & iPad. MobileMe just isn't cutting it. I'll review it as well, for one of sites I write for too, if I can get a promo code version. Thx!!

I have 723 contacts and a copy of Contact Journal would be SPLENDID! I work in sales and this would increase my organization immensely!

I have 1200 contacts and would live to use this app. I would like the IPhone version.

282 - Contacts Journal HD

Works great and does what it says.

I have 500 contacts and I would like to have the Contacts Journal HD

I have 343 and would prefer Contacts Journal for iPhone

I have about 600 contacts, and I'd prefer the iPhone version.

287 contacts .... on my iphone

419 contacts! I just got an sales internship as well as my first iphone and this would be an awesome app to get me started!

234 contacts.. Contacts Journal for iPhone please =D

1226 contacts -I'd love Contacts Journal

I've got about 600 hundred contacts and would love to give this a try. I've been looking for something like this for a while. I'm on the UK itunes site so we'll to make sure the Code is valid there otherwise it'll be a waste. Pretty please?

obviously, 600 hundred doesn't mean 60,000. It's just 600. Soz.
/facepalm

I have about 250 contacts for now. I would love to have Contacts Journal (iPhone version).

795 contacts. would love contacts HD

~300 contacts and I would like contacts journal HD!

i have 250 - 300 contacts and would love to try the iPhone version!

319 contacts and I would prefer contacts journal for the iPhone.

I have about 150 contacts but since we are opening a bakery, we will not doubt have more and would love to use Contacts Journal for iPhone so we can better manage the business!

I have 820 contacts, grouped by (but overlapping) my educational programs I manage, the graphic design organization I direct and my personal listings. I would love to organize with Contacts Journal HD.
@GraphicDesignNY

Would love to have the iPhone version for my 1,238 contacts and growing on a daily basis. Use my iPhone for all of my Honda Clients who have bought cars from me and being able to put notes in from calls and events would make my life much easier. PLEASE PLEASE PLEASE!!!

From all of us here in Detroit; Thanks for nothing.

i don't know how many contacts i have...thats why i need Contacts Journal for my iphone... :)

Posting on behalf of my wife, who is a wedding planner and has over 500 contacts (brides, vendors, etc). She'd prefer Contacts Journal. Thanks!

Contacts Journal would be awesome. I have 284 contacts. TIPB Rocks!

I have 200 personal contacts and just for work over 500! Can you please hook me up with the Contacts Journal HD

I have 148 Contacts and have never won anything in my entire life. Ever.
iPhone app.

187 contacts, urgently need the free Journal HD app.
(Ripley getting into space suit while alien has a siesta in escape craft) Lucky.... lucky... lucky ... lucky... lucky....

477 contacts. This would be Handy in helping me track business connections as I try to open my small business. Contacts Journal for iPhone would be the bomb! Please :)

I have 206 contacts and I'm desperately in need of the HD version....please :)

230 contacts. Lets use this on the bug screen, HD version please

About 6500, both biz and personal. I'm having issues with Outlook...

I am looking to add my first contact today. ha ha this would be a great app for my IOhone

I have 432 contacts in my personal contacts list and then there is the school list. This app sounds perfect to help in our exploration of what apps would be a perfect companion to the teachers in our school! I would love the iPad version.

I have over 350 + contact both personal and biz. I'd love to get a promo code for Contact Journal for iPhone. With mobile conference coming up I need to keep track of all my to dos and contact interactions.
mRec, mRecruitingcamp.com

I have between 600 and 700 contacts and would LOVE a copy of Contacts Journal!

I have over 2200 contacts that I use on a daily bases I would love to try this app to see if it would help me with my To Do List

About 800 contacts, i would like to try this on my iPad.

I have about 1500 contacts, and would like to manage interactions with them in a better way... hope this one helps because evernote bring choas in my life...