The coolest remote controlled toys for your iPhone and iPad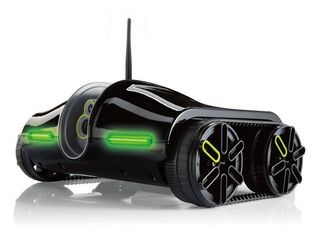 We're approaching the holidays, and soon you may be looking for cool things to get for that iPhone, iPod touch or iPad owner on your gift list. Remote controlled toys have long been a popular gift for kids and adults alike, and they've gotten cooler than ever now that toy makers have caught on to the idea of using iOS devices as a control system. Here's a roundup of some of my favorites.
BattleTank
Desk Pets makes inexpensive remote controlled toys for iOS and Android. BattleTank is a $30 desktop toy that works in conjunction with a downloadable app - the app sports two play modes, "battle mode," and will slow your tank down as it's hit by an enemy. Best if you buy two so you can play against a friend; buy three and you can put one of them in "drone mode" so both of you can chase down an enemy together.
A flip-down USB connector on the tank's back end lets you plug it into your Mac to charge up when it's not in use. BattleTank comes in three different colors; like Desk Pets' other offerings, this uses a remote control dongle that plugs into your iOS device's headphone jack.
iLaunch Thunder
"If I Had a Rocket Launcher" isn't just a great Bruce Cockburn song, it's a mantra for generations of office dwellers who have fantasized about bombarding their annoying coworkers with artillery. Now you can, with Dream Cheeky's iLaunch Thunder. This foam missile launcher rotates 270 degrees and rises 40 degrees up and down, lobbing missiles up to 25 feet away.
The foam darts are launched on air-powered pistons, and the whole apparatus uses a recharagable lithium battery, so you can put it where you want. It talks to your iOS device using Bluetooth and a free app you can download through the App Store.
$59.99 ($48.99 at Amazon) - Buy now
Rover 2.0 Spy Tank
Make like the NSA with this remote-controlled spy drone that works over Wi-Fi rather than Bluetooth. It sports built-in night vision imaging so you can see in the dark, and it streams video you can record. You can upload videos to Facebook and other social networking services directly from the app.
The app also lets you adjust the comer angle, listen to audio through a microphone built in to the rover, and turn headlights on or off (so you can give your victims some warning that you're coming). The downside to this one is that it'll only work where you have Wi-Fi signal.
Sphero 2.0
For the uninitiated, Sphero is a rolling ball of fun, controlled remotely using an iOS or Android device. But that's only scratching the surface. Developer Orbotix and other companies have produced software to play with Sphero - everything from "augmented reality" games to party games, so you get plenty of playability with the little rolling ball of fun beyond just zooming it around the house or in the backyard.
Sphero 2.0 is faster and better than before, with a new engine that goes up to twice as fast, is three times brighter to see (it uses internal multicolor LEDs to change color), and more accurate controls. Sphero 2.0 also ships with ramps so you can make your happy fun ball do tricks. "Nubby covers," available separately, add colorful textures to the outside of the Sphero to make it gripper, like an off-road tire.
Silverlit Mercedes-Benz SLS AMG
The SLS AMG is Mercedes-Benz's two-seat sports car - the spiritual successor to the legendary 300SL, complete with "gull-wing" doors. It's also almost a quarter of million dollars to buy one. So Silverlit's $129 SLS AMG seems like a bargain by comparison.
The level of detail in this little RC is astonishing, right down to turn signals that light up when you move the steering wheel. When you pop open the gullwing doors and look inside, you'll see a beautifully detailed dash, as well. The app is exceptional - it gives you a virtual cockpit view that puts you behind the wheel of your car, and even lets you pipe music from iTunes directly from the car as well (the doors can bounce up and down in time with the music).
Anki Drive
This cool kit made a splash at WWDC earlier this year, and now it's available for purchase. Anki Drive isn't a proper remote control toy as much as it is the next generation of slot racing with a healthy dose of Super Mario Kart built in, all coordinated through your iOS device. Anki Drive includes a mat you lay out on your floor that has a race track on it; you get two cars (two more are available for separate purchase). Your goal is to take out your opponents and win the race.
Each car has a different "personality" and uses different offensive and defensive techniques. What's more, the artificial intelligence in the app keeps track of what you're doing and adapts. You can also play against a friend if you prefer challenges in meatspace.
AR.Drone 2.0 Power Edition
No discussion of iOS-compatible remote controlled devices would be complete without mentioning Parrot's AR.Drone, the quad copter that got a lot of people interested in this technology to begin with. The AR.Drone 2.0 Power Edition is the latest iteration, and it features a built-in 720p HD camera with a 92 degree wide-angle lens and storage capabilities, a more robust design sporting carbon fiber that's more repairable, if you do get into bad situations, better stabilization and better motors. Also comes with two swappable 1500mAh batteries, four sets of colored propellers so you can customize your look.
This is a healthy sample of what's available but is by no means complete - what are some of your favorites, or what do you have your eye on? Post here in the comments and let me know.
Get more iMore in your inbox!
Our news, reviews, opinions, and easy to follow guides can turn any iPhone owner into an Apple aficionado