How to create and accept calendar invitations on your new iPad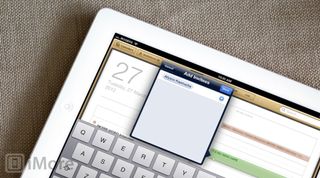 Your new iPad is a great way to stay organized and focused on the activities and events that matter to you most. The built in Calendar app has a lot of great features and tools to help you create, edit, manage, and share your schedule, including event invitations.
iCloud and Exchange
Before you can start creating and accepting proper event invitations you need to have set up either a free Apple iCloud account (@me.com address), or a Microsoft Exchange ActiveSync account (including a Gmail account set up as Exchange).
How to share a Calendar event
iCloud allows you to share an event when you create it, or share it later if you choose to.
If you've already created event you'd like to share with someone. Tap it and tap Edit, then skip down to step 4.
If you haven't created the event yet, tap the "+" sign in the bottom right corner of your calendar app, or tap and hold on a time spot on the calendar, to create a new event.
Fill out at the information you need to about the event.
Tap the Invitees button.
If the person is in your address book, just start typing their name. If they aren't, type in their iCloud (@me.com) e-mail address.
Once you're done adding people, tap Done.
Now save the entire event by tapping Done again in the upper right hand corner.
iCloud will send the event invites to everyone. Once they accept or decline, you'll see their name and status within your calendar.
While users with other types of accounts will receive your invites, they won't be able to accept them into their Calendar and see your changes to events if they aren't using iCloud as well.
How to accept an event invite
If someone has sent you an event invite, you can accept them straight from your iPad with just a few taps. Depending on your settings, you might get a popup notification or email alerting you when a new invitation comes in. Your Calendar app icon will also be badged with a number representing any outstanding event invitations (similar to how Mail shows you the number of unread email messages.)
To accept an invitation:
Launch the Calendar app.
Tap the Invitations button to view the pending invites.
You can either accept, decline, or say maybe. Your RSVP status will appear for the creatore of the event as well.
You can always change your status on the event by going back into the event in your calendar.
Additional resources:
Even more tips & tricks for new iPad users
Get the best of iMore in in your inbox, every day!
iMore senior editor from 2011 to 2015.
"While users with other types of accounts will receive your invites, they won't be able to accept them into their Calendar and see your changes to events if they aren't using iCloud as well."
Why is this? I have two calendars (that are actually used) set up on my iDevices - shared iCloud calendar my bride and I use to keep our family schedule as well as my work calendar (which is pushed via Exchange). Would be awesome if I could set up ONE appointment with invites that would put the event on both my calendars.

Same problem here, any fixes for this?

This is not a very powerful calendaring app, especially if you are in the corporate world and on Exchange. Everyone knows that calendar use on iOS is mostly view only. Accepting in iOS can lead to missing appointments in Outlook.
Further, inviting people without first looking at their free/busy availability is a complete waste of everyone's time and is just rude.
You also can't forward invites, among other actions not allowed.
Microsoft and Apple need to work this out so it can actually be used as a scheduling tool.

While I have to agree that with other commentors it would be great if I could send invitations from Calendar for both my MS Outlook Exchange users and my iCloud users, I must disagree with this comment regarding the ability to check other people's schedules before sending an invitation. I have various organizations, businesses and personal obligations for which I prefer to have separate schedules. I like that Calendar lets me see and hide some/all calendars for that reason. Likewise, I don't necessarily want everyone from those arenas to be able to view my calendars or even to know if I'm booked for a particular time. For one thing, when I consider an invitation, I am thinking about more than just my per-scheduled events. Also, even if I am available, I may decline for other reasons. Fortunately, Exchange allows for the ability of invitees to suggest ore days/times and to respond to an invitation with comments. These options are more helpful to the person setting the event than simply viewing everyone's calendars.

Excellent items from you, man. I have take note your stuff prior to and you are simply extremely great. I actually like what you've got here, certainly like what you're saying and the way during which you say it. You are making it enjoyable and you still take care of to keep it smart. I can't wait to read far more from you. This is actually a terrific site.

The "invitees" button does not show on my calendar app. Does anyone have any ideas why?
Thank you for signing up to iMore. You will receive a verification email shortly.
There was a problem. Please refresh the page and try again.