Create a massive home for hundreds of pets in Dream PetHouse by Zynga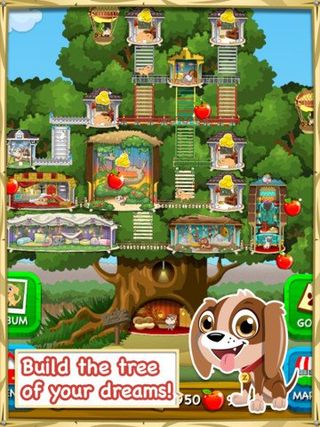 Zynga has released their newest iPhone and iPad game for animal lovers called Dream PetHouse. In this game, you are in charge of raising hundreds of adorable pets in a huge treehouse and making them has happy as can be.
As with all Zynga games, there is a social aspect to Dream PetHouse where you use Facebook Connect to visit your friends' trees and help each other with various tasks.
Do you love animals? Then here's your chance to create the biggest, happiest home for hundreds of irresistibly cute pets in Dream PetHouse by Zynga! Collect the world's cutest animals and care for them in your own unique tree, staffed by Chipper and his group of adorable chipmunk friends!
Feed your pets and watch them grow up right before your eyes!
Connect Pethouses using dynamic bridges and see your pets explore their new home!
Capture fond memories of your pets' childhood in family albums!
Raise your pet families and collect all the Golden Frames!
Visit your friends' trees using Facebook and get their help raising your pets!
Customize your Pethouse with wild-looking trees and unique habitats!
Dream PetHouse is available on the iPhone and iPad for free.
Have an app you'd love to see featured on iMore? Email us at iosapps@imore.com, tell us about your app (include an iTunes link), and we'll take a look.
[gallery link="file"]
Former app and photography editor at iMore, Leanna has since moved on to other endeavors. Mother, wife, mathamagician, even though she no longer writes for iMore you can still follow her on Twitter @llofte.
I play a game like this on my iphone...its called tinypets...guess zynga doesn't have time to create their own games anymore lol

I find it amusing, that with the TiPB staff always chastising Samsung for "copying" Apple...they'd actively advertise products from a company that does nothing more than reskin and release someone else's creations.

I like checking your posts, this page has been added to my bookmarks in firefox.

How do you earn nuts in the dream penthouse game? Is there instructions for this game any where ?

Heyy you can get seeds by getting the newest version and completing golden frames

Ya but it's like 5 seeds per 10 frames so it's not enough to really do anything. The only way to actually do something is to spend real $ and but them.

Karen, I had the same question and I wrote to zynga and they said u had to buy them. The last 2 days however, I've received a notice when I start the game that I can get free nuts at Facebook.com/DreamPetHouse. When I try to go there I only get the app again. Don't see anywhere to get free anything. :(

Can anyone tell me how to send gifts to neighbors on PetHouse?

I'm trying to build the Clover Dog house but it keeps saying I don't have enough space. How much space do you actually need for that particular house? I need to know A.S.A.P.

If you look on the picture of the house you're trying to build, there are little boxes in one corner, upper left I think. Those boxes represent not only the number of boxes (or spaces) you need but also configuration.

Which pet house has the Lion in it?

Is pet house free on android or money

I've been surfing online greater than 3 hours these days, but I by no means discovered any interesting article like yours. It's pretty price enough for me. Personally, if all webmasters and bloggers made excellent content material as you probably did, the web shall be a lot more helpful than ever before.

Can anyone tell me which house has the black horse in it? It;s not easily identified by the pictures. What would be great is a guide that tells you exactly what pet in in which house

Thankyou!! I feel the same way!! I spend forever in the chimney thinking it was the raccoon and it turned out to be a black cat.

What animal is in the comfy clouds? Also has anyone gotten the palace?

Anyone know what animal lives in the hot springs? Or pond, shrub or den? I don't want to spend seeds on an animal I don't particularly like!

The pond has a really cute turtle, the den has a brown bear, Don't know about the shrub. The black horse is in the "Rockey". I'd like to know what lives in the playground. Been searching for a complete list online too!

Anyone know what animal lives in the hot springs? Or pond, shrub or den? I don't want to spend seeds on an animal I don't particularly like!!

What animal is the hot springs supposed Ro have? It looks like a grey version of the same monkey in the hut.

Fox is in the grass, raccoon is in the hideout.

Can someone tell me where the dachshund is
Thank you for signing up to iMore. You will receive a verification email shortly.
There was a problem. Please refresh the page and try again.