How to replace the lugs on your Apple Watch bands to match your casing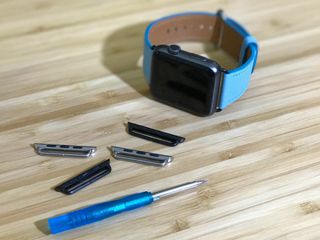 Have an Apple Watch band that doesn't match your Watch's case? No worries — just pick up some custom lugs and you'll be rocking the right color in no time.
Whether you're someone who wants to install the latest band or you're looking to revisit an old classic, there are very simple steps you can take to replace the lugs on your new Series 4 space grey, gold, and silver Apple Watches.
Products used in this guide
Step 1: Separate your band from its old lugs
Slide the band out of your Apple Watch and put your watch casing in a safe place.
Pick up one side of your band.
Look for the two screws on the top of the lug — they're tiny!
Use the included Pentalobe screwdriver (or buy one of your own) to remove the screws; this will free the top bar of the lug from the pieces that slide into the material of the band.
Slide out the metal bars that connect the band to the lug. Note that I said bars, plural — that seemingly unified piece of metal is actually two pieces connected in the middle. Put the old lug aside.
Step 2: Add the replacement lug to your band
Grab one of the replacement lugs, and find the two screws on top.
Use the Pentalobe screwdriver to remove the screws, freeing the top bar from the parts that slide into the band.
Slide the two metal pieces into the band.
Position the top bar over the metal pieces so that the screw holes are lined up.
Screw in the Pentalobe screws, making sure to get everything nice and tight.
Note: Wondering which way the lug is supposed to go? There are three ovals on either side of the lug — look at the middle one on each side. The side with the flat metal oval should face the inside of the band.
Step 3: Repeat steps 1 & 2 with the other side of the band
After you've done this, store your original lugs somewhere safe in case you ever want to use them again. I recommend fastening the top bar to its metal pieces when you store it, to avoid losing screws or lugs and using a clear plastic bag.
The process was so simple that I ended up ordering another set of Space Gray lugs, which allows me to swap out the stainless steel lugs on many of the third-party bands that look good with the Space Gray Apple Watch.
Our top equipment picks
If you're looking to replace the lugs on your Apple Watch bands, here's what you'll need!
Apple Watch
Keep track of your life with the new Apple Watch Series 4.

There are plenty of different wearables out there, but the Apple Watch Series 4 sticks out in more ways than one: this little device packs an optical heart sensor, loudspeaker, 64-bit dual-core processor, barometric altimeter and so much more into its 40mm or 44mm size options.
You can pick out the new Apple Watch Series 4 in three different colors: gold aluminum, silver aluminum, and space gray aluminum. From there, it's super simple to change your bands and lugs on the watch, matching the colors effortlessly for a smooth, uniform look.
Pick up these pieces of equipment to effortless change and customize your Apple Watch at will. Here's what you'll need!
Pentalobe Screwdriver for iPhone ($9 at ifixit)
This little tool makes changing the lugs on your Apple Watch as simple as 1, 2 3. Not only that, but it's great to have a in your tool-kit in case of tiny emergencies.
Milanese Apple Watch Band ($11 at Amazon)
Having a couple of replacement bands is always a good idea when you pick up a new Apple Watch — and a Milanese band can never steer you wrong! This affordable, functional band is great for people with a variety of wrist sizes and with its lugs, you can easily install and reinstall it in a heartbeat.
Master your iPhone in minutes
iMore offers spot-on advice and guidance from our team of experts, with decades of Apple device experience to lean on. Learn more with iMore!
Mikah Sargent is Senior Editor at Mobile Nations. When he's not bothering his chihuahuas, Mikah spends entirely too much time and money on HomeKit products. You can follow him on Twitter at @mikahsargent if you're so inclined.