Daily Apps: Snowboard Hero, Calendars, iBookcreator, Star Marine: Infinite Ammo, Cash Logistics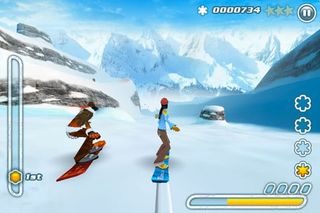 Snowboard Hero: An unrivalled snowboard experience with wicked tricks, insane air time and super fast downhill speed to your iPhone and iPad. Experience console-quality graphics, intuitive controls and top-notch sound in a stunning alpine setting and show the world that you are the undisputed Snowboard Hero.
Calendars - Google Calendar client: Lets you manage events both online and offline. Thanks to the unique interface you can move events simply with Drag & Drop, navigate quickly between dates, change event time, repeat schedule and reminders rapidly with custom keyboards.
iBookcreator: Innovative application to make books with iPhone/iPad! Produce various kinds of books, such as photo books, art books, fairy tales, cook books, PR books or manuals on your own.
Star Marine: Infinite Ammo: The definitive Run n' Gun experience! You play as Arc, a battle hardened drifter who is captured by an alien race in the depths of space. Arc's capturers plan to enslave him and put his strength to work. But, Arc has other plans. He is a trained and elite Star Marine and in a fury of bullets he is going to take them all down!
Cash Logistics: Cash Logistics is a currency calculator for estimating the physical dimensions of a given dollar amount if that amount was paid out in legal tender. It reports the number of bills required, the optimal strap division, the total weight, and the estimated space it will require. All you need to supply is a dollar amount and the specific denomination to use. It can also perform the reverse calculation if the only information known is the weight of a currency bundle, or the total number of straps.
Any other big app or game releases or updates today?
Have an app you'd love to see featured on TiPb? Email us at iosapps@tipb.com, tell us about your app (include an iTunes link), and we'll take a look.
Get the best of iMore in in your inbox, every day!
Former app and photography editor at iMore, Leanna has since moved on to other endeavors. Mother, wife, mathamagician, even though she no longer writes for iMore you can still follow her on Twitter @llofte.
Music Will Change... Foreverwww.musicwillchangeforever.com
Thank you for signing up to iMore. You will receive a verification email shortly.
There was a problem. Please refresh the page and try again.