Daily Tip: How to map a calendar event location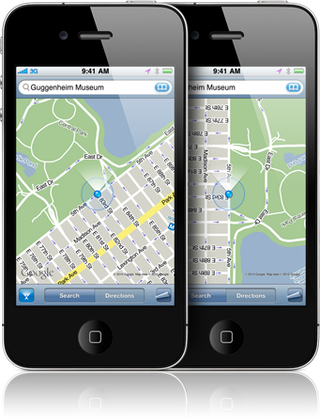 Trying to figure out how to get your iPhone, iPod touch or iPad Calendar event locations to show up in Maps? If you will be traveling a lot being able to click on your Calendar and quickly pull up Maps is very helpful and can make all the difference in getting to your destination. This easy to follow tip will show you exactly how you can do that and get to where you need to go without worry!
To get your Calendar event or appointment location to open up in Maps:
Launch your Calendar app
Find the event you want to add the location to
Tap Edit in the top right
Tap Notes on the bottom of the list
Enter the address for the event
Tap Done in the top right
Tap Done once more in the top right
When its time for the event click on the event one more time and under notes you can now tap on the address and it will open up in the Maps app and you can choose to navigate to the address
Now not only will you never forget an event, you're much less likely to get lost on your way there. Hope this has helped out some new users! If you have any questions or extra tips please let us know in comments. If you need any extra expert help, check out the TiPb Forums!
Tips of the day will range from beginner-level 101 to advanced-level ninjary. If you already know this tip, keep the link handy as a quick way to help a friend. If you have a tip of your own you'd like to suggest, add them to the comments or send them in to dailytips@tipb.com. (If it's especially awesome and previously unknown to us, we'll even give ya a reward...)
Get the best of iMore in in your inbox, every day!
Good tip. Unfortunately, I think this also inadvertantly shows how neglected the Calendar function has been by Apple for three years.

While I'm at it, the App called 'Week Cal' is a superb replacement of the entire built-in calendar.

One would think you'd need to add the location under Location heading...

Not trying to be too picky with grammar, but why say 'click'? Doesn't that reference the use of a mouse? Why not just say 'tap'?

Great tip. I will have to try this in out the next time I have an Appt in Syracuse.

As jt already said - wouldn't it be crazy functionality if the LOCATION field actually hooked into the maps? Overlooked functionality that I think qualifies as a bug.
Now for real functionality - how about the ability to make an appointment from a contact. I'm at the doctor's office. I want to enter my next appointment. I should just go to the contact, be able to say create mtg/appt and then the title is the "Meeting with [Name"], the location is the address and you are brought up to the date screeen. (If you hold down the create button longer, it changes from meeting to appointment)
Also for the address, an extra field for the 'internal address' that won't confuse the map program. An internal address can be a Conference room name, description, etc. So visually you see everything at once.

My biggest complaint about the calendar application is that this doesn't work if you put the value in the "location" field. That's where the address should go.

Agreed 100%. It makes no sense to have to do it this way but I guess at least it works!

Won't work here. I live in Brazil and maybe it's because the address formatting (street, number, ZIP, state, country) is different. Should work nonetheless. Shame on you, Apple.

Works great on my iPhone, not so much on my iPad. Thoughts?

I agree with the above posters that the Location field should link to maps - this is one of my biggest frustrations with IOS.
It's as though the developers didn't get out much, so they assumed everyone would use the location field for conference room and cubicle numbers ... And the workaround only works if the address looks like a [North American] street address.

Hello,
I've really appreciate this article well as writing of chief which is increasingly delicate.
Cordially

The recommended procedure does not work on the iPad. Using the Location field to be able to call up maps should be a standard function.

Thats definitly unbelievable from apple... I think the lOcation field should link to maps and there should be a maps layer with shows all apointments locations on it...

Seems working fine on iPhone even when the address is mixed with other notes, however you must type in something that really looks like an address.
Does not seem to work on iPad.

I think it's so silly that typing an address into the "Location" field doesn't work like it should. That was kind of a major foible.

This is a great idea, but what I'm looking for is a way to view, say, a week's events day by day and their locations. Anyone know of an app that'll let me do that?
Thank you for signing up to iMore. You will receive a verification email shortly.
There was a problem. Please refresh the page and try again.