Daily Tip: How to queue apps in Cydia [Jailbreak]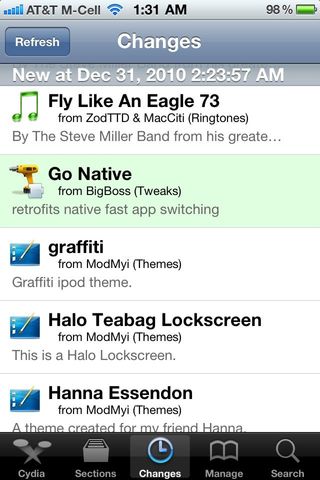 Interested in installing multiple apps from Cydia and want to know how to do it all at once in a batch queue? This is especially useful if you are installing things that will make you respring your phone. We all know respringing is a necessary evil in the jailbreak world, but this way you can get away with one respring instead of several. Click on through for the simple tutorial.
If you're browsing Cydia and there's more than one thing you'd like to download, there's an easy way to install all of them at the same time. Once you've found an app you want to install follow these easy steps to queue it for download.
Tap the name of the app to bring up the download screen.
Tap install.
Tap Cancel/Queue in the upper left hand corner.
A menu will pop up, tap Continue Queuing.
Some users have pointed out that if you're using the newer version of Cydia (I'm still on 4.1), the Cancel button isn't what you want, the queue button is at the bottom of the page.
You'll notice when you go back to browsing apps, anything queued for download will now show up in green. Once you've decided on the last app you'd like to download, when you click install, it will also install anything you have queued as well.
Let's say you don't find anything else you'd like and want to just download what you have queued (or want to remove something from your queue), you can use manage to install your queue.
Tap Manage at the bottom
Tap the blue Queue button in the upper right corner and confirm to download your queue
That's all there is to it. You now know how to install multiple Cydia tweaks and apps at once. This can be a life saver when downloading several things that require a respring. You won't have to keep respringing and reloading Cydia to download them individually. If you've used this method and have any additional input, let us know. If this is new to you, give it a try and let us know how it works out!
Tips of the day will range from beginner-level 101 to advanced-level ninjary. If you already know this tip, keep the link handy as a quick way to help a friend. If you have a tip of your own you'd like to suggest, add them to the comments or send them in to news@tipb.com. (If it's especially awesome and previously unknown to us, we'll even give ya a reward...)
iMore senior editor from 2011 to 2015.
There's an easier way to get to your queue, once you have everything you want in it: Just go to "Manage" and click on the blue "Queue" button, then you can choose "confirm".
And if you're using Cydia on iOS 4.2.1 (or above), the button in the upper left hand corner isn't named "Cancel/Queue" anymore, it's just "Cancel" now. The "Queue" button has been moved to the bottom of that page.

Thanks parabel! See I learned something new too! I'll update the article too : )

Umm... this is for the old version of Cydia. In the new one the "Cancel/Queue" button (1st image) is just "Cancel", and the "Continue Queuing" is directly below the list of affected packages.

You forgot the part where, after you queue a few packages, Cydia crashes and you need to start over.

Thank you, finally a tip I didn't already know!

@quicksand
I have 3 words.
I. Miss. Rock.

Thankyou! You saved hours of my life!!!
Thank you for signing up to iMore. You will receive a verification email shortly.
There was a problem. Please refresh the page and try again.