Daily Tip: How to save photos from Facebook for iPhone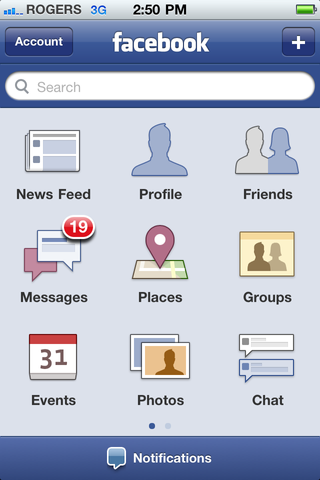 Driving yourself nuts trying to figure out how to take photos from the Facebook for iPhone app? Don't worry, it's not you, it's them. Unlike iOS, you just can't tap, hold and select Save Image from a pop up. That functionality just doesn't come with the Facebook app. But don't worry, we have a work around and we're going to share it with you, after the jump.
Here's how to quickly and easily save photos from Facebook to your iPhone, iPod touch, or iPad camera roll.
Launch the Facebook app.
Go to the picture you would like to have saved to your iPhone.
Press and hold the Home button and then quickly press the Sleep/Wake button. (Yes, you're taking a screenshot!)
Now, go to your Camera Roll and you will find the image that you just saved.
Why this feature was not built into the app originally, I am not sure, but this is a quick and easy way to get all the pictures you want off of the Facebook app.
Any other Facebook photo tips to share? Let us know in comments!
Tips of the day will range from beginner-level 101 to advanced-level ninjary. If you already know this tip, keep the link handy as a quick way to help a friend. If you have a tip of your own you'd like to suggest, add them to the comments or send them in to news@tipb.com. (If it's especially awesome and previously unknown to us, we'll even give ya a reward…)
Get the best of iMore in in your inbox, every day!
Can't you just put your finger on the screen fir a couple seconds, and a pop up will appear and you can then 'save image'?

Never mind, you cant! (I don't use facebook)

Didn't you read the article?

You also can't copy/paste from the app or mobile version. Sometimes FB just bothers the shit outta me....

This works okay, but the resulting pic is limited to the resolution of your phone's screen. If you want to save the pic at full resolution, you can go to Facebook in Safari, select "Desktop Site" from the More tab, navigate to the pic, then do the hold and select thingy.

Also what I would have recommended.

or FBphotoSave in cydia for you jailbroken users

All I gotta say is
Stalker status

AWESOME TIP!!! Thank you so much! I was JUST Trying to do this a few minutes ago :) Perfect timing!

You could also save all this headache, jailbreak the phone, and download Fbphotosave from cydia. Long press, save image, done. Saved right in camera roll, "Winning!"

That sounds like more of a headache

Did not realize this existed -- thanks!

You can use Opera Mini. There is a Download Photo link under images. :)

Yea, I'm gonna go ahead and say they probably don't allow this because it can be used for very creepy ends.

Use picture fetcher for Facebook... This let's you download multiple photos.

Just an FYI in case...
The method you described of capturing images from the iPhone facebook app is not actually a undisclosed "feature" that was built into the app, but is a feature that was built into the iPhone hardware for taking general screenshots. So you can do this anytime, for anything you need.
I know this page is for anyone who is new to using an iPhone but just wanted to clarify it's purpose a little more.

In addition with something like the free Genius Scan app which has lots of useful functionality you can also crop pics saved in Camera Roll. Handy tool for cropping faces from pics to add to contacts.

New Facebook app update allows for saving photos from within app. No one has to do this workaround anymore after they update.

When looking at a photo in Facebook, if you press the icon in the lower left, you now have the option to save image. This will put it in the camera roll

I?ve learn several good stuff here. Certainly worth bookmarking for revisiting. I surprise how much effort you put to make any such great informative web site.

Hi People,
Check this new App out - FB Backgrounds!!!!
http://itunes.apple.com/gb/app/fb-backgrounds/id476637820?mt=8&ign-mpt=u...

Upper right corner. Click the arrow then click save photo.

Folic Acid another nutrient essential in pregnancy is Vitamin D for promoting normal foetal skeletal growth and

There a view full screen on somewhere below the uploader's name, click it and you will have full screen of the picture. you can save images there by holding the screen

You are smart! Excelent. Thanks

thank you.... i have sent 3 hours trying to figure this out and have visit other answers on google, but this really work awesome

You can use this web app http://getspic.co/
Download photo albums, photos and albums from your pages and friends
Thank you for signing up to iMore. You will receive a verification email shortly.
There was a problem. Please refresh the page and try again.