Daily Tip: How to set your iPhone or iPad calendar entries for different time zones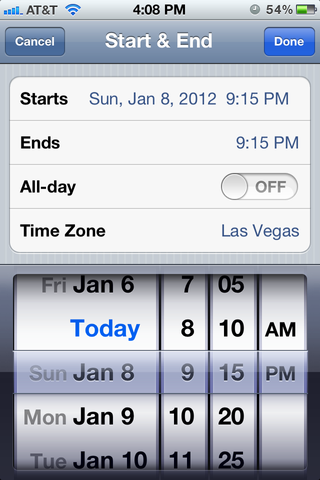 Taking a trip and curious how to set your iPhone, iPod touch, or iPad
The calendar app for iPhone, iPad, and iPod touch allows you to change the time zone for any event or meeting with just a few taps. Instead of trying to add and subtract time from your own time zone, just set those specific events or meetings for the time zone they're going to occur in.
Calendar will use whatever time zone your clock settings are set to by default. While this is fine in most scenarios, you also have the option of setting time zones on individual entries.
First pop into your calendar app and click the "+" sign in the upper right to create a new event or meeting (or edit a current one).
Fill out all the pertinent information for your entry.
Now tap into the Start & End section of the entry.
You'll see an option for time zone. Tap into it.
Search for the city that you're going to be in and that you want the meeting or event to go by.
Now just save your entry and you're good to go.
Adding events this way will keep your calendar from getting confused when you travel through times zones. As long as you have your iPhone set to update time automatically, your calendar will change with it and you'll be good to go!
Daily Tips range from beginner-level 101 to advanced-level ninjary. If you already know this tip, keep the link handy as a quick way to help a friend. If you have a tip of your own you'd like to suggest, add them to the comments or send them in to dailytips@imore.com. (If it's especially awesome and previously unknown to us, we'll even give ya a reward…)
Get the best of iMore in in your inbox, every day!
iMore senior editor from 2011 to 2015.
Does not work for my iPhone 4 in Canada :(

Doesn't work on my AT&T iPhone 4. Must only be for iPhone 4S

Doesnt work in UK with iphone4

You have to make sure time zone support is on in the calendar settings. In my opinion, it's best to leave time zone support off anyway. I hate when I add a calendar event and it shows the the wrong time because I'm in my home time zone. Example... I live in the mountain time zone and I add a calendar event for something in California. I enter the event to start at 6pm and select Los Angeles as the time zone. When I hit save, it shows the time 7pm because I'm still in the mountain zone. This makes it hard to review my appointments and I end up have to count time zones anyway if I haven't left my home location. Stupid feature!

Would it work better if the time zone setting wre changed before the other information is added? I've never tried this before so if it would work like it's supposed to, it would be helpful at times.

time support is ON for my iphone4 and It doesn't show either iy calendar as an option.. Canada

Thanks P Fowls, I couldn't get this to work until you pointed out the time zone setting in calendar settings. Now works on my 4S (sprint)

no calendar settings for the iPhone 4 , only date and time .... anyone get it work on the iPhone 4?

I have the iPhone 4 and works, but I have it disabled.

any suggestions for how to create an appointment for a plane trip? the start is in one time zone and the end in another.

I think you need to make that two separate entries. Not the most convenient, but I've done it this way.
Or get one of the many travel/flight apps that work so well and have so many features.

I love this, allows me to have events for your podcasts that will automatically adjust when DST changes here
my only issue is that there's no general timezones like DST, instead I have to pick a location that's in DST, that's pretty minor though

I am at the Appel store and it only works on the iPhone 4s

when ever i get the ispw the files open up it wont be a solid file its all these rnoadm files help Thank for replying

Good information and valid as well. Blogs are a big deal in SEO and even getting more personal with your clients. Well written article, thanks.
Thank you for signing up to iMore. You will receive a verification email shortly.
There was a problem. Please refresh the page and try again.