Daily TiPb: How to add more game ROMs to the iMame emulator for iPhone and iPad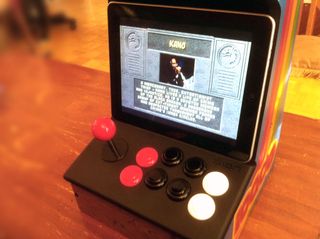 Curious how to get more game ROMs on the iMame emulator for iPhone and iPad? iMame hit the App Store yesterday but didn't exactly wow anyone with the built in content. Luckily, it's fairly simple to add more ROMs to the emulator, including a lot of classic games if you have them handy.
Download iMame - App Store link

(opens in new tab)
Download Mac or Windows PC desktop iExplorer client - Web link
Connect your iPhone, iPod touch, or iPad to your computer via USB dock cable.
Start iExplorer on your PC
Navigate to apps/imame/documents.
Drag and drop zipped ROMs from your PC into iExplorer in the apps/imame/documents.
Note that only ROMs from certain ROM sets will work. Rumor has it that you need ROM set 37b5, but older sets can work. It's hit or miss at this point.
It also supports iCade if you have one, and I found the support from the open source community was already better than Atari's iCade support. It detects changes better, and when it connects to iCade, the on screen controls disappear. You can also customize the controls.
UPDATE: As noted in the comments, you don't need iExplorer app on your iPhone, iPod touch, or iPad. You just need the Mac or Windows client. I've updated the steps to remove that reference.
Daily Tips range from beginner-level 101 to advanced-level ninjary. If you already know this tip, keep the link handy as a quick way to help a friend. If you have a tip of your own you'd like to suggest, add them to the comments or send them in to dailytips@tipb.com.
Get the best of iMore in in your inbox, every day!
I've read the article several times, but for the life of me I don't understand why downloading iExplorer to your iOS device (step 2) is necessary, when iExplorer for PC or MAC works fine without the iOS app.

That is a very good point! Right now I am going to bang out a couple of these games.

why do i only see file numbers and no names when my ipad is hooked up?

Awesome. I've been meaning to figure out how to add these to my phone. Thanks!

I have iExplorer on my PC and I have dragged and dropped files but iMame doesn't find them or show them. I don't understand why.

Make sure after installing rooms you go into options in IMame and go all the way to the bottom and click rescan all rooms

That is Roms spell check...damn you

I'd like to do it, but the controls are useless without the iCade. On my 4S, the virtual joystick on screen is very flinchy. Moving it will result in it giving random movements in the opposite direction, and it's very hard just to get it to move one space...

Help where do I download the rom games

Can I load SNES Roms? Or is that too much to ask? I want Mario on my phone.

Does anyone know where (in Canada, AB more specifically) I could buy the iCade (iPad cabinet)?
Looking for a last-minute Xmas gift and it would be great to pick one up from a store.

Anyone know how to fix the Game Title Colors. When a game is played it changes from White to Black Letters. The Black Letters on a Red Background are very hard for me to see... Thanks

Found my own answer... Hold the Exit Button and Coin Button at the same time turns the Title to White again (This is used to mark a Title as a Favorite in Dark Blue)...

I must be missing something - when iexplorer opens on my PC, the only files on the left I see is my ipad directory. I see apps/imame/documents, but where do I get my ROMS from which are on my PC? I don't see a directory for my PC to pull from. What am I missing?

I wish someone would answer this as well. Help!

I try to drag and drop but it just gives me the 'no' symbol...anyone else have this issue?

Anyone know if the Atari Duo stick works with iMame?

I would like to know how to get aroung the message in iExplorer "this iDevice has reached it's limit of connecting with 5 directories..." It goes on to say restart iDevices or reconnect iPad. Done both of these and no luck. Why does it do this when i haven't opened any directories? I do have heaps of apps though.
Thank you for signing up to iMore. You will receive a verification email shortly.
There was a problem. Please refresh the page and try again.