Best last-minute holiday gifts!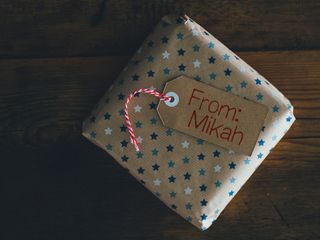 You're probably heard this a billion times, but I'll say it again:
THE HOLIDAYS. ARE. MADNESS.
I don't blame you for totally not having everything totally together, which is why I went ahead and put together this list of some of the best last-minute gifts that are bound to get to your doorstep before Christmas!
TP-Link Multicolor Smart Wi-Fi Bulbs
Not only is this TP-Link Multicolor Smart Wi-Fi Bulb guaranteed to arrive before Christmas, it's also guaranteed to light up your life in more than 16 million hues — and that's a hell of a lot of hues for around $37!
You can control your Multicolor Smart bulb from almost anywhere with your iPhone, regardless of whether you're at home or you're away at work, a pal's place, or on vacation. You can easily pair the TP-Link with your Amazon Alexa to enable voice control, too. Pretty cool, huh?
After picking up the TP-Link Multicolor Smart Wi-Fi Bulb, simply download the free Kasa app to control and set the color of your bulbs, and you're good to go! You can even set the time certain bulbs come on in your house, so you're always coming home to a well-lit casa.
Toshiba Canvio Connect 2 Portable Hard Drive
You know what's worse than not having a great gift under the tree at Christmas? Not having enough space for all of your files, documents, videos, photos, and more. That's precisely why the Toshiba Canvio Connect 2 Portable Hard Drive is a great last-minute holiday gift to consider picking up for around $55!
The Canvio can be enabled to work alongside your cloud, and can be bought at sizes of 1 TB, 2 TB, 3 TB, and 500 GB. After plugging in the new hard drive, backing up and restoring files and folders is made easy, and password-protecting your content is totally apossibility as an extra level of security, too!
The Toshiba Canvio Connect 2 Portable Hard Drive comes in a couple of awesome colors, including black, navy blue, white, and white gold, but if you really want to stick with the holiday spirit, I suggest the bright red.
Roku Streaming Stick
Give the gift of complete access to Amazon, VUDU, Hulu, Netflix, Google Play, and soooo much more with the Roku Streaming Stick: the perfect last-minute holiday present for someone who truly has everything.
Not only does the Roku Streaming Stick deliver as many channel options as the Roku 4, it's around half the cost of the darn thing. In total, you get over 300,000 + options to pick from, and it's super easy to browse through your option on your iPhone, iPad, or MacBook.
You can even search with voice-activated options and send music, photos, and videos. It's a Christmas miracle! (And it'll only cost ya' around $40!)
WowWww Chocolate CHiP Robot Dog
You know what will automatically make you the coolest uncle/ sister/ cousin/ aunt/ grandpa/ dad/ girlfriend/ neighbor in the world? Giving that cool kid in your life a literal robot dog in time for the holidays!
Enter WowWww Chocolate CHiP Robot Dog: The adorable techno-pooch that can be trained, responds through touch, and can be controlled and played with using the SmartBand that allows him to recognize you as his owner.
CHiP comes with a smartball that you can use to play fetch, and when he's sleepy and needs recharging, chip heads off to his SmartBed automatically for a nap. Oh, and did we mention that CHiP is designed with an adaptive personality? The little robo-dog will literally learn, adjust, and mature over-time with the help of high-tech sensors.
This awesome little pup — that'll cost you around $180 — also comes in two different colors: chocolate brown, and white.
YUNSONG 3-pack nylon-braided Lightning cable
Do you have someone that's always losing or ruining their charging cable? Then be a great human being and pick them up some YUNSONG 3-pack nylon-braided Lightning cables for the holiday season!
With this 3-pack, you get 3, 6-foot cables, giving your present-receiver all cable-y goodness their heart could ever desire for around $11.
Designed with a stylish braided nylon jacket to prevent additional wear, the YUNSONG 3-pack nylon-braided Lightning cables can charge your iPhone (or iPad!) quickly.
You can pick up these cables in white, black-blue, or black-red, but if we could be honest, the black-red combo is the most holiday-ish, don't you agree?
Amazon e-gift card
On the first day of Christmas my true love gave to meeee....
EVERYTHING I WANTED BECAUSE AMAZON GIFT CARDS = YAS.
Do I really need to spell this one out for you?!
What's your last-minute gift pick?
Is there a present out there that you're going to order in at the last second? Let us know what your plans are in the comments below!
Updated December 2017: This article has been updated with the best of the best choices! Happy holidays!
Master your iPhone in minutes
iMore offers spot-on advice and guidance from our team of experts, with decades of Apple device experience to lean on. Learn more with iMore!
Cella writes for iMore on social and photography. She's a true crime enthusiast, bestselling horror author, lipstick collector, buzzkill, and Sicilian. Follow her on Twitter and Instagram: @hellorousseau