Devium Dash looks to replace your car audio system with your iPhone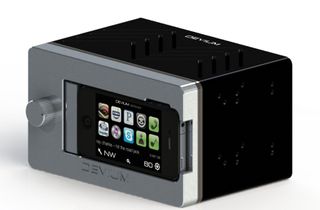 The Devium Dash Kickstarter project is a replacement stereo system for your car with one big difference. Its brain is your iPhone 4 or iPhone 4S. The unique Devium Dash is composed of two parts. The body sits in your car and provides 4 x 50w to power your speakers, two 2v Maxim preamps for front and rear/sub, as well as AUX-in and a video pass-through for an in-car display. The faceplate attaches magnetically to the body and docks your iPhone or iPod touch. This means that, for example, if Apple releases an iPhone 5 with a different form factor, you don't need to replace the entire Devium Dash when you upgrade; you simply acquire a new faceplate adapter.
Once slotted into the Devium Dash, your iPhone or iPod is fully powered and you then have access to all your iTunes and streaming media, hands free Bluetooth calling, turn-by-turn navigation apps and, of course, Siri. Because the Devium Dash holds your device in landscape orientation, they are planning several custom apps such as a phone dialer and substitute "home screen" with app shortcuts to make the experience better. They're also teasing a kit that will let your iPhone or iPod touch communicate with your car's on-board computer.
Obviously the downside is that you have to remove your existing in-car entertainment system to fit the Devium Dash. They maintain this is no more difficult than installing a GPS unit, so if you are happy enough to do that, and the Devim Dash is compatible with your car model, then installation should be pretty simple.
Mobile devices like the iPhone and iPod touch are taking an increasingly important role in automotive technologies. Several prominent systems like Microsoft Sync and OnStar now interface with iOS apps, and electric cars like the Chevy Volt and Focus Electric provide for even higher levels of remote control. For people who have older cars, however, mobile device integration has been extremely limited. While focused on entertainment and travel assistance, products like the Devium Dash open the door to the next generation of driver experience.
The Kickstarter project has so far attracted pledges of over $20,000 which is just under the half way mark before it gets funded. It still has 45 days to run so we will keep a close eye on it to see if it makes it.
The Devium Dash is expected to ship in July, 2012.
Source: Kickstarter via @adora
Devium Dash - Daily-use Demo (opens in new tab) from Paul Lizer (opens in new tab) on Vimeo (opens in new tab).
[gallery link="file" order="DESC" columns="2" orderby="title"]
UK editor at iMore, mobile technology lover and air conditioning design engineer.
Don't you mean they are working on a "landscape" dial screen as it is currently only available in portrait mode?

Yep, my mistake, thank you

nice product, but would be better if the iPhone had a landscape home screen option.

It is already hard enough to text while i drive, now i gotta reach to the dash to do it?

You must include devium radio in one off your giveaways. I would tattoo imore to the inside of my lower lip for this prize

I wonder if the faceplates are designed to be easily replaceable? I get new phones way more often than getting new cars, do I would hope an upgrade to an iPhone 5 wouldn't make this unit completely useless.

http://reviews.cnet.com/8301-13746_7-57367621-48/snap-your-iphone-into-t...

Bye bye live radio. You would have to use an app like iHeartRadio and hope your favorite station is supported.

With the death of unlimited data, streaming becomes a very expensive proposition unless you don't do it to much. While it would be cool to be able to stream XM/Sirius or other stations while driving, the current pricing structure limits its viability.
That sai, this is a cool product; unfortunately it won't work in my car which has a proprietary bus. Fortunately, there are rumors that some manufacturers are looking to similar iPhone based solutions.

What death of Unlimited Internet? I stream music in my car all the time that I'm in it. I've not heard fm radio in years!
Either start a movement to get your carrier to offer what you, the customer really wants or switch to a carrier that offers this service.

it has FM built in. The app has a tuner.

Pretty nice!! i want one!! :) hehe

Or just use a simple 3.5mm aux in and put your phone on the dashboard... That's what I do.

And that doesn't cost $250...

Will it work with an iPhone case? j/k

http://www.devium.us/products/dash/#jetmailssignupform

While this may seem like a cool idea, I doubt it would take off for a few reason. As someone said earlier, what happens if the next gen iPhone has a different form factor? While it may not be "safe", lots of people still check their texts, emails, etc while driving. Having to pull out the iPhone every time to do that and interrupt the music would suck. The screen size is not ideal for a car stereo these days. Most new cars with a premium audio system have 6 or 7 inch touch screen in them. Lastly, this idea is far from new. Pioneer has an app radio that uses the iPhone (or Android phone on the newer model) for everything. The only difference is that the iPhone plugs into a cable. I doubt the specs on the Devium Dash would even be worth comparing it to the pioneer model. Pioneer App Radio http://www.pioneerelectronics.com/PUSA/Car/AppRadio/AppRadio+2+(SPH-DA100)

Yep, i think i'll keep using a proclip mount. And keep my car stereo where it is.

Re: "what happens if the next gen iPhone has a different form factor?"
Chris wrote: "if Apple releases an iPhone 5 with a different form factor, you don't need to replace the entire Devium Dash when you upgrade; you simply acquire a new faceplate adapter."
Re: "Having to pull out the iPhone every time to do that and interrupt the music would suck. The screen size is not ideal for a car stereo these days."
One word: "Siri."

Nice idea but what happens if and when they change the shape of the iPhone? It looks custom fit for the 4/4S. A slightly wider or longer iPhone 5 will make it useless.

Whoops. My bad. I went to the source. Looks like you can buy interchangeable faceplates. Could be a winner here.

As mentioned once already Pioneer pretty much makes this already except you plug your phone in (and of course, throw it in a cup holder). I have seen and used the Pioneer AppRadio in person (I even installed the app on my phone to try it out for myself) and it has an absolutely beautiful screen that puts other in-dash NAVs to shame. Best part is it's only like $400. I would buy one if it wasn't reliant on having cell service for navigation. I work in a lot of rural areas where I'm lucky if I can make a phone call let alone run google maps. The main thing that I don't like about this Devium is IMO the iPhone's screen is way too small to be mounted in your dash; Google maps is hard enough to read holding it in your hand. Come out with a simple/universal way to stick an iPad in your dash and then you'd be on to something.

The idea is nice. However, many newer cars route more functionality through the head unit than just the audio (security system, etc). Plus, I drive alot of rental cars and most new cars have iPod/iPad functionality built in. If not, then there's always an Aux input.
Also, the form factor is double DIN, which is not always the right size for a car.

Pretty cool,but too much having to touch your iphone while driving isn't cool in my book...I luv my Alpine audio setup in my car,so I will opt for an adapter to hook up my iphone4 to my audio system.

I was with him until he started checking his text while driving. That is all America needs is another distraction while driving.

Looks great, keeps the crooks from braking into the car for a radio. On the outputs dose it have front rear and sub, with all those outputs makes the car sound great.

What was the GPS app he was using? It sounded like Siri was giving him turn by turn directions, but when I try it it just displays the Google map directions and I have to tap the arrow for each step.

My Ipod/Iphone replaced my audio like 5 or 6 years ago. Just use an aux input and a 3.5 mm cable for $6. Or do what i did and buy a 3.5 to line in adapter for iphone audio cable. I got one off of Amazon made by Fiio for about $5. Works perfect for direct iphone line in audio.
The second thing is this device is very unattractive and i don't think i'd want that facade mucking up the look of my wood grain.

i love this! definitely need to figure out the whole landscape home screen situation.

If it won't work with my iPhone in a Otterbox Defender Case, I'm not getting it.
Cool as it may be, it's too much trouble to take it in and out of a case.

Love this product. But I think there's room for improvement.
1) Make the faceplate tilt-able. Some cars have the audio system port way at the bottom of their car. Tilting the screen upward may provide better view.
2) Create an app specifically for this product. No more awkward portrait-landscape confusion. Also, make the app automatically read messages so you don't have to be distracted while driving.

DAB should be a consideration for the uk also a good selling point

I guess he is trying to push this to older car owners. My truck has a Aux plug, and my wife's Volvo has a Bluetooth connection that links her phone to her car radio. She can call up a song, or make a phone call from the touch screen. Also, it's no the most attractive thing. And if you have a phone call, what do you do?? Plus, on some cars, that would put the "radio" very low on the dash, making in not too practical / unsafe.

I'm begging for something like this. Please hurry!

Thanks for the auspicious writeup. It in reality was once a amusement account it. Look complicated to far delivered agreeable from you! However, how can we be in contact?

I just could not leave your site before suggesting that I extremely enjoyed the standard info an individual provide on your visitors? Is going to be again often to investigate cross-check new posts

Do you might have a spam issue on this site; I also am a blogger, and I was wondering your situation; weve produced some great techniques and were looking to swap solutions with other people, be positive to shoot me an e-mail if interested.
Thank you for signing up to iMore. You will receive a verification email shortly.
There was a problem. Please refresh the page and try again.