Do you want some makeup with that iPhone case?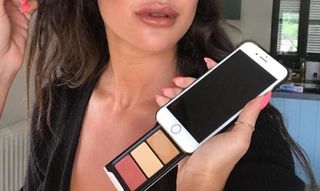 In today's day and age, there seems to be a billion-and-one different, strange pieces of tech that relate in some way to the fashion and beauty industry.
Whether you're willing to spend a couple of bucks on a device that scans and analyzes your skin, or a hairbrush that essentially does the same for your hair while suggesting products to help with damage and frizz control, there are always weird beauty things that mesh together your iPhone with something techy and useful.
But what if you could literally pull out an entire makeup palette from the back of your iPhone, apply your foundation, touch up your lipstick, and add a li'l lip balm, all from the palm of your hand?
What the heck are you talking about?
Recently a brand called POUT designed and started advertising an iPhone case that literally houses three makeup components in the back portion of your iPhone.
The case, which is being toted as the 'World's First Mobile Beauty case' works by snapping onto your iPhone and sliding out a small drawer from the bottom which houses the three different types of makeup (lipstick, foundation, and lip balm).
Do I get to pick the color of makeup that's in the case?
Absolutely! You get to pick from seven different shades of lipstick including juicy red, misty rose, red velvet, naked blush, wild cherry, Ibiza pink, and berry milkshake and four foundation shades including gentle ivory, irrisistible tan, pretty beige, and beautiful brown (not enough shade options IMHO, but whatever!)
The lip balm is just a standard, moisturizing lip balm.
You can also choose to have 3 lipstick colors, 3 foundation colors, 3 clear lip balms, or any combination of the three!
What type of iPhone does it fit?
You can get the POUT Mobile beauty case for the iPhone 6, 6s, and 7 in only one color combo – pink/black.
Why might this case be a really bad/gross idea?
It's really not news that cellphones can be truly disgusting, thriving, bacterial communities of grossness and ickiness.
It's also not news that makeup goes all over your face, so having your makeup – which will be applied around your eyes, your mouth, over your pores, and potentially over open acne or breaks in the skin – sit in a phone case that gets handled when you're on the toilet, when you're playing with animals, when you're sweating and laying it down at random surfaces at the gym, is kind of super disgusting.
No where on the POUT website does the company assure that the makeup is secured with a rubber stopper or some sort of additional defense or seal from the everyday bacterial horrors of real life creeping in and spreading themselves all over your makeup.
Subsequently, with recent reports of people being burned by iPhone cases with liquid/alternative materials in them, having makeup stored at the back of your iPhone might be the recipe for a burn or an accident.
Also, have you ever left lipstick in a kinda-hot car? It freakin' melts, so who's to say that once your iPhone gets a little overheated the product won't melt and leak into the case itself? Have you ever tried to get foundation out of the headphone jack of your iPhone?
It's not fun. Trust me.
What do you think?
Do you think that the Mobile beauty case is a cute idea for those who love their glitz and glamour, or do you think the design and concept is a bit backwards, gross, and ridiculous?
Let us know what you think in the comments below!
Get the best of iMore in your inbox, every day!
Cella writes for iMore on social and photography. She's a true crime enthusiast, bestselling horror author, lipstick collector, buzzkill, and Sicilian. Follow her on Twitter and Instagram: @hellorousseau
The idea is cute but I do fear it being gross. I think it would be a cooler idea if there was something that was magnetic that can attach to your phone for ease but can be separated to just be put in your bag.

Looks cool. I'll buy one for my wife.