Does the Garmin Vivofit jr. 2 have a sleep tracker?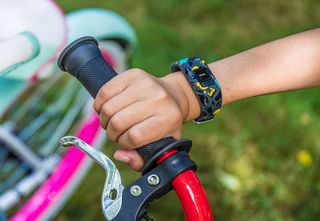 Does the Garmin Vivofit jr. 2 have a sleep tracker?
Best answer: Yes, the Vivofit jr. 2 does have sleep tracking capabilities. The device is equipped with an accelerometer motion sensor that tracks your child's sleep, which can be viewed in the Vivofit jr. app.Track your child's sleep: Vivofit jr. 2 (opens in new tab) ($50 at Amazon)View stats in the app: Vivofit jr. app (opens in new tab) (Free at App Store)
If you've been searching high and low for a fitness tracker that'll encourage your child to be more active and monitor their sleep patterns, you'll have met your match with the Garmin Vivofit jr. 2 (opens in new tab). This device pulls out all the stops when it comes to activity and sleep tracking. It will monitor how long they sleep each night as well as how much of it was light sleep vs. deep sleep.
When you download the Vivofit jr. app (opens in new tab) to your smartphone or tablet, you can sync it to your child's device. This will allow you to keep track of their activity, sleep, responsibilities, and more. Have more than one kid you want to keep up with? No problem. In fact, the app can track up to eight children/devices. A maximum of two parents or guardians can manage the devices via the Vivofit jr. app.
We all know how important a restful night of sleep is. Once you've got everything set up, you can keep track of your little one's sleep right from the app. You'll notice improvements in no time. If you need a way to motivate and remind your child of their responsibilities, the mobile app has got you covered.
The Vivofit jr. 2 also features a move bar, which will remind them to keep moving after an hour of inactivity. It won't be long before they're hooked on the daily challenges in an effort to unlock rewards and enjoy themed adventures. With all this activity, they'll soon be tuckered out and well on their way to a better night's sleep!
Catch some Zs
(opens in new tab)
Sleep is on the way

This swim-friendly device tracks steps, sleep, and 60 minutes of daily recommended activity. Once the goal is met, they'll enjoy themed adventures. Kids can also compete in step challenges with nearby friends.
Monitor sleep activity
(opens in new tab)
Free and easy tracking

Want to keep track of your child's daily activity and sleep patterns? Simply download the free mobile app and start monitoring their stats. Inspire them to do more with reminders, chores, and rewards.
Get the best of iMore in in your inbox, every day!
Thank you for signing up to iMore. You will receive a verification email shortly.
There was a problem. Please refresh the page and try again.