Does the iPhone 6 olloclip lens work with the 6s and 6s Plus?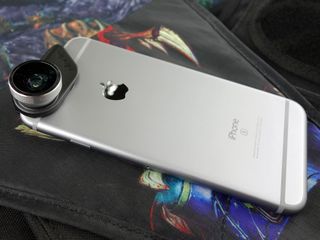 This pocket-sized camera lens allows you to get more creative with your mobile photos, providing a 4-in-1 system that features a wide-angle, fisheye, 10x macro, and 15x macro lens for both selfies and standard shots. While olloclip hasn't "officially" outed compatibility for iPhone 6s or 6s Plus on their site, they have listed it on Amazon as compatible (opens in new tab). So, we figured we'd give it a test run on an iPhone 6s to see for ourselves.
For those not already familiar with the olloclip lens, it uses a plastic clip that slides over the device and both cameras of your iPhone 6s / 6s Plus. One side features a wide-angle lens, the other a fisheye, and both have macro lenses which can be found by unscrewing the lens from the clip. Included are 3 pendants — green, cyan, and black — that can be snapped into the olloclip for toting around your neck, on a backpack, carabiner or lanyard when not in use.
Image 1 of 2
Depending on the environment you're shooting in — indoors or out — results will vary, so it's best to just do a little experimenting on what positioning is best for your style photo. If you're using a case on your new iPhone you won't have much luck fitting the olloclip on top. The good news is the company sells a couple bumper cases for both the iPhone 6s (opens in new tab) and the iPhone 6s Plus (opens in new tab) that are designed for the lens clip — one in smoke and the other clear.
Image 1 of 2
For those rocking their device naked, the lens clip fits nicely without feeling like it's too tight or scratching either side. The olloclip 4-in-1 lens system comes in a handful of different color combinations, available from Amazon or the iMore Store for $79.99. Have you used an olloclip lens on your new iPhone 6s or previous models? Let us know!
Buy from Amazon (opens in new tab)
Buy from iMore Store{.cta.shop}