Does the Nintendo Switch OLED model have Joy-Con drift?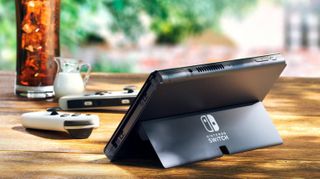 (Image credit: Nintendo)
Does the Nintendo Switch OLED model have Joy-Con drift?
Best answer: Unfortunately, it is possible for the Switch OLED to experience drift issues. Nintendo has made minor updates to Joy-Cons over the years, but the ones in the Switch OLED are the same as the controllers that came with the Switch V2, so they're still susceptible to drift. Players can purchase new controllers, but Nintendo's services also repair Joy-Cons with drift for free.
Nintendo isn't fixing the Joy-Cons, but...
Switch owners have been trying to find a fix for Joy-Con drift for years. It's an issue where the Switch registers signals from the controller without anyone touching them. Players using Joy-Cons with drift will notice their character moving or menu items scrolling while not touching the controller.
In 2019, Nintendo released a statement about Joy-Con drift following a class-action lawsuit, and the game company's repair team is still fixing Joy-Cons with drift for free even if they're out of warranty. Because of the years-long problem, some players may be hoping the new Swith OLED will include update controllers that don't have drift. Unfortunately, that isn't the case.
Nintendo's UK website posted a pretty clear answer saying:
In that case, controllers with drift might still ship with the new system, and it's the luck of the draw whether or not you'll get a defective one. Often, drift occurs after the contacts in the controller have worn down a bit. However, some people experience the problem directly after pulling their Joy-Cons from the box.
What's new in the Switch OLED
The Switch OLED features a slightly larger and far brighter screen, better kickstand, and improved speakers. While it isn't the Pro upgrade many players were hoping for, the system makes some graphics pop. However, the OLED model has the same processing power and RAM as the older version, so it doesn't make download or loading times any faster.
Other differences include the new Switch dock, which features a LAN port. The Switch OLED is also less than one inch longer than the original Switch, so form-fitting or extra tight cases and accessories might not fit the OLED model at all. Still, the Switch OLED is a great option for first-time players or those who need a minor upgrade. Serious players who want graphics upgrades should invest, too, especially if they have the launch-model Switch.
You can still fix Joy-Con drift
Players with Joy-Con drift can visit Nintendo's support site to file a ticket and service their Joy-Cons. However, players with five or more Joy-Cons must call the company instead of filling out the online form. Nintendo is currently servicing Joy-Cons with drift for free.
While Nintendo may change their mind or make later updates to the Joy-Con controllers, we wouldn't recommend holding your breath. However, we would recommend purchasing a pair of backup Joy-Cons, so you don't have to wait to play your favorite games. Alternatively, you could always purchase a Pro Controller, which mimics a classic game controller, making racing games like Rocket League and others much more playable. It may be pricey, but it could be worth the investment if you prefer a classic controller.
Whichever you choose, you'll be prepared should your current Switch or new Switch OLED experience Joy-Con drift.
Gorgeous screen
Nintendo Switch OLED - Gaming Console
Get yours before they're gone

The Switch OLED has a larger screen that displays darker hues more vibrantly and has a smattering of other improvements. It's the best Switch on the market right now.
Better safe than sorry
Neon Red/ Neon Blue Joy-Cons
Back up your Joy-Con

You could wait for a repaired set of Joy-Con to be mailed back to you, but why not purchase a second set to ensure you never experience issues with play? These colorful Joy-cons are perfect, with a little extra pop of color.
Get your pro on
Better gaming, better control

Ready to better your gameplay in racing games, side-scrollers, and more? Some games just feel better with the Pro Controller, and the wireless function is super convenient. Plus, there's no Joy-Con drift to worry about!
Master your iPhone in minutes
iMore offers spot-on advice and guidance from our team of experts, with decades of Apple device experience to lean on. Learn more with iMore!