Does the Wi-Fi on your Mac keep switching to another network? Here's the fix!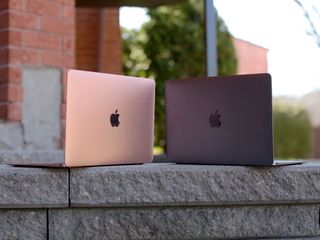 (Image credit: iMore)
The Mac provides a convenient feature that remembers the Wi-Fi settings of places you've connected to in the past. This makes it possible for you to reconnect when you visit a location again without having to go through the sign-in rigmarole.
It can also be a problem if a nearby wireless network you've joined in the past is stronger than your own. It can also be a problem when someone in your neighborhood is an XFINITY customer. Your Mac might switch over to the stronger signal, whether you've asked it to or not.
You can stop your Mac from switching to a different Wi-Fi network by removing it from your stored settings. You can also stop an XFINITY Wi-Fi network from popping up and asking you to join all of the time. Here's how.
How to make your Mac forget a Wi-Fi network
You may have saved settings for your neighbors' wireless network because they helped you out when you first moved in (that's what happened to me), or you may have switched to a new network but your old one is still hanging around. You should remove them from your stored networks.
Click on the Wi-Fi icon in the upper right corner of your Menu bar.
Select Open Network Preferences... from the dropdown menu.
Click on Advanced.
Click on the Wi-Fi tab.
Click on the name of the wireless network in the Preferred Networks window that your Mac switches to.
Click on the minus (-) button just below the Preferred Networks window.
When prompted, click Remove. This will remove the network from your stored settings.
Click OK
Click Apply and close the window.
You can repeat this process for all Wi-Fi networks that you don't plan on using again in the future. For example, if you stayed at a hotel that you don't plan on going back to, there is no reason to keep the wireless network stored on your Mac.
How to change the priority of a Wi-Fi network on a Mac
Comcast offers a special service to its XFINITY customers in that they can piggyback onto the shared XFINITY Wi-Fi network without needing a password from just about anywhere. That's because Comcast's routers from 2014 on are broadcasting the "xfinitywifi" signal. So, if you have a neighbor with an XFINITY account, your Mac might be trying to connect to it, even if you've never had Comcast before in your life.
The thing about XFINITY's publicly shared Wi-Fi is that it's everywhere and any time your Mac goes offline, it will pick up on xfinitywifi again, which is why, even when you remove the network, it might still pop up again. Instead, you should move the network to the bottom of the list.
When the xfinitywifi network is at the bottom of the Preferred Network list, your Mac will prioritize your other wireless networks first before trying to join it.
Click on the Wi-Fi icon in the upper right corner of your Menu bar.
Select Open Network Preferences... from the dropdown menu.
Click on Advanced.
Click on the Wi-Fi tab.
Click on xfinitywifi.
Drag xfinitywifi to the bottom of the list.
Click OK.
Click Apply and close the window.
If you are a Comcast customer with an XFINITY network and want to stop broadcasting the xfinitywifi network, follow our instructions here.
Any questions?
Anything else you'd like know about stopping your Mac from switching to another Wi-Fi network? Let us know and we'll help you out.
Lory is a renaissance woman, writing news, reviews, and how-to guides for iMore. She also fancies herself a bit of a rock star in her town and spends too much time reading comic books. If she's not typing away at her keyboard, you can probably find her at Disneyland or watching Star Wars (or both).
I wish IOS would let you prioritize wifi networks. Sent from the iMore App

For a big excision of old WiFi data, deleting one at a time is a drag. For the removal step, you can also mass select SSID's, and do a batch delete. Just remember to check the little box in the pop up asking "do for all".

Something is wrong with the edit and reply feature ... Clicking either is blowing up into code...

When i restart my iMac, it doesn't connect to the default WiFi Network. It doesn't connect to anything i have to click on my Wifi from the list to connect every time i restart my iMac! Any solutions to that? Yes i did what you mentioned here in the past but it didn't help.

One other thing I've found is that deleting a large number of SSID's doesn't always stick. Sometimes, some of them return to the list. I've found that going into the keychain and then sorting by type to show "airport (something- apples way of saying WiFi)" and then deleting them there is also helpful. Note, there seem to be two lists that you need to do this to, using the upper and lower lists in the sidebar: "iCloud & passwords" and "system & passwords" (these names being from memory as I'm not at my Mac.) Finally, I've found that sometimes one has to delete some SSIDs from a Mac from these 3 locations (config panel once and the both keychain locations twice each) before all unwanted SSIDs are gone. (I don't know if this is because of low bandwidth reducing the effectiveness of the iCloud sync of these, or impatience, so YMMV.)
Thank you for signing up to iMore. You will receive a verification email shortly.
There was a problem. Please refresh the page and try again.