Does the Withings Move have a sleep tracker?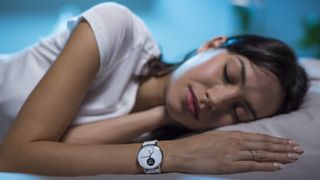 (Image credit: Withings)
Does the Withings Move have a sleep tracker?
Best answer: Yes, the Withings Move is outfitted with a sleep tracker that keeps tabs on your sleep cycles, duration, quality of sleep, and interruptions.
Track your ZZZ's with the Withings Move
The Withings Move does have a sleep tracker. If you wear your watch to bed, Withings Move will automatically track your light and deep sleep cycles, duration of sleep, sleep quality, and any interruptions to your sleep throughout the night.
It will deliver a Sleep Score for your overall night's rest that you can view on the affiliated Health Mate app. This is great for tracking your sleep trends over time to ultimately help you get better rest.
Sleep Scores and Smart Wake
Withing's Sleep Score uses an exclusive algorithm that automatically scores your night based on your sleep cycles, duration, regularity, and interruptions. Because Withings Move knows if you are in light or deep sleep, it can choose the best time to wake you up according to your individual sleep schedule.
This feature is called Smart Wake-Up. You simply set a wake-up time in the app, and Withings Move will gently coax you awake with a light vibration.
The Move seems to track sleep based on movement
Take note that the Withings Move does not have a heart rate monitor and that the Move seems to track sleep based on movement for the most part. If you're a sleeper that doesn't move much during the night, your sleep insights are likely going to be more accurate than those that tend to do gymnastics in their sleep.
That being said, if you're chilling in your chair after a long day, watching TV, and not moving much, the Move might mistake that for sleeping. You might want to make sure your band is the proper size to reduce movement as well. So, yes, the Withings Move does have a sleep tracker, and overall, reviewers seem to agree that the sleep tracker is relatively accurate.
Our pick
(opens in new tab)
Sleep Scores + Smart Wake

The Withings Move has a sleep tracker that keeps track of your sleep cycles (light and deep), duration, sleep quality, and interruptions to deliver an overall Sleep Score for the night.
Get the best of iMore in your inbox, every day!
Nicolette is a freelance writer for iMore. She's been hooked on Apple products since she got the very first iPhone in 2007 and made the switch from PC to Mac in 2008 after inadvertently dousing her laptop with a hefty dose of water. A dedicated creative, Nicolette has had the pleasure of working with some of the top websites, studios, and brands in the industry throughout her career, and enjoys writing about all things: Apple, health, fitness, audio, and home. With over a decade of high-level experience as a health and fitness professional, Nicolette specializes in tech pertaining to the field. If she's not working, you can find her sipping a glass of wine, enjoying a concert, or hanging with her family.