Editors' Choice: Asphalt 7: Heat, Digifit, TV Forecast, and more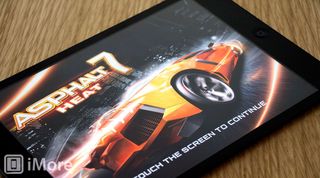 Every week, the editors and writers at iMore carefully select some of our favorite, most useful, most extraordinary apps, accessories, gadgets, and websites. This week's selections include a couple word games, a TV guide, a fitness app, a racing game, and an iBook.
I don't play a ton of games on my iPhone and iPad but when I do, strategy and letter games are my absolute favorite. I've been addicted to Letterpress since it came out and am always looking for more word games to play.
4 Pics 1 Word is a little different than traditional word games and makes you think a little more. You'll be presented with 4 photos and you'll have to figure out what word they all have in common. The more you complete the harder they'll get. It makes it the perfect game for when you just need to kill time and don't want to get too involved in a game that will hold your attention for a long time. You can quickly pop in and out as you want to play which is great for short periods of boredom.
Despite the fact that episodes are available on iTunes or through Hulu, I still watch a lot of my favorite shows live. TV Forecast is my favorite app for tracking the shows I watch. For the most part I can keep when each show airs straight, but if it's a new program, or perhaps one that has been on hiatus for a period of time, it's helpful to have something to remind you to tune in. I really appreciate the ability to set alerts. TV Forecast will give you the air date of a show no matter how far in the future it is, so long as it is available, and will also provide a synopsis of upcoming episodes. At $0.99, TV Forecast is definitely worth a shot if you're look for something to keep track of your favorite shows.
This week I have chosen a fitness app that is working out really well for me. For some reason in the UK the app is called simply iCardio but it is the same as Digifit iCardio in the United States. Digifit is an all in one fitness logging app that lets you log your fitness activities, be that running, walking, hiking, biking or even inside fitness activities.
What I really love about this app is its ability to connect to my Polar H7 Bluetooth heart rate monitor. This allows me to accurately record my workouts and know exactly the amount of calories that I have burned; no more guessing required! I use it for my spinning class and it is a real motivator when you're finding it tough, just look at the app and see how many calories you have burnt; it really drives you on.
I am a huge user of My Fitness Pal, you can add me as a friend if you like (Username: chrisoldroyd) and this app automatically syncs to My Fitness Pal and adds in your calorie burns from whatever exercise you have chosen. It does it all automatically so that's one last thing to worry about.
Digifit also has an online account where you can also upload your workouts and see what you have been doing in a lot more detail. All in all this app is a great companion to your fitness programs. The app is free but if you want to enable the sensors, they have to be done through an in-app purchase.
I've always been a huge fan of racing simulators and one of the best series of those on iOS has been Asphalt. Asphalt 7: Heat doesn't change that, it remains one of the best racing games out there and is visually incredible all things considered. Sure, it does have quite a few in-app purchases should you decide you need them but thus far I've had no issues with playing through avoiding them. Fast cars, plenty of environments to choose from, great replay value and even controlled support if you need it -- can't really ask much more from a racing game. Asphalt 7: Heat is available for $.99 in the iTunes App Store.
Markdown: A MacSparky Field Guide - Rene Ritchie
90% of what I write these days is in Markdown, a plain-text formatting syntax developers by Daring Fireball's John Gruber back in 2004. I've been hand-typing HTML since the 90s, and I can type HTML fast. But with Markdown, I can fly. Where HTML wraps everything in containers, forcing you to think and write in small sets of loops, Markdown wraps things in nothing more than plaintext characters, allowing for a much more linear, more natural flow.
Yet despite using Markdown to write almost every iMore post in the last few years, I remain a very superficial user. Never mind the Merlin Mann's and Bret Terpstra's of the world, I'm barely out of Markdown second grade. Which is why I've just bought and begun reading -- and watching -- Markdown: A MacSparky Field Guide.
Crafted for iPad, and replete with text and screencasts, David Sparks and Eddie Smith, Markdown: A MacSparky Field Guide, covers not only Gruber's Markdown but Fletcher Penny's MultiMarkdown as well. It also includes how to use Markdown on the Mac, Windows, iOS, and the Web.
I don't know how much more Markdown I really need -- part of its appeal is its simplicity -- but I do know I want to understand it better, and Markdown: A MacSparky Field Guide, looks like a great way to do just that.
Like Ally, I'm a huge fan of word games and a new game I've been spending time with is LetterSlider. Remember those puzzles that featured a grid of tiles with an empty space and you had to slide them around to complete the picture or put the numbers in order? Well, LetterSlider is very similar, only you are sliding around the tiles to spell words. Each letter has a point value and there's a double-word and triple-word tile. The goal is to earn as many points as you can in 2 minutes. Because moving the tiles requires a sliding motion and spelling words also requires a sliding motion, these gestures can get a little confusing. Regardless, LetterSlider is still fun.
Your choice?
Now that we've chosen our favorites for the week, we want to hear yours! Did you pick up a killer app, accessory, or game this week? Let us know in the comments below!
Master your iPhone in minutes
iMore offers spot-on advice and guidance from our team of experts, with decades of Apple device experience to lean on. Learn more with iMore!
Former app and photography editor at iMore, Leanna has since moved on to other endeavors. Mother, wife, mathamagician, even though she no longer writes for iMore you can still follow her on Twitter @llofte.