Elite: Dangerous Mac beta now live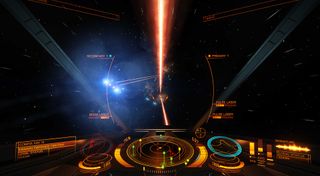 It's the latest iteration of a legendary game that traces its lineage back to the mid-1980s, on platforms like the BBC Micro and Acorn Electron. After a mid-December release of the PC version, the Mac version is now in beta. What's more, you can download the original game for free!
Elite: Dangerous puts you in the pilot seat of an interstellar spaceship. You start with a small amount of funds and then find your way into an open world galaxy: 400 billion star systems, a digital recreation of the actual Milky Way.
You decide what you want to do to survive: take missions, trade, engage in combat, piracy and more. Unlike previous Elite games, this also features multiplayer mode.
Announced on the Frontier Developments forums, the Mac beta has pretty steep recommended system specs:
The developers note, however, that optimizations are planned and final system requirements are expected to drop.
By the way, Frontier makes available for free download the original 1984 version of Elite for the Macintosh. It's playable inside a BBC Micro emulator, also included.
In order to use the beta, you need to have an active Elite: Dangerous beta account. If you're a PC user or if you have Boot Camp installed and you'd like to play it on your Mac, the game costs £39.99. You can get more information from the Frontier Developments store.
Get the best of iMore in in your inbox, every day!
Although the current line iMac is recommended, the beta is being tested by owners of Macs that are several years old. I probably have the minimum spec; a 2008 unibody MacBook, 2.4 Ghz 4GB. I'm going through the training scenes and all looks great at 20+ fps.
Thank you for signing up to iMore. You will receive a verification email shortly.
There was a problem. Please refresh the page and try again.