Everything you need to know about Diablo III on the Nintendo Switch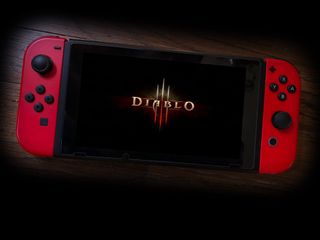 Well, it's happening, folks. Diablo III is finally coming to the Nintendo Switch. So give your mouse finger a break and get ready to dive back into Sanctuary on your Switch. Here's everything you need to know about Diablo III on the Nintendo Switch.
November 2, 2018 — Diablo 3 now available, Loot Goblin amiibo arrives
Diablo 3: Eternal Collection for Nintendo Switch is out now! The game arrives for $60 as the portable Diablo game fans have been waiting for. Our own Christine Chan has already reviewed the game, noting that it's about as perfect a port as one could ask for.
$60 at Amazon (opens in new tab)
A new special edition Loot Goblin amiibo has arrived for the launch of Diablo 3, too. Available exclusively at GameStop (opens in new tab), this $116 figurine is not dressed like your typical Loot Goblin, nor does it behave like one.
The game will apparently spawn a portal whenever you scan your amiibo. We're not sure where the portal will take you. We assume it'll give you a free daily trip to the treasure goblin vault, but Blizzard, Nintendo, and GameStop will only mention that more info is coming soon.
Strangely enough, it seems other amiibo may work with the game, with some unrelated amiibo apparently able to spawn elite and champion packs when scanned every day. We'll have more details on that as we get them. As for the Loot Goblin, GameStop has the goods for you just in time for today's launch.
$16 at GameStop (opens in new tab)
September 13, 2018: We have a release date and pre-order begin!
It's time to start polishing up those demon horns because we finally have a release date for Diablo III on the Switch. We found out today through Twitter that desperate Diablo denizens can get their hands on the game on November 2, 2018.
If you want to start playing on the day it's released it isn't a bad idea to get your pre-orders in now. You can do that for $60 over at Amazon right this very moment!
See at Amazon (opens in new tab)
Aug. 28, 2018: Footage of Diablo III running on the Switch looks great!
In the wake of GamesCom 2018, we've been privy to plenty of footage of Diablo III on the Switch. Despite concerns about performance, everything we have heard and seen indicates that the game is running surprisingly well. It seems as if we can count on about 50 fps despite how chaotic an average Diablo III match tends to be.
If you would like to see Diablo III running on a Switch for yourself, take a look at this video with Blizzard producers as they show off what is to come.
What is Diablo III
If you don't know what Diablo III is, don't feel bad. I am not here to game-shame you. I'm here to help. Diablo III broke records for the highest number of pre-orders for a PC game and was released May 15, 2012. In subsequent years it was released to consoles and did just as well there. Despite its age, Diablo III has maintained a loyal and active fan-base due to its stellar RPG action, regular tweaking by devs, and killer multiplayer action.
The first rumbles
Back in late February 2018, Blizzard posted a cryptic little tweet featuring a Diablo nightlight being Switched (eh?) on and off. The internet pretty much collectively took this to mean that there was an imminent announcement coming about Diablo III being released on the Switch. Blizzard maintained radio silence and things seemed to die down a bit.
Confirmation!
A little more than six months after that cryptic tweet, gamers had what they knew to be true all along confirmed. Diablo III will be coming to the Nintendo Switch!
What does it include?
The Switch version of Diablo III will be entitled the Eternal Collection and will include both the Reaper of Souls and Rise of the Necromancer expansions. It will also include all other content the game has collected in its five-plus years. The cost of admission will also include a few Nintendo flavored tie-ins like a Ganondorf inspired armor set, a pet chicken, and some cosmetic wings.
What about that multiplayer?
Don't you worry, you'll still get a chance to take part in some heated multiplayer action on the Switch and there are apparently a few ways to do that. You can play online multiplayer through the Nintendo Switch online service which we will be getting to grips with when it goes live in September. If you're not into that you can play with up to four of your friends on a single console. Finally, you can even throw yourself a 21st century LAN party and link up to four different consoles wirelessly and without an internet connection.
When can you get your hands on it?
Diablo III is available now for the Nintendo Switch. You can head over to Amazon right now and snag your own copy for $60.
$60 at Amazon (opens in new tab)
Are you going to scoop up a copy when Diablo III comes to the Switch?
Let us know in the comments!
Updated October 2018: Diablo 3: Eternal Collection and a new amiibo have arrived!
Get the best of iMore in in your inbox, every day!
Your article states that the amiibo figure costs $116. I think you have an extra "1" in there.
Thank you for signing up to iMore. You will receive a verification email shortly.
There was a problem. Please refresh the page and try again.