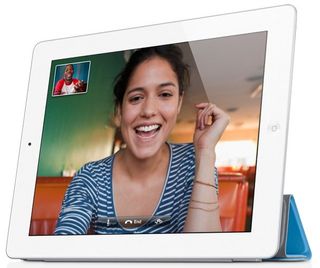 (opens in new tab)
With the launch of iPad 2, Apple has also enabled FaceTime for use with its new built in cameras. The iPad 2 has two cameras, a front facing VGA camera and a 720P HD rear facing camera and both can be used with FaceTime.
FaceTime for iPad will allow you to make video calls to another iPad 2, iPhone 4, new iPod touch 4 or even to a Mac. However you must still be on a Wi-Fi network to use it -- still no 3G support.
Starting a FaceTime call is really simple. All you need to do is find your contacts name in your address book or favorites list, tap on the FaceTime button next to the name. This then sends an invitation to your friend's iPad, iPhone 4, iPod touch 4 or Mac asking if they would like to join the FaceTime call. When accepted the FaceTime call begins and your friends face pops up on your device and vice versa.
The questions is, do you use FaceTime now on your iPhone 4, iPod touch 4 or Mac? Will you use it on the iPad 2? Is it the next great form of communication... or just a gimmick? Let us know in the comments!
UK editor at iMore, mobile technology lover and air conditioning design engineer.
Question - if someone has an iPod Touch 4th Gen and iPad 2, will the FaceTime request go to both devices (assuming they use the same Apple ID)?

yes.. the request wil go to all the devices that use the same apple ID

Well , I need to get Snow Leopard to get facetime on my iMac ( I'm running Leopard ) and I need to get a iPhone 4 or iPod Touch 4 to use Facetime ( I'm with a 3GS - though I fully understand why it can't do facetime) ... so to me right now it's a gimmick. Although the iPad 2 ... iPhone 4 has other improvements other than a front facing camera, It's the main feature at the top of the list. I've used my 3GS next to a iPhone4 and other than the retna display , my 3GS performs just about the same way that the 4 does. I really don't see why machines running Leopard can't do facetime.... gimmick.

It's not a gimmick. It's just a feature that you haven't found a use for yet. For several people I know with the supported hardware, this is a great additional feature that they're really looking forward to.

FaceTime requires two people and I know very few people who has a device capable of FaceTime..
So unless the iPad or new iPhone has a feature I would find use for or benefit from , like 64GB flash for the iPhone , it's a gimmick.

I use FaceTime every single day! Don't hate! Get your gadget game up! LMAO!

I think its a great selling point but I just dont think that enough people are using it right now. I know with my folks living several hours away plus the business trips that I often have to take, I would love to be able to use this feature with my family but I cant justify purchasing a new device JUST for that especially if I just bought the product. Aside from that though, I think facetime is an excellent feature that was produced extremely well it just doesn't get used a lot. I mean come on, half the time you dont even wanna TALK to the people that your on the phone with much less look at them, lol.

I mean come on, half the time you dont even wanna TALK to the people that your on the phone with much less look at them, lol.
WIN.

will skype video be able to work on ipad2 as well?

Yes, I have used skype and talked to many family and friends on it so if they don't have facetime- skype works really well!

FaceTime is just an addition, it's not a key feature. So in a way, yes, it can be considered as a gimmick.

Facetime is the primary reason I purchased three iPod 4s for Christmas. My kids and I use it to communicate when they are at school or extracurricular activites in lieu of a cell phone. Most of the places we go offer free wifi. And, we don't have the added monthly cell phone bill or a contract to worry about. Facetime is a wonderful feature. We also have set up a free texting ap, so GOODBYE expensive cell phones! :)

My girlfriend and I both have MacBooks running Snow Leopard as well as iPhone 4s. We live about an hour away and with work and everything, it's impossible to see each other every day, but we make a point to FaceTime for about an hour or so a couple nights per week. It's really great that I can call her computer from my phone and vice versa. I would be more likely to get an iPad 2 for FaceTime to be able to use it with the Mac/iPhone.

Yes, I use Facetime with my iPhone4.
It is great to talk with my friends in Switzerland.
The lack of cameras for Facetime / Skype was one (great) reason to hold the purchase of an iPad.
For me, now iPad is almost perfect.

Hehe, just get a video still from the iPad's VGA front camera and see if it looks anything like the one on this add...

honestly i never use facetime. ever. just skype.

I use both FaceTime and Skype (when in the woods without Wifi).
Mostly to talk to my niece and nephew or watch their figure skating lessons / hockey games / sledless sledding adventures from 1200 miles away. I use it with family members on occasion and we love being able to use it to show off nifty objects we've acquired or created or to demonstrate, for example, how to prepare this or that meal recipe or how to beat this or that level in the video game we are all playing.
For ordinary conversations, voice is fine enough. But when you live far from family, it's nice to get to see everyone's faces from time to time. Botched haircuts, missing teeth, etc., there are lots of reasons to video chat. I even FaceTime with the doggy; it's fun getting her riled up from so far away.
And look, I didn't even need to mention all the "sexy-time" possibilities...

You have to have WiFi to use skype and Face Time using iphone 4, ipad2 (when it releases) and ipod touch 4. if you know of another way to use these apps w/ out WiFi, please let me know. now that i think about it, i didn't even realize they had Skype video for these devices.

i suppose, being in the "woods" you are using a computer for both using a satellite provider?

Facetime changes the way I play drinking games with my friends over the internet while I'm out of town. True story.
Facetime has let me see exactly two different sets of boobs. More than have ever been on Chatroulette in the last 12 months. Win.
Facetime will revolutionize the way businessmen watch porn. Goodbye productivity.

Just jailbreak your devices! I even use FaceTime on Edge!!!! No problems!

I use Tango when on the go, since it works over 3G. With family living across the ocean (Hawaii) I can't wait for them to have an iPad2 and use FaceTime with them. It is worth the upgrade.

No, facetime in my circle is not a gimmick. As we have two new family members, family is snatching up facetime devices to keep in touch. I will tell you facetime has replaced Facebook in our family. For business Skipe seems to be more common, but more for voice calls. Funny though that Ventrillo is used quite a bit with my clients for conference calls. But for Video calls, Facetime rules.

I wasn't even mad about the low quality cameras, I've come to expect this from apple.

One followup question: Since the iPhone is a (AT&T will offer) WiFi hotspot abilities, will the iPhone also do facetime over its own 3G? That is still the reason I carry a Verizon mobile MiFi device. We facetime driving down the highway.

You should probably pay more attention to driving, while driving down the highway.

Are you crazy. My wife is in the car with me, pressing the gas peddle and holding iPhone while I steer and do Facetime.

I never use FaceTime on my iPhone, but I use Skype on it frequently. If/when 3rd party apps like Skype get access to the cameras, I will be very interested. Until then, not so much.

Honestly, FaceTime was the main reason I held out until the iPad 2. No I don't use it every day, but it's an awesome tool when you need it.
My main question is (like asked above) what happens if you have multiple iOS devices on the same account? If you FaceTime me, will both my iPhone and iPad alert me, or am I going to be forced to create a new Apple ID to use it on the iPad?

I'm assuming FaceTime on the new iPad 2 can use Skype ?

wait. i have a question...does facetime on ipad 2 require you to have a 4th generation ipod touch or a mac? or can you just have the ipad?

Only a left handed iPad can do Facetime. The right handed model needs an iPod touch.

Repeating "myPhone"'s question:
Question – if someone has an iPod Touch 4th Gen and iPad 2, will the FaceTime request go to both devices (assuming they use the same Apple ID)?
Thanks!

Try it if you have a mac, iPhone or iPod touch 4.

If it was enabled on 3G... I'd probably use it every day. Damn you cellular providers!!!

Can't really use FaceTime if no one has the money to buy a FaceTime device.

If I make a Facetime call to an iPad2 (from iPhone 4 or maybe another iPad2), and it's not being used and in sleep mode, will it "wake up" to alert me that someone is calling? Or does the service require coordination between both users to make sure their devices are both on and ready to accept a request? If it wakes up and alerts me, then I see this better than a telephone in the house and will revolutionize the way people connect -- WITH MOBILITY (key)!

it WILL ring while asleep.

Mine doesn't wake up when receiving a facetime call. It used to, but for some reason now it doesn't. It's driving me nuts trying to fix this.

do i have to see if my friends have ipone4 or mac to do facetime with them.i'am looking into getting a ipad 2 just want to know more about facetime use

I love Apple's racially-diverse photos strewn about the entire site. I'm not racist or anything, but sometimes it just makes you chuckle a little.

Well, I couldn't find where you can even use Skype on iPad2, so I shelled out the .99 to put it on my iMac, but my iPad has no contacts in it, and even when I added our own 2 email addresses, all I could do was look at my face on the screens, but it said the calls would not go through. I wasted 40 minutes trying to get FT to call iPad and iMac to call iPad with no luck. It's going to take a lot of research to get it going. I didn't have trouble with Skype setting it up.

We bought ipad2 specifically for facetime and it really is the business. With family and friends in the US, using facetime ipad2 to iMac it is perfect.
We stopped using skype because sometimes the call would drop and we always got feedback. Facetime is a huge step forward, picture clarity, ease of use and parents over 80 who set it up with no trouble. Then even upgraded their Mac to Snow Leopard first - well done Apple, gets my vote !

I just bought my ipad2 here in abu dhabi, uae and sad to say no built-in app for facetime just like what happened in iphone4 . Please help!!!!

I have an imac and an ipad2. How do I make my imac computer ready to receive facetime from my ipad2 (I just want to see it working on my computer

We were interested in the iPad 2 and Facetime because of their mobility, but come to find out that it will only run on WiFi. Why not just use Skype from a laptop?

Can you use the 3G for the facetime app

I have an iPad2, and every time I try to log in using my apple ID it says to check my network settings and try again but my internet works because safari/app store etc all work fine.
HELP please :)

Sorry log on to facetime*

How come I don't see FaceTime button beside contact names?!

can you make video call to Blackberry Play book

We've been using FaceTime between two iMacs for seminars including students in Taiwan and China. The result is far better than Skype and iChat.

can we use skype on ipad2?

Yep, but with iphone's app for now...i do and works perfect.

Yes,just download it from the App Store

Living in Thailand my new iPad 2 cannot seem to access this application. Or am I just brain dead!! I have tried to ring my husband on his iPhone, but that will not work. I would love to know if this is typical for all in Thailand Bangkok.

I should work everywhere as long as there is wi- fi.
May be he does not have good wi- fi during your call.

does it cost any money to use facetime on the IPad 2??

No but can i have your face time account

Can you talk to friends and family with a pc and webcam

This would be better if it were possible to chat with more than just one other person at once...

Do your friends/family have to have an I phone or I pad/I pod 4 for FaceTime to work? I have an I pod 4 and mine doesn't want to work.

I can see the person I call but they cannot see me

I have an ipad2 and I found out I need a friend who owns another iPad2,iPhone etc to talk through face time
I found that that quite disappointing...:/

First of all...I LOVE my iPad2!!!!
And....the FaceTime feature is the coolest thing I have ever done...just loving this new technology!!!!
Did FaceTime last night with my grand baby who we don't get to see very often.
My daughter law has an iphone4....so she downloaded FaceTime app and we just pushed a button and there they were.....thank u .....this is GREAT....GREAT...GREAT!!!!
We will be able to talk and see each other anytime we want!!!!

so having i pad2 you dont need to have your mobile nokia and your laptop?

Can you do PHONE CALLS on your iPAD 2 or iTOUCH 4 besides on your computer

Can I FaceTime from my iPad2 with my own iMac at Home? I know is it possible to call to others by entering their email adress, but my iMac at home naturally has the same email adress as my iPad. Would be cool to call to home and talk to my family.

We had the same problem, so my husband just uses a GMAIL acct on the IPAD instead of our regular email. BTW, he has three email accts and gets email from all three on his IPAD; he was able to designate which one to use for Facetime somehow.

Hi everyone! I have two sisters in america and i wanted to buy an ipod for them so we can facetime with each other but they dont have wifi and i do..Is there another way how to facetime them for free or is there an app for it.. Please help!! Thanks!!

can i have face time with 2 different people at the same time?

Hello my friend! I want to say that this post is awesome, nice written and include almost all important infos. I'd like to see extra posts like this .

Hi, All new to this but so far have found it very good. Does Facetime cost in any way, shape or form?
BTW Happy New Year!!

We have started using Facetime between our Mac and my husband's IPAD 2. I run Snow Leopard on the mac. When I call him on the IPAD from the Mac, his IPAD rings, but when he calls me on the Mac and it is asleep, nothing happens, even though Facetime is "on". If the Mac is not asleep, it works fine and I receive calls. Has anyone else encountered this problem? I want my sleeping Mac to ring!

I have iPad 2 and my niece iPhone but when I try to call her using faceTime it just rings never connects? Don't get it help.

How do u switch from front to back camera while using FaceTime ? Dumb question, I'm sure ! Thanks
Blayne

I can not figure out how do I subscribe for your blog

Can anyone point me to a link that outlines unlocking a 3GS? I searched on TiPb, but can only find results for 3G. I have 3.1.3 software version on the 3GS.

before you buy and ipad2 got to apple support and see how many people cannot make facetime calls after they installed the new update . apple isn't even answering peoples problems. i luv apple but little by little I'm seeing more and more problems going unanswered in the support area of apple . don't believe me look for yourself

How do I fix my FaceTime from freezing, on the IPad 2?
Thank you for signing up to iMore. You will receive a verification email shortly.
There was a problem. Please refresh the page and try again.