Fantastical gets an iMessage app with version 2.8 for iPhone and iPad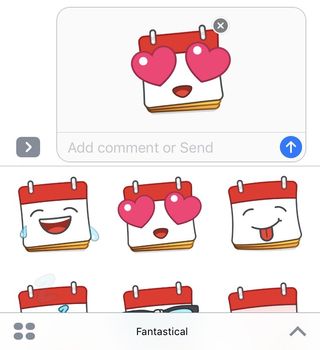 Fantastical is an Apple Design Award-winning calendar app that compiles all of your calendars into a one-stop shop, where you can create calendar events by simply typing sentences like "Marvel movie marathon with Rene on Tuesday at 8 p.m."
Version 2.8 of Fantastical has been released, and it features some major upgrades to bring the app into the current iPhone fold. Among other features are the new iMessage stickers, which feature cute little calendars that can let your friends know if you're going to be late or just let someone know you love them with a calendar with pulsating hearts for eyes.
Says Flexibits co-founder, Michael Simmons, "We're really happy about iMessage stickers. They are a fun and friendly way to let someone know you're running late or even propose a dinner date." And who wouldn't be happy about more iMessage stickers packs? Bring 'em on!
Rich notifications are also available now, so you can see more details and do more from your Lock screen or without having to go into the app. There's also haptic feedback for iPhone 7 and 7 Plus users to make things that much more visceral and intuitive.
If you're a Fantastical user, then things just got a whole lot more awesome for you, and if you're not, there's never been a better time to adopt the app as your one, true calendar app.
Here's all the features and tenets that come with version 2.8:
Fantastical now requires iOS 10
Stickers! Express yourself in iMessage with Fantastical's sticker pack
Rich notifications let you quickly see more details about upcoming events and reminders
New haptic feedback on iPhone 7 and iPhone 7 Plus
Improved support for Dynamic Type
Improved reliability of Apple Watch app
Various fixes and improvements
If you have a busy life and need help keeping track of everything you do, Fantastical can be a quick and intuitive way to sort everything and make sure it all stays in order.
Mick is a staff writer who's as frugal as they come, so he always does extensive research (much to the exhaustion of his wife) before making a purchase. If it's not worth the price, Mick ain't buying.
Does the app copy and paste events with just a tap and hold yet?

It has had that ability for a few years now. Since v2.0.

OK, thanks--I'll look into it.

Just realized that you may not have meant the duplicate function (which has been there), but tap and hold on an event to copy, then tap and hold on a day/time to paste when viewing in week view. In the latter case, not that I've seen.

Yes, that's what I'm looking for. I use Calendars 5 right now because it let's me quickly tap and hold an event, copy it, then move to a different day/week and tap and hold to past it in. I do that multiple times a day, every day when seeing clients. The iOS native calendar doesn't do it and I thought remembered trying Fantastical and being ****** off that it didn't have that basic feature, either (despite how much everybody around here sings the praises of Fantastical, I wasn't that impressed). Sort of like how Evernote doesn't have "Find & Replace," another missing basic feature that leaves you scratching your head--"WTF?!"
Thank you for signing up to iMore. You will receive a verification email shortly.
There was a problem. Please refresh the page and try again.