Our favorite headphones for iPhone, iPad, iPod and Mac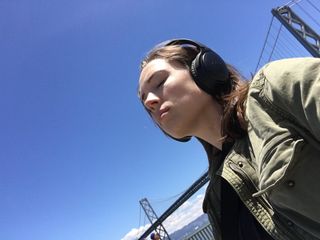 We're often asked what we're using, from phones to watches to accessories, and we always love sharing!
We've rounded up the iMore staff to find what everyone's using to listen to their favorite tunes.
Here are the headphones iMore's using!
Serenity Caldwell – Managing Editor
My two favorite headphones are BT picks (surprise).
The best Bluetooth on-ear headphones I've found under $100. They aren't as comfortable as some plus-$100 headphones, but have a solid battery life, decent sound, and no wires! I use these at home for my Mac, and have little to no lag on Hangouts, audio, and video.
They're expensive, but offer the holy trifecta: great battery life, excellent sound, and expert noise cancellation. I use these pretty much everywhere outside the house.
Mikah Sargent – Senior Editor
These bad boys saved me on several child-laden flights.The sound cancelation is scary-good and they're super comfortable — you don't have to stick 'em in you ears too far and they still block out external sound thanks to the noise cancelation. Not only does the battery seem to last forever, they're super-portable and not bad looking, either!
Like Serenity, I've found the Jabra Move headphones to be the best pair of on-ear headphones you can buy for under $100. They sound great, they're relatively comfortable (for headphones that are smashing down your ears), and they have a pretty long operating distance. Sweet, sweet freedom!
Lory Gil – Editor
They are my favorite because the ear cup is so comfortable. They are made out of a nice, soft rubber with a funnel that pushes music directly into my ear canal. They are called "Stay Here" tips and they have an anchor that slips into my ears so that I don't have to push the bud in too deep in order for them to stay put.
These are my favorite because they have the best sound quality of any over-the-ear headphones I've ever used. They capture the mids of metal guitar-shredding crystal clear, while also producing the boomiest of bass for dance music.
Derek Kessler – Managing Editor
Bang & Olufsen Beoplay H6
If you want clear and balanced sound, comfort, and the sexiest design you'll ever see — all without breaking the bank — then your only true option is the Bang & Olufsen Beoplay H6 headphones. They produce the signature B&O sound with crisp and balanced highs, mids, and bass; you won't find any of the muddy overwhelming lows that you get on similarly-priced competitors (looking at you, Beats).
What you get with the B&O H6's is sound exactly how the artist meant for it to sound. Throw that into a set of headphones that are supremely light and exceedingly comfortable, fashioned from machined metal and supple leather, and you'd expect these headphones to cost twice as much as they do.
Cella Lao Rousseau – Staff Writer
I picked these up because I was looking for some cheap-ish headphones that were super cute and came in a ton of really awesome, bright colors (I'm all about a good lookin' headphone, y'know?)
These are super duper comfy, really great for storing in small bags or pockets because they fold, and the sound quality is pretty unreal for the price!
First off, I hate in-ear headphones because my ears are so sensitive, but these are the only earbuds I've been able to use without feeling like my eardrum is going to pop into a billion pieces.
They're super comfortable and stay in no matter what because of the rubber/silicone stopper. They might be a bit pricey, but you seriously can't hear anything else when they're in your ears!
What are you using?
What's your favorite pair of headphones? Sound off in the comments below!
Master your iPhone in minutes
iMore offers spot-on advice and guidance from our team of experts, with decades of Apple device experience to lean on. Learn more with iMore!
Mick is a staff writer who's as frugal as they come, so he always does extensive research (much to the exhaustion of his wife) before making a purchase. If it's not worth the price, Mick ain't buying.