FIIL Diva Pro Review: The Bluetooth headphones from the future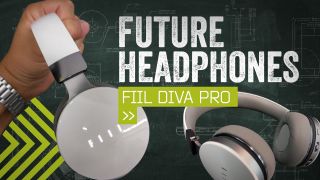 Thanks to Apple's war on the headphone jack, wireless headsets are about to blow up in a big way – and the FIIL Diva Pro has the specs to stand out from the crowd. With touch-sensitive controls, active noise cancellation, 4GB of onboard storage and a stylish illuminated logo, the Diva Pro blends beauty with brains. (It's even smart enough to pause your music when you take it off your ears, and resume when you replace it.)
But at almost $300 before discounts, the Diva Pro is entering a space heretofore reserved for more established players like Bose. Does this futuristic headset live up to the challenge? Find out in MrMobile's FIIL Diva Pro review!
PRODUCTS IN THIS VIDEO
Get social with MrMobile
Get the best of iMore in your inbox, every day!
Very nice.. Posted via the Note 5 or iPhone 6s Plus

It does seem nice, and the features are futuristic, or were. But now Apple offers the same features, other than noise cancellation. But Apple has that W1 chip. So the question is, do these headphones have all of the other Bluetooth problems with linking and connectivity, with signals dropping out and quality of the signal changing? Because if it does, then it's already obsolete.

The touch "swiping" to control has been available on the Beoplay H8. It's cool but at times frustrating when you have to repeat it when it doesn't recognize your swipe. Sometimes, if your head is on a pillow, it can trigger a swipe when the headphone brushes up against it.

I think I'd stick with Bose. I love the idea that if my headphones die even after the warranty, there's usually a trade up program that lets me get a new pair of headphones at a significant discount. Sent from the iMore App

100% agreed and the Q35s are the best headphones of all time. Sent from the iMore App