Fitbit Charge 2 vs. Fitbit Alta: Which should you buy?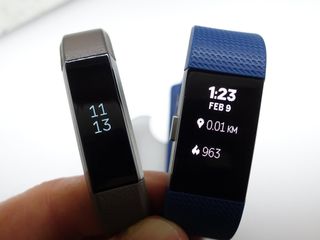 Fitbit's latest activity tracker is the Charge 2, which replaces not only the Charge but the Charge HR as well, opting for the best of both in one package. The Alta came out in March of 2016, and comes with many customizations options and a great feature set.
Which one is right for you? Let's break things down and take a look at who each tracker is geared towards.
Feature set
The Fitbit Charge 2 is arguably the current Fitbit flagship, having just about everything you'd want in a fitness tracker at that price point (around $150 (opens in new tab). The Alta has all the basic features you'd want, but lacks those to make it as well-rounded.
Charge 2:
PurePule heart rate monitor
Multi-sport tracking & connected GPS
Call, text, and calendar alerts
Cardio fitness level
Guided breathing sessions
All-day activity tracking
Auto sleep tracking
SmartTrack auto exercise recognition
Reminders to Move
Clock, silent alarm
5-day battery life (up to, depending on usage)
Price: $150
Alta:
All-day activity tracking
Reminders to Move
SmartTrack auto exercise recognition
Call, text, and calendar alerts
Auto sleep tracking
Clock, silent alarm
Tap display
Accessory bands (sold separately)
5-day battery life (up to, depending on usage)
Price: $130
Customization
If you view your fitness tracker as more than a step counter or heart rate monitor, then you'll want the one that offers the most in terms of customization — from plating on the tracker itself to interchangeable bands galore.
In this department, the clear winner is the Alta. Fitbit has partnered with the likes of Public School, Simply Vera Wang, and Tory Burch (opens in new tab) to bring you all sorts of designs, colors, and looks. Metal bracelets, leather bands, braided bands, even a band from Public School that puts your Alta tracker into a traditional watch settings. The possibilities are endless for the Alta, while the Charge 2 is far more concerned with function than form, offering only four band colors to choose from and two (as of this writing) "special edition" versions — 22k rose gold-plated with a lavender band and a gunmetal/stainless steel tracker with a textured black band.
If you want your fitness tracker with a side of "DAYUM!", then the Alta is the clear winner.
Which should you buy?
For the number cruncher: Charge 2
At the end of the day, we consider the Charge 2 to be the best Fitbit, but that doesn't mean it's the best for everyone. You'll want the Charge 2 if you're serious about your fitness. The heart rate monitor, combined with multi-sport tracking and GPS, make it perfect for runners, athletes, and recreational exercisers. You do compromise on fashion, but if that's of no concern to you, then I wouldn't even consider the Alta.
See at Amazon (opens in new tab)
For the stylish runner: Alta
The Alta is for folks who are fashionably fitness focused (anything for the alliteration!). The main reason to purchase the Alta is its unique design and customization options. It's not necessarily for folks with an intense workout regime, since it doesn't have the heart rate monitor or multi-sport tracking, and price shouldn't really be why you'd go for the Alta, since the difference between it and the Charge 2 is a paltry $20. You'll want the Alta for all the designer bands you can handle and then some.
See at Amazon (opens in new tab)
Fitbit
○ Fitbit Buyers Guide
○ Fitbit Users Guide
○ The Best Fitbit to Buy
○ Fitbit News
○ Fitbit Forums
○ Buy on Amazon (opens in new tab)

Get the best of iMore in in your inbox, every day!
Mick is a staff writer who's as frugal as they come, so he always does extensive research (much to the exhaustion of his wife) before making a purchase. If it's not worth the price, Mick ain't buying.
I like my alta plus I do not have to worry about my band always breaking like my Charge 1 did. I had to replace my charge 3 times because of the band and the Charge 2 looks like the same type band. I will pass on the charge 2. Loving my Alta

The Charge 2 has removeable/replaceable bands. It isn't like the Charge 1 at all (I had to replace mine once, too).

I had both both decided to use the Charge 2 more. I like being able to track my workout (runs) correctly. With the Charge, I push on the button to indicate the start and end of each running session. The Alta does this "autotrack" thing, but it will only track at a minimum of 10 minutes into my run.
Also, Charge 2 has tracking for number of flights of stairs I take each day. I like the HR tracking as well.
I use leather straps to "dress up" the Charge 2. Oh, I do wish they make these 2 trackers water resistant enough to go swimming with these on.
Thank you for signing up to iMore. You will receive a verification email shortly.
There was a problem. Please refresh the page and try again.