Fitbit Surge fitness tracker review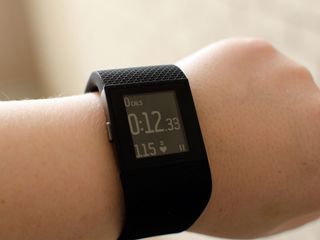 The Surge is Fitbit's high end fitness tracker for 2015 and features a touch sensitive screen, built-in heart rate sensor, native GPS abilities, and a traditional watch style clasp. It's the most feature packed fitness band Fitbit has ever shipped. But is it enough to put Fitbit ahead of the rest? And more importantly, is it worthy of your hard earned cash over the rest?
The good
Touch screen is responsive and offers a lot of options without having to reach for your iPhone
Built-in GPS
Workout sessions are easy to use and take only a few seconds to initiate
Heart rate sensor is accurate and collects meaningful data inside the Fitbit app
Traditional watch style clasp that's less likely to get snagged on something
Sleep tracking is automatic, you don't have to remember to do anything
Call and text notifications right on your wrist
The bad
Step count on the Surge is slightly exaggerated
Calorie counts are also slightly exaggerated
The Surge is a larger device which may make it uncomfortable to sleep in for some
Battery life doesn't live up to what Fitbit advertises — I only average 3 to 4 days between charges
Setting up the Fitbit Surge is easy enough and doesn't require anything but the band and your iPhone. After you've created a Fitbit account, the Fitbit app will pair with your band. The app is also how you'll download and install updates to your band's firmware — you'll be notified if and when an update is available.
The Fitbit Surge is one of the larger fitness bands on the market, but that is to be expected with built-in GPS. It isn't actually the face of the Surge that bothers me, it's the wide of the band. A narrower version would be welcome. You'll also need to make sure you wear the Surge at least a finger width above your wrist bone for the heart rate sensor to work properly. For me this made the thickness of the band even more noticeable.
I didn't have an issue wearing the Fitbit Surge while performing every day activities like walking, doing chores around the house, running errands, or going to the gym. There were only two instances in which the band got in my way, while sleeping and while typing on the computer. Sleeping may not be an issue for some but if you have small wrists, which I do, the band gets in the way. Whether or not you're okay sleeping in the Surge will depend on how you sleep. I do however like the fact that the Surge tracks my sleep without me having to push a button or tell it I'm going to sleep. It just pays attention to my movements and my heart rate.
Typing was my second pain point. I don't think it would have been if the band was slightly thinner. I didn't have as much of an issue on my iMac where the edge of the keyboard is shorter. On my MacBook, I always found the Surge digging into my wrist or scratching on the palm rest.
Turning to the face of the Surge, you've got a lot of options available to you. The main screen functions just like a regular wrist watch. Tap the button on the left and you can swipe your way to workout sessions and useful data such as your step count, calorie count, heart rate, and more. If you receive a call or a text message, you will see a notification and feel a vibration on your wrist. You can quickly cycle through all your notifications using the side buttons. The Surge is easy to use and the button layout only took me a few minutes to get used to. You can also control music with your Fitbit Surge by pairing it in classic Bluetooth mode in Settings.
At the gym you can quickly start workout sessions and choose what kind of activity you're performing. You can then view even more detailed statistics inside the Fitbit app. Unfortunately I still find the step counts on Fitbit products to be exaggerated over other trackers. But again, this mileage can very greatly based on use case. I wore the Fitbit Surge for a week alongside the UP24, which I've found to be the most accurate step count wise for me, and the differences were obvious. Most days the Surge claimed I took about 500 steps more than the UP24 registered. One day it was closer to 1,000. That obviously trickles down and effects other data. But like I said, your mileage may be completely different than mine.
On a positive note, the heart rate monitor in the Fitbit Surge is spot on. I tested it on several different workout machines and it was always within 5-10 beats per minute. However, you'll need to make sure that you're wearing the Surge far enough above your wrist bone. If you don't, it'll result in inaccurate beats per minute.
The Fitbit app itself has added some nice improvements over the past year. Most of these improvements are focused around providing more meaningful data and statistics. Fitbit can give you averages as well as detailed graphs of how your heart rate and other behaviors changed throughout each day.
The bottom line
While I'm not completely impressed with the battery life of the Fitbit Surge, there's no denying that it's a more than decent tracker. The only contender that's currently in the same class is the Garmin vivoactive, which still lacks heart rate support. I personally have always found Fitbit's step and calorie counts to be slightly exaggerated, but that mileage may vary greatly from person to person. If you're a runner and need the built-in GPS, it's a close call between the Surge and vivoactive. You'll have to decide what's more important to you, heart rate data or better battery life.
And if the Surge is out of your price range, I'd highly recommend checking out the Charge HR. You lose native GPS and the larger display, but you'll save a few bucks and get better battery life. As always, let me know in the comments what you decided on and why!
Editor's note: This review was updated April 14, 2015 after speaking with Fitbit about certain discrepancies I was having.
Fitbit
○ Fitbit Buyers Guide
○ Fitbit Users Guide
○ The Best Fitbit to Buy
○ Fitbit News
○ Fitbit Forums
○ Buy on Amazon (opens in new tab)

iMore senior editor from 2011 to 2015.
Ally, Have you had any experience with the Charge HR yet? I know the step count on the Fitbit Flex was great and you had reviewed it I had an UP24 and sold it to a relative for some money to put towards the new UP3 back in January (I pre-ordered), but who knows when that is coming out. Their generic "early 2015" is starting to run short of time, lol. So, I'm trying to decide if I want to wait on the UP3 and risk defective units (with the production woes being due to a "sealing" issue for water-proofing and the issues with many defective UP24 bands) or go with the Charge HR. I would just take the Apple Watch route, but my finances have a few other priorities right now and the local "official" Apple store is about 2 hours away (I initially planned on just getting one at Best Buy, but heard the news about it being an Apple Store exclusive for now). If you think the step count on the Charge HR is better or if you can review it, that would be awesome and may make my decision making a little easier!

I use the Charge HR on a daily basis, and I love it. The step count seems as accurate as my Flex... so no issues there.

My issue with the UP24 was that it would constantly sync and it drained every single phone I used it with. The sleep tracking was great, but that was a deal breaker, especially with no manual sync option. What's nice about the Surge is that I can set it to record my workouts automatically, so I don't have to manually enter my weight training and walking sessions into the app. The smartphone functions are kind of disappointing, but I do find it to be the best fitness tracker for me, though it does look like I'm wearing two watches with my Pebble on the other wrist.

Sounds like you had a bad unit? I didn't experience any battery drain.

It may not affect iPhone. I confirmed it on 4 different android devices. It took me a while to figure out what it was, but as soon as I disconnected my Jawbone (and uninstalled the app), my battery life nearly doubled. I noticed that it was syncing constantly, not just periodically. Fitbit causes a bit of a drain, too, but I can set it to manually sync when I start the app, which is what I do. All of my android phones supported Bluetooth 4.0LE, too.

Ah yea, I can't comment on Android since I've never tested. I have an S5 and One M8 so maybe I should next time around... double post to AC :P

Were they Bluetooth 4 Low Energy?

Read the last sentence of my last post.

Thanks for the review. You didn't mention battery life with GPS enabled. I read elsewhere it's about 5 hours. I just don't see a $250 FitBit Surge as a good value. Even the other models you mentioned starting at $150 seem expensive when you consider they're all they're ever going to be out of the box. No OS upgrades, no app market, no 3rd-party sensors, limited notifications and questionable data which has to go through the branded service. Apple Watch offers so much beyond fitness tracking that even at $350, I'm sold. Plus, my data goes where I want it to. Carrying my iPhone is not a deal breaker, nor has it been for 100+ million sporters using RunKeeper, Endomondo, Strava, MapMyRun, Runtastic, SportsTracker, iSmoothRun and dozens more apps.

You're crazy if you're going to wear your $400+ watch when you work out. It's not even water resistant. I can shower with my Surge. I also use the GPS daily for a 3.5 mile walk and it still lasts me 4 days on a charge.

And I can leave my bulky iPhone at home, and can still track my route with its built in GPS.

It is water resistant, just not water proof. Big difference.

Watch is water-resistant. Look, these devices are supposed to help us be fitter. As long as that's working out for you, then you made the right choice. More people are obsese today than ever before. Anybody who's trying something and getting fitter for it...wins.

The Microsoft Band is looking better and better!! Sent from the iMore App

My money is on the smartwatch offerings from all three platforms. Can't wait to see what MSFT do next. So much potential! In a few years, Apple Watch, Android Wear and MSFT will have obsoleted fitness bands, the majority of classic sports watches and department store quartz watches.

I have a Surge and love it. I'm not sure I would have paid $249 for it, but my employer subsidizes Fitbits as part of its wellness program, so it only cost me $70. It's a steal at that price! A couple of thoughts about your review... You say it's thicker than it needs to be, how so? Do you think Fitbit intentionally made it thick? Somehow I think they made it as thin as possible while still working in a heart rate monitor, GPS, and good battery life. (And the Apple Watch only has one of those things... How does this compare in thickness to the Apple Watch?) The other is step count. This is my second Fitbit, I've put both through measured tests and find it very accurately reflects my step counts. That said, it does pick up a little bit of arm movement over the course of the day, something my old Fitbit Zip didn't suffer from. Nothing is 100% accurate, and most people don't time their exercise by number of steps taken. You either go for a five mile run, or you complete your planned gym workout, or you exercise for a set period of time. When you are exercising, it is very accurate. If you want to capture those steps accurately make sure you log the workout. The real power of Fitbit and similar trackers is that they encourage you to get up and move during those times that you're NOT exercising.

I meant the band is way wider than it needs to be. I didn't find it to have good battery life either. With GPS enabled, even worse. I'm not sure what you mean by the Apple Watch only has one of those things? It has a heart rate monitor, GPS, and no one knows on battery life yet. I found the UP to be the most accurate and Fitbit to be the least accurate. I'm testing the charge HR next so we will see how it fares next to the UP24, which has been the most accurate. A research study showed the same thing: https://www.yahoo.com/health/the-one-big-thing-fitness-trackers-dont-do-very-110566297477.html I agree about the real point of trackers. None are perfect, but that doesn't mean there can't be improvements made. My sole job here at iMore is to be honest, fair, and provide you guys with accurate assessments. In this case, I can't recommend anyone buy a $250 tracker with subpar step count accuracy. That affects calorie count and to a lot of people, that's important.

Apple Watch doesn't have GPS

The Apple watch does not have GPS, the iPhone does. Huge difference. If I want to GPS track my run, I can leave my phone at home. I charge my Fitbit every three days. We know that Apple says that you can get a day out of Apple Watch. Granted, you can do a lot of other things with the Apple Watch, but for many people it's overkill. All in all I agree with your review, I just wanted to point out where my experience differs. Like I said, if I didn't get it at a steep discount I doubt I would have purchased it. But for what it is it meets my needs fine, and it probably does for others as well.

Ah, gotcha. Yeah I meant GPS is available via the device. I get what you're saying.

That study tested a Fitbit Ultra and the Jawbone UP, which are about 3 generations ago. A more recent - although much more limited study since it only used 14 participants - puts the two very close together in terms of accuracy. http://mashable.com/2015/02/17/fitbit-study-no-problem/ The most interesting finding in that study is that the $59 Zip is probably the best value of any of them. Despite that, I'll almost certainly end up with the Surge or the Apple Watch just for the gadget factor.

Disclaimer: I work at Fitbit, but I don't speak for Fitbit. This comment is from me personally. I trust that you do want to be honest, fair and accurate. You may have been fooled by the date on that web page you cited as a research study. It says "February 10, 2015" but talks about a study that includes an unspecified model of the UP and the Fitbit Ultra, a tracker that came out in 2011 and isn't sold anymore. I think yahoo took a very old article and slapped a new date on it. I don't think you should still use the UP24 as the absolute measure of what's accurate. Try a manual count of steps like the commenter did.

I use the Fitbit One on a daily basis, and for about a month the Fitbit Charge HR. I have a very active day (cause of my job), having around 10000 steps every day (no training included). To sum up: Where my very accurate Fitbit One (wearing it on my bra) has around 10.000 steps, the Charge HR has up to 40% more, sometimes on a hard day 18.000, which is about 8.000 more. Using it as a step counter is as useless as it can be, I wonder if I can get back the money from Fitbit. It really is annoying HOW inaccurate it is compared to the very good Fitbit One. Maybe I will compare the two both on my left arm (right hander) and see if the fitbit One is better on my arm too. Don't buy Fitbit Charge HR if you want accuracy.

I would contact Fitbit customer support. They could help figure out if it's a bad unit or if there's just something in your daily activity (e.g. piano playing) that simply makes wrist trackers the wrong thing for you. 40% is way too much discrepancy.

I work as a stewardess, an active but still normal job when it comes to step counting and Charge HR. No special hobbies which require a special hand movement. Just a normal active day. I WILL contact Fitbit vut from what I've read in the past it's just very inaccurate. Maybe helpful vor people who don't use their hands for whatever but not for active people in general. But I will compare it to my Fitbit One, wearing both on the same arm at a not so active/important day. Then I can tell if it's just inaccurate or broken... I just wonder if I can use the  Watch as a standalone sport watch and alternative for the Fitbit Charge HR, using it for step/stage counting, stopwatch etc. without the iPhone... I own an iPhone 6 but also use a Blackberry from time to time...

I got my Surge 2 days before Christmas and like it enough. I don't love it. It's just around to tie me over until April 24th.

I have owned a Surge for about a month. I mostly like it but I don't think the HR monitor is accurate enough. I know Fitbit advises that if you are heavily moving your arms, the sensor can be affected but for example while exercising (P90X3) it routinely lists my HR as barely above my resting HR! Of course this affects calories burned, etc. I like the Surge and don't plan to return it but while the good outweighs the bad, it's not quite met my expectations.

The biggest turnoff for me is no integration with the Apple health app. At the price I may as well pay a bit extra and get an Apple watch which is hopefully better quality too. My Fitbit Flex stopped vibrating after 1 month and after 2 months the wristband broke. Yes, it was cheaper than the Surge but falling apart after 3 months of very light usage made me wary of buying a more expensive device from the same manufacturer.

And today my Flex finally died. It lasted 6 months - not good enough for £75. Now seriously looking into Apple watch

Allyson - I've really enjoyed reading some of your reviews here as well as your vocal stylings on the imore podcast. So it is with some reluctance that I take issue with some aspects of your review of the Surge. I've lived with one for about a month now, and I did a fair amount of homework before and after purchase, including my own comparisons of heart rate and GPS accuracy. Your observations about size of the unit and related issues such as getting in the way of typing or sleeping are obviously correct for you, and obviously will be for others of similar or smaller arm and hand sizes. My own experience (having used a regular watch for years) is that the surge is no more in the way for typing than any watch and not at all an issue for sleeping - again, that's for me. It can be more in the way for long sleeve shirts, the need to wear a bit back on the wrist sometimes necessitates adjustments. My biggest issue with your review is that you based your conclusion on accuracy solely by comparing the surge step results with the UP24 results. Step counts - used by many fitness devices - is really never measured with accuracy by any of them over long time periods. It is only an indicator of activity. The UP user forums are replete with reports from users who found significant step counts piling up while driving and while sleeping. UP responds that if you want to measure step counts accurately, using a device attached to your shoe for that purpose is best. As far as fitbit vs. UP in this regard, it's worth a look at this review of multiple older units including older fitbit and UP models (https://fitnationxo.wordpress.com/product-reviews/a-comparative-review-2...). Here, when they actually counted steps manually on a treadmill and a hike, but the fitbit one and UP produced very similar results to each other and very close to the count. However, over a month time period, the fitbit counted more "steps" and calories consumed than the UP. Yet the 'true' calorie count was judged to belong another unit that included more metrics, and the fitbit was significantly closer to that than was the UP. The fitbit apparently can do better in part when you are walking with your watch/band hand in your pocket or holding something. So if in your test of the two more recent models you see the surge counting more 'steps' than the UP24, how can you - without other independent objective data - claim it is the surge that is not accurate with respect to calorie counting or for that matter the activity measure called 'steps.' I tested heart rate accuracy with a chest strap, and besides some lagging and peak shaving by the averaging time, the fitbit did quite well for me - this is less true for certain exercises with more random and frequent arm movements. It is quite good at lower activity levels and feel it is good for measuring 'resting' heart rate - a relevant fitness metric itself. Heart rate accuracy for any wrist unit will, however, vary with user and where on the arm it is worn. I also compared the GPS with a garmin as well as on a map and it was quite acceptable. And it reliably adds a stair every time I check it after climbing a flight. Other points in comparing the more expensive surge is the things it does that the UP does not. Heart rate, GPS, and vertical distance (stair flights). These are significant advantages for the surge, as is the ability to actually see these data while you are in action - a big plus if you are trying to stay in a particular heart rate or pace zone while running or doing other exercise. Dialing in specific exercises like spin or yoga means you'll get some 'credit' in your step counts for activities even while on a stationary bike. I really don't care if the actual step counts are right, I just want it to show when I've worked harder from one day or activity to the next. It's a relative measure. If these additional features (GPS measures, resting heart rate, stair count, and ease of real time access to data) are important to you (and they are not for everyone) then the surge is well worth it. I got mine at a discount during an ATT sale. Finally, battery life. Ally is correct. It is not 5 to 7 days. Fitbit has finally begun to admit that more fitness oriented use will reduce that use time. I've been averaging 4 days per charge, and I use 3 different specific exercise functions 4 to 5 times a week. GPS can only be used for 5 total hours, so I use it sparingly - definitely for competitions and some training runs. Charging every 4 days isn't that bad (compare to daily for Apple watch - less than 18 hours if you use heart rate continuously like the surge does.) Despite the length here, I've left a lot out. The surge is far from perfect and quite dull compared to an Apple watch. I'd much rather be using Apple to collect my personal data than either fitbit, or even worse Jawbone, in terms of privacy concerns, but we are stuck with them for now. But to use Rene's argument for apple watch, it's easily worth 68 cents a day - to me, and presumably to others. And significantly more functional than a UP24. And it's not at all clear that it is in fact less accurate than the UP for calories.

I'll agree with most of what you said. There's no way for me to scientifically measure any of this without taking tons of time away from other things. That being said, I didn't just use the UP. Last year and this year I did manual counts too and I still found the UP to be most accurate to what "I'm" actually performing. That's the big issue, I think everyone has a different stride and that definitely messes with the outcome. That's why I think some studies are finding one to be more accurate than the other. Unless you use the same test subject across every little thing, you're going to have variances. I agree that Fitbit products have great heart rate sensors. Both the Surge and Charge HR were always within 5 BPM of whatever fitness equipment I was using said. I'm working on the Charge HR review right now and I'm a lot more satisfied with it than I was the Surge...

I'm actually going to contact Fitbit and see if I can get another Surge unit, just to rule out a faulty unit. The Charge HR did well when I tested it over the past week and a half. Just odd to think a more expensive unit with a lot of the same technology is flawed.
Get the best of iMore in in your inbox, every day!
Thank you for signing up to iMore. You will receive a verification email shortly.
There was a problem. Please refresh the page and try again.