Fitbit Surge fitness tracker review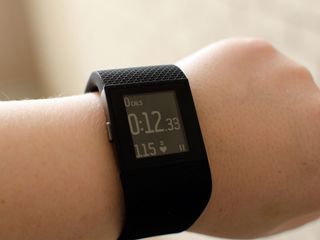 The Surge is Fitbit's high end fitness tracker for 2015 and features a touch sensitive screen, built-in heart rate sensor, native GPS abilities, and a traditional watch style clasp. It's the most feature packed fitness band Fitbit has ever shipped. But is it enough to put Fitbit ahead of the rest? And more importantly, is it worthy of your hard earned cash over the rest?
The good
Touch screen is responsive and offers a lot of options without having to reach for your iPhone
Built-in GPS
Workout sessions are easy to use and take only a few seconds to initiate
Heart rate sensor is accurate and collects meaningful data inside the Fitbit app
Traditional watch style clasp that's less likely to get snagged on something
Sleep tracking is automatic, you don't have to remember to do anything
Call and text notifications right on your wrist
The bad
Step count on the Surge is slightly exaggerated
Calorie counts are also slightly exaggerated
The Surge is a larger device which may make it uncomfortable to sleep in for some
Battery life doesn't live up to what Fitbit advertises — I only average 3 to 4 days between charges
Setting up the Fitbit Surge is easy enough and doesn't require anything but the band and your iPhone. After you've created a Fitbit account, the Fitbit app will pair with your band. The app is also how you'll download and install updates to your band's firmware — you'll be notified if and when an update is available.
The Fitbit Surge is one of the larger fitness bands on the market, but that is to be expected with built-in GPS. It isn't actually the face of the Surge that bothers me, it's the wide of the band. A narrower version would be welcome. You'll also need to make sure you wear the Surge at least a finger width above your wrist bone for the heart rate sensor to work properly. For me this made the thickness of the band even more noticeable.
I didn't have an issue wearing the Fitbit Surge while performing every day activities like walking, doing chores around the house, running errands, or going to the gym. There were only two instances in which the band got in my way, while sleeping and while typing on the computer. Sleeping may not be an issue for some but if you have small wrists, which I do, the band gets in the way. Whether or not you're okay sleeping in the Surge will depend on how you sleep. I do however like the fact that the Surge tracks my sleep without me having to push a button or tell it I'm going to sleep. It just pays attention to my movements and my heart rate.
Typing was my second pain point. I don't think it would have been if the band was slightly thinner. I didn't have as much of an issue on my iMac where the edge of the keyboard is shorter. On my MacBook, I always found the Surge digging into my wrist or scratching on the palm rest.
Turning to the face of the Surge, you've got a lot of options available to you. The main screen functions just like a regular wrist watch. Tap the button on the left and you can swipe your way to workout sessions and useful data such as your step count, calorie count, heart rate, and more. If you receive a call or a text message, you will see a notification and feel a vibration on your wrist. You can quickly cycle through all your notifications using the side buttons. The Surge is easy to use and the button layout only took me a few minutes to get used to. You can also control music with your Fitbit Surge by pairing it in classic Bluetooth mode in Settings.
At the gym you can quickly start workout sessions and choose what kind of activity you're performing. You can then view even more detailed statistics inside the Fitbit app. Unfortunately I still find the step counts on Fitbit products to be exaggerated over other trackers. But again, this mileage can very greatly based on use case. I wore the Fitbit Surge for a week alongside the UP24, which I've found to be the most accurate step count wise for me, and the differences were obvious. Most days the Surge claimed I took about 500 steps more than the UP24 registered. One day it was closer to 1,000. That obviously trickles down and effects other data. But like I said, your mileage may be completely different than mine.
On a positive note, the heart rate monitor in the Fitbit Surge is spot on. I tested it on several different workout machines and it was always within 5-10 beats per minute. However, you'll need to make sure that you're wearing the Surge far enough above your wrist bone. If you don't, it'll result in inaccurate beats per minute.
The Fitbit app itself has added some nice improvements over the past year. Most of these improvements are focused around providing more meaningful data and statistics. Fitbit can give you averages as well as detailed graphs of how your heart rate and other behaviors changed throughout each day.
The bottom line
While I'm not completely impressed with the battery life of the Fitbit Surge, there's no denying that it's a more than decent tracker. The only contender that's currently in the same class is the Garmin vivoactive, which still lacks heart rate support. I personally have always found Fitbit's step and calorie counts to be slightly exaggerated, but that mileage may vary greatly from person to person. If you're a runner and need the built-in GPS, it's a close call between the Surge and vivoactive. You'll have to decide what's more important to you, heart rate data or better battery life.
And if the Surge is out of your price range, I'd highly recommend checking out the Charge HR. You lose native GPS and the larger display, but you'll save a few bucks and get better battery life. As always, let me know in the comments what you decided on and why!
Editor's note: This review was updated April 14, 2015 after speaking with Fitbit about certain discrepancies I was having.
Fitbit
○ Fitbit Buyers Guide
○ Fitbit Users Guide
○ The Best Fitbit to Buy
○ Fitbit News
○ Fitbit Forums
○ Buy on Amazon

Master your iPhone in minutes
iMore offers spot-on advice and guidance from our team of experts, with decades of Apple device experience to lean on. Learn more with iMore!
iMore senior editor from 2011 to 2015.