Fitbit Versa hands-on: Fitbit's finally getting serious about smartwatches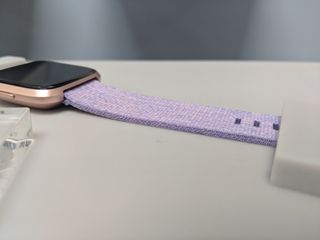 (Image credit: Fitbit)
I've been wearing a Fitbit Ionic since January, and it's quickly become one of my favorite smartwatches. I like the way it looks, it keeps me motivated to stay active, and its feature-set works great for what I want in a wearable. Unfortunately, most everyone else doesn't feel the same way.
Fitbit reported less-than-favorable sales for the Ionic during its latest earnings call, and along with this, promised investors it was working on a new "mass appeal" smartwatch that would draw in more customers. A couple leaks gave us a good idea as to what this gadget would bring to the table, but now we officially know what's going on.
Ladies and gentlemen, meet the Fitbit Versa.
The Fitbit Versa is a very different-looking watch compared to the Ionic, and I think most people will agree that all of the changes here have been made for the better. Fitbit says the Versa is the "lightest metal smartwatch you can buy in the U.S.", and while I never had a problem with the weight of my Ionic, the Versa is noticeably lighter.
You'll find three buttons on the Versa (one on the left and two on the right), and the screen is taller and less wide compared to the Ionic. Fitbit's going for a "squircle" design and one that's not so masculine, and it hopes this will help put an impact on the smartwatch market that males currently dominate by 60%.
However, don't let the Versa's smaller size fool you. The watch still tracks your steps, calories burned, your quality of sleep, distance walked, heart-rate, has 50M of water-proofing, can store 300 songs for offline listening, offers 4+ days of battery life, and plenty more.
The Versa looks and feels great in person, and it'll be available in three main colors — black, silver, and rose gold.
Just like the Ionic, FitbitOS is what powers the Versa. However, you'll find a lot more features and polish thanks to the 2.0 update that's live on the Versa out of the box. The Ionic will receive a free update that brings all of the new software features found on the Versa, and there's a lot of great stuff to be found.
First and foremost, Fitbit's finally letting you reply to texts. You'll be able to choose from five pre-made responses, and you can customize these to say whatever you'd like (up to 60 characters per response). The inability to interact with text messages is one of my biggest annoyances on the Ionic, so it's great to see Fitbit adding it. This feature is currently limited to just Android users, but Fitbit notes it's working on a way to bring it over to iOS, too.
FitbitOS 2.0 also ushers in a refined user interface. As it stands with FitbitOS 1.2, gestures work as follows:
Swipe up to see notifications
Swipe down to see music controls
Hold left button to open Fitbit Pay
With FitbitOS 2.0, things now work like this:
Swipe up to see health stats (steps, heart-rate, past workouts, personalized health tips, etc.)
Swipe down to see notifications
Hold left button to open quick settings, music controls, and Fitbit Pay
Also new is the ability to save songs for offline listening on the Versa and Ionic using Deezer. Fitbit announced Deezer support back in December, and just like the Pandora app, you'll need to pay for Deezer Premium+ in order to take advantage of this feature. If you're not currently a Deezer subscriber and want to check it out, the streaming service is offering a free 3-month trial just for Fitbit users.
Fitbit Coach is gaining the ability to rate your workouts and edit which ones are on your Versa/Ionic, the Today app will offer health insights and reminders to drink more water, take more steps to complete a challenge, etc., and the whole user experience of FitbitOS 2.0 feels smoother, more polished, and is what should have been on the Ionic from day one.
Pre-orders for the Fitbit Versa begin today for just $199.95. That's an entire $100 less than the Ionic, and it should make it a much easier sell. Fitbit's also selling a special edition Versa for $229.95 that comes with your choice of two fabric bands, and in the U.S., this is the only model that has NFC for Fitbit Pay. The base version of the Versa will come equipped with NFC in Asia and Europe, and Fitbit says this is due to greater adoption of the tech in those markets.
The Ionic will live on as Fitbit's flagship smartwatch, but it really is commendable just how much the Versa brings to the table. Whether you're already invested in Fitbit's ecosystem or are simply looking to finally replace your Pebble Time, the Versa offers tremendous value at either of its two price tags.
Fitbit
○ Fitbit Buyers Guide
○ Fitbit Users Guide
○ The Best Fitbit to Buy
○ Fitbit News
○ Fitbit Forums
○ Buy on Amazon

Master your iPhone in minutes
iMore offers spot-on advice and guidance from our team of experts, with decades of Apple device experience to lean on. Learn more with iMore!
When Joe isn't acting as the News Editor for Android Central, he can be found helping out with articles here and there at iMore. He was last spotted at Starbucks surrounded by peppermint mochas. Have a tip? Send an email to joe.maring@mobilenations.com!