Is the Fitbit Versa waterproof?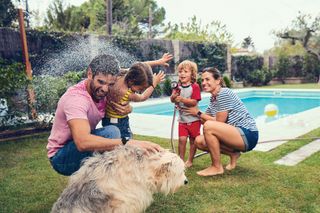 Is the Fitbit Versa waterproof?
Best answer: For all intents and purposes, yes. The Versa is water-resistant to 50 meters, meaning it's swimproof and showerproof.Fitbit: Fitbit Versa (opens in new tab) ($200 - $230)
Swimproof, showerproof, doing-the-dishes-proof, and more
Fitbit rates the Versa as water-resistant to 50 meters, meaning you could quite literally take it scuba diving. So long as you don't plan on going deeper than 160 feet, it'll come back up to the surface in working condition.
That means that it's the perfect swim tracker, able to withstand the pressure of each stroke. Fitbit does recommend thoroughly drying your Versa each time it gets wet, which will help keep the materials in top condition.
A note about "waterproof"
Since there is no universal standard for true "waterproofing," any and all products may only ever be referred to as water-resistant. Just because the "proof" designation isn't there doesn't mean your Versa is vulnerable in water, however. You'll be able to wear it in the pool, in the shower, and anywhere else it might get wet without worry. You just can't call it "waterproof" technically.
Don't wear a leather band
If you plan on taking your Versa swimming or have some very wet plans for it, don't wear a leather band. The leather will dry out eventually and it'll start to degrade. Your best option is silicone, followed by something like woven nylon.
Silicone can simply be dried off while you're drying off your Versa, and woven nylon can have the excess water squeezed out, and will then stand up a lot better to the overall drying process than other materials.
We recommend the Kmasic Fitbit Versa Soft Silicone Sportband (opens in new tab) since it's made with premium silicone material and can fit most wrists. You can check out more of our recommendations here.
Our pick
If you're looking for a fitness tracker/smartwatch you can take swimming, the Versa is perfect.

Water-resistant to 50 meters, the Versa is one of the most versatile smartwatches on the market. At $200, it's inexpensive and feature-packed for all types of fitness tracking, as well as many smart features, like call and text notifications, over 100 apps, and much more.
Fitbit
○ Fitbit Buyers Guide
○ Fitbit Users Guide
○ The Best Fitbit to Buy
○ Fitbit News
○ Fitbit Forums
○ Buy on Amazon (opens in new tab)

Get the best of iMore in in your inbox, every day!
Mick is a staff writer who's as frugal as they come, so he always does extensive research (much to the exhaustion of his wife) before making a purchase. If it's not worth the price, Mick ain't buying.
Thank you for signing up to iMore. You will receive a verification email shortly.
There was a problem. Please refresh the page and try again.