Five reasons not to upgrade to iPhone Xs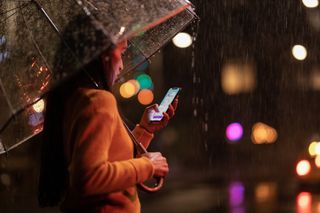 (Image credit: Apple)
Apple announced three new iPhones during the September keynote, and while we may all be enticed by shiny new things, you may be debating whether or not to upgrade this year.
For the 2018 lineup of iPhones, Apple is introducing the iPhone XR, Xs, and Xs Max. That's a lot of phones to choose from, and a lot of money to spend. Here are five reasons why it's not worth it to upgrade to the iPhone Xs or Xs Max.
1. Overall cost
The biggest reason to not upgrade is the price. The top of the line iPhone Xs Max with 512GB of storage costs about $1,500. Think about that — you can buy a new computer with that kind of money!
Even if you don't opt for the top of the line Max model, the regular iPhone Xs starts at $1,000, and the model you'd probably want, the 256GB Xs, is $1,149. That's still a lot for a phone.
If you're on a budget, or don't want to finance your phone but want to upgrade, try picking up an iPhone X instead. Unfortunately, Apple has taken the iPhone X off of its website, so you'll have to find other means of obtaining it, but a used one costs around $700, which is far cheaper than a new iPhone Xs.
2. Virtually identical to the iPhone X
Speaking of the iPhone X, when you do a side-by-side comparison (opens in new tab) of the iPhone X and the Xs models on the Apple website, the features are pretty much the same. Not to mention the fact that the X and Xs look exactly the same, so if you're wanting to show off that you have the latest iPhone, it's rather pointless (unless you get the expensive Max).
That's right — you get pretty much the same dual lens and TrueDepth cameras, video recording (very minor spec bumps), screens, and more. The only real differences are the A12 Bionic chip with improved Neural Engine in the Xs, and one more meter of water resistance.
If you don't already have the iPhone X, then sure, the Xs models can be a good upgrade from what you already have. But if you already have an iPhone X, then there's really no point in upgrading unless you just want to throw away over a thousand dollars.
3. The iPhone XR is a better value
Let's not forget that Apple also introduced the iPhone XR, which won't be available until Oct. 19. However, if you can hold out that long, then it proves to be a better value for your money.
The iPhone XR comes with most of the same features as the iPhone Xs models, but with a more reasonable price tag. The iPhone XR starts at $749, and it just sacrifices the screen (LCD Liquid Retina instead of OLED), has a single camera system, no 3D Touch, and a longer battery than the iPhone 8 Plus. Another bonus with the XR devices is the fact that they come in fun colors, including blue and red on launch.
If you want most of the Xs features but without the sticker shock of the price, then the XR is an overall better device for your wallet.
4. Very minor upgrades from last year
Pressing back on the iPhone X, honestly, the improvements Apple made for all of the new iPhones is very minor. If you have an iPhone X already, the "upgrades" are just tiny spec bumps compared to last year. The iPhone X was already an excellent phone, and these new models just don't bring enough to the table for iPhone X owners to upgrade.
However, non-iPhone X users may be able to justify getting an Xs, just because it has slightly better improvements over last year's device, and it's time to ditch that Home button. Still, you'll want to think about the overall cost, as well as our last point...
5. Your current phone is good enough
You may think your old phone's running a bit slow, and that's fine. If that's the case though, and you want to get a new device just for that reason, you may want to hold off.
That's because you should try putting iOS 12 on your current device first and see how it performs. Apple does say that each new iteration of iOS makes old phones feel snappier again, but really, iOS 12 helps. Numerous reports from people running the iOS 12 beta on older phones say that their phones feel much faster and smoother after using iOS 12. So give iOS 12 a try first before making any decisions.
Another reason to hold off on upgrading is the fact that Apple is designing their phones to last for a longer period of time. They mentioned in the keynote that they're going to stop mining the earth to make new iPhones, and this is possible because they're made to last.
Are you getting a new phone this year?
Are you upgrading to the iPhone Xs or Xs Max? Or are you waiting for the more reasonably priced iPhone XR? Or are you skipping the upgrade this year and holding out for 2019? Let us know in the comments!
Christine Romero-Chan was formerly a Senior Editor for iMore. She has been writing about technology, specifically Apple, for over a decade at a variety of websites. She is currently part of the Digital Trends team, and has been using Apple's smartphone since the original iPhone back in 2007. While her main speciality is the iPhone, she also covers Apple Watch, iPad, and Mac when needed.

When she isn't writing about Apple, Christine can often be found at Disneyland in Anaheim, California, as she is a passholder and obsessed with all things Disney, especially Star Wars. Christine also enjoys coffee, food, photography, mechanical keyboards, and spending as much time with her new daughter as possible.

I'll be keeping my iPhone 7 Plus for a little longer. OK, it won't have Apple Care on it anymore but I usually take good care of my devices so as long as I continue to be careful I shouldn't have any issues. If and when the phone dies, I will upgrade but as of right now I just don't see a need. iOS 12 runs smooth like butter on my iPhone 7 Plus.

Kind of an odd take. First, it depends on what you are upgrading from. This position is much different if you are on an iPhone 6S. Even so, if you are on an X the upgrade may not be earth shattering but it's incorrect to say that this is a minor spec bump on the camera. I'd suggest reading any of the in depth reviews to get a real sense of the improvements and value of upgrading.

I will be upgrading because that is the plan I am on. Not matter of small or big changes it is always better than then year before. If you have a iPhone X might not be a big difference but if you have any other phone and thinking of upgrading it is a no brainer to do so.

Historically, I have upgraded on the "S" years.... 3Gs, 4s, 5s, 6s Plus.... but then I bought the iPhone 7 Plus which was kinda the iPhone 6ss Plus (making the iPhone 8 Plus the iPhone 6sss Plus). I didn't buy the 8 Plus or X last year. The iPhone X did not tempt me at all last year. I love Touch ID and was disappointed to see it go. I love the landscape views on the "Plus" phones and iPhone X did not have that. This year I have a bit of a dilemma.... My friends have told me that Face ID works great (except one) and the iPhone Xs Max (and iPhone Xr) have the landscape views from the "Plus" models of years past. I pre-ordered the iPhone Xs Max, but I am loving my iPhone 7 Plus running iOS 12. Makes me wonder if $1250 + $200 for Apple Care is really worth it. Wondering if I should just return the iPhone Xs Max to the Apple Store when it gets here. By keeping my iPhone 7 Plus for another year, I can keep Touch ID, keep the aluminum back of the phone instead of switching to more scratch sensitive glass. And I can hope that next year's big iPhone has Touch ID *and* Face ID so I don't have to pull my iPhone from my pocket to unlock it. My iPhone 7 Plus is the "black" color (not "jet black") and except for a small nick in the finish on one corner, the entire phone still looks pristine (owned and used it for 2 years with no case). If the iPhone Xr had the dual camera system then this would be a no-brainer for me. I loved the look of the iPhone 8 Plus in Product Red, and I would order the Product Red iPhone Xr in a heartbeat next month if it had dual cameras. The price is right. It has the same gorgeous LCD I have loved for years. But I use the 2x zoom on my iPhone 7 Plus way too often to want to do without it. The only upgrade option that includes the 2x zoom is the iPhone Xs Max. Anyway, I'm still on the fence, but I am betting that will change when a box arrives with a shiny new phone. I would like to try all the AR features like Animoji and Memoji and I would like my lock screen to show me the notification details when I look at it. I just think the iPhone 7 Plus has been the iPhone that I have loved most and I am kinda sad to replace it. The iPhone 5s (first with Touch ID) was probably my second favorite iPhone ever.

6) Going from the 6, 7, or 8 to the "X-line" means you lose TouchID. Fingerprint scanner is a lot more convenient than face scanner in several situations. Hold out for the next generation that's able to implement fingerprint scanning through the screen so you can choose.

If you think Apple's going to bring fingerprint scanning back next year after removing it this year, you're delusional. That ship has sailed.

Why do tech sites like this keeping listing the price as a negative. It's not a negative if people are willing to pay for it. We don't need to be told like children that this is an expensive device. We are all capable of looking at the price tag and deciding if we want to pay the price for this phone or not.

I think the problem is that if you want a phone with iOS, you have to get the iPhone, and whilst the XR may be at a more reasonable price, it's becoming apparent that all of Apple's iPhones are slowly getting more and more expensive. If this continues, people will hold onto their iPhones much longer than usual. I'm even considering it myself, I usually buy a new one every 2 years, but I'm considering waiting longer now, to get my money's worth of the phone

« The iPhone XR starts at $749, and it just sacrifices the screen (LCD Liquid Retina instead of OLED), has a single camera system, no 3D Touch... » That's a lot of compromise imo! Yes the Xr is great value but the Xs is still better. And the loss of 3D Touch is a shame even at this price

The XS will always be better, the XR is for people who want it cheaper and don't care all that much about features

It's really sucks for me! I got my iPhone 8 Plus in Xmas, and New iPad Pro with +++ ( the cost almost same with XS) last couples weeks ago. If today, I'm going to plan upgrade to XS it's seems I'm not grateful for what I have now! Let's wait until my boyfriend back from Europe 😝

I had planned to upgrade this year, from my 6S... but I'm advised not to, and it's a battle resisting the urge to upgrade... The biggest factor that's preventing me from upgrading this year is the rumour that the 2019 iPhones will support 5G connectivity, whilst the Xs won't be able to... Yes it is annoying using the iPhone 6S, and I don't see or feel any real improvement since updating to iOS 12 on my phone, and I've noticed it's been slightly laggy to laucnh keyboard while using messaging apps, but it's something I have to live with until the next generation of iPhones come out...

Well I've just upgraded to a XS Max, from an iPhone 5S, and I reckon it's worth every penny. When discussing the worth of upgrading, why assume we have last year's (or the year before) phone? Also, the latest Anandtech review of the XS pretty much refutes the "minor upgrade over the X" comments you make. At any rate, I keep my iOS gadgets for years, pretty much until they are unusable, so I guess my upgrade timelines are different to most. Carry on!
Thank you for signing up to iMore. You will receive a verification email shortly.
There was a problem. Please refresh the page and try again.