Best free educational apps for iPhone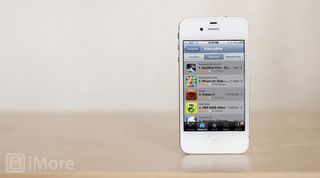 iMore's authoritative guide to the very best, absolutely free educational apps for iPhone and iPod touch
Looking for great educational app for your iPhone or iPod touch? The App Store is home to over half a million apps and games, and a surprising number of them are available for free. Some of the most beneficial free apps are free educational apps.
iTunes U
The free iTunes U app for iPhone gives you access to courses from universities and schools. These courses are completely free and even include assignments. iTunes U and the instructors provide course materials, including audio, video, books, documents & presentations, apps, and books. iTunes U includes over 500,000 free lectures, videos, books, and other resources on thousands of subjects from Algebra to Zoology.
Khan Archiver: KhanAcademy Educational Videos On The Go
(opens in new tab)
Khan Academy is one of the best products of education and the internet, and with the Khan Archiver app for the iPhone, you will have free access videos on topics ranging from kindergarten, advanced science, humanities, history, and more. Even more, you can download the videos to watch offline.
SparkNotes
SparkNotes is one of the most popular study guides for literature, Shakespeare, poetry, philosophy, drama and short stories. With the free SparkNotes for iPhone app you can access 50 pre-installed study guides in your library and hundreds of study guides online. You can also check-in at the place you're studying and indicate what subject your studying which could then result in impromptu study sessions with other SparkNotes users studying the same subject at the same place at the same time.
Quick Graph
(opens in new tab)
If you're a student taking a math class, there's a good chance you could benefit from a graphing calculator. Unfortunately, such devices are very expensive, but the good news is that there are several app solutions for your iPhone -- the best being Quick Graph. It lets you graph multiple equations at the same time, change their color, trace along them, and more. Quick supports both 2D and 3D graphing in rectangular and polar forms.
Flashcards+
With school comes lots of studying. One of the most common studying techniques is to use flashcards. With the free Flashcards+ app for iPhone, you can say goodbye to the stacks and stacks of flashcards that accumulate over the course of a semester and use electronic flashcards on your iPhone instead. The beauty of Flashcards+ is that you have your flash cards with you wherever you go, which means you'll likely squeeze in more mini study lessons throughout your day and end up with better grades as a result!
[Download Now](http://itunes.apple.com/us/app/flashcards?at=10l3Vy&ct=UUimUdUnU14435 /id408490162?mt=8&at=10l3Vy&ct=d_im)
The Official SAT Question of the Day
The free Official SAT Question of the Day for iPhone app is exactly what its name implies -- an app that gives you a new official SAT question every day. You can also view the questions from the past 7 days. When checking your answer, The Official SAT Question of the Day will give you an explanation as well as give you a statistical breakdown of how many questions you've gotten correct in that category.
More free iPhone apps
For dozens of additional free iPhone apps, including free social networking apps, instant messenger and communications apps, entertainment apps, finance apps, fun and games apps, health and fitness apps, kids apps, music apps, navigation and location apps, news apps, photography apps, productivity apps, reading apps, shopping apps, sports apps, travel apps, and general utility apps, see here:
Rene Ritchie contributed photographs to this article.
Get the best of iMore in your inbox, every day!
Former app and photography editor at iMore, Leanna has since moved on to other endeavors. Mother, wife, mathamagician, even though she no longer writes for iMore you can still follow her on Twitter @llofte.
Thanks for consistently looking out for apps that parents and kids will appreciate!

Have you tried out the FREE App by www.cram101.com? In the Apple App Store search on FlashCards101. Its textbook specific flashcards for college and AP courses for your iPhone or iPad. They have over 20,000 textbooks available for FREE.

Hi,
That's not the place but I don't know where to write it:
could you make an article on how to make photos late on the day like in sunset and in night?

Great article from a fellow teacher; thanks!

I am going to download spark notes and hope that it works as a best tutor to me..