French activists occupied a Paris Apple Store in response to tax dispute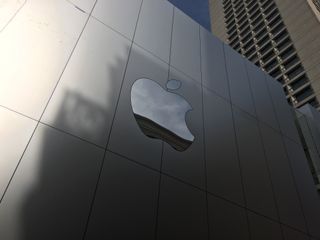 A group of about a hundred French activists gathered together to occupy the Paris Apple Store near the Paris Opera for several hours this past weekend in an attempt to shame the tech company into paying the billions the European Union (EU) says it owes in back taxes. The activists were from an anti-globalization group called Attac, and they held multiple other peaceful protests across Paris in addition to the Apple Store occupation. According to international news agency Agence France-Presse, Attac spokesperson Aurélie Trouvé said they refused to leave the premises until they were granted a meeting with company higher-ups:
All of this was in response to the EU's August 2016 claim that Apple has accrued a debt of €13 billion ($14.5 billion US) in dodged taxes by taking its earnings and processing them through multiple different nations, including the island of Jersey — an independently administered Crown dependency that often doesn't tax corporate income and is, for the most part, not subject to EU tax regulations. Apple, however, maintains that it has followed the laws of each country in which it operates.
This isn't the first time Attac has attempted to battle Apple's supposed tax-evading practices — the group also held a protest last month after the release of Apple's newest flagship device, the iPhone X. They reportedly dumped a bunch of apples (the fruit, not the tech) in a demonstration in Aix-en-Provence as members held signs demanding Apple pay what it owes to the EU.
As of yet, Apple France hasn't commented on the incident.
Thoughts?
What are your opinions on this issue? Share them with us in the comments.
Get the best of iMore in in your inbox, every day!
Tory Foulk is a writer at Mobile Nations. She lives at the intersection of technology and sorcery and enjoys radio, bees, and houses in small towns. When she isn't working on articles, you'll likely find her listening to her favorite podcasts in a carefully curated blanket nest. You can follow her on Twitter at @tsfoulk.
The aspect of this story that is under-reported is the the government of Ireland was actually taken to court by the EU. Ireland itself struck the tax deal with Apple, but the EU membership claimed that Ireland was violating EU business trade rules. https://www.reuters.com/article/us-eu-apple-taxavoidance-court/eu-takes-... This has happened with other companies and other countries, but this is the largest amount of money, so it gets the most reporting on it.

Apple don't make make tax laws, and can't change them. So it's good to see that French activists are as dumb as activists everywhere else.

"Apple don't make make tax laws" The irony in you calling other people dumb is not lost on me...
Thank you for signing up to iMore. You will receive a verification email shortly.
There was a problem. Please refresh the page and try again.