This environmental simulator lets you feel the heat and the wind in your favorite games and shows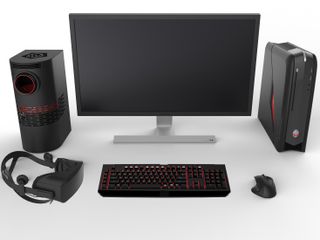 Media technology company Whirlwind FX just launched a Kickstarter campaign for Vortx, a 4D environmental simulator that lets you feel all the action in your favorite games, television shows and movies. Pair it with a VR headset and you'll be able to experience all the fun of a simulator ride while sitting in your office chair.
According to the Whirlwind FX site, Vortx works by using Whirlwind FX's patented Environmental Experience algorithm to analyze audiovisual signals in scenes from whatever you're playing or watching in real time. It then translates what's happening into real physical sensations so you can feel things like bullets whizzing past you or an icy wind. Best of all, it works for all types of content, new or old.
Vortx's hardware is composed of three features that make this possible: air deflector technology that forces air through heating elements, an air diffuser nozzle that allows you to adjust the the direction of the airflow, and an intensity dial that lets you customize the intensity of your experience. You don't have to do anything special with Vortx before using it in order to get it to work. All you have to do is unpack it and plug it into your USB port, and you'll be able to start experiencing heat up to 99° and winds up to 15 mph right at your desk. You can use two Vortx units at the same time for full surround sensations, and because you can adjust the intensity of the effects, Vortx can be enjoyed by multiple people at the same time.
If you're interested in adding Vortx to your gaming setup, right now you can pledge $99 and get one for $20 less than retail price. You'll also be enrolled in Whirlwind FX's beta testing program, so you'll get to be the first to test any new features and software updates. If fully funded, Vortx is expected to ship in February 2018.
Note: Backing crowdfunded projects involves a certain level of risk. Because this project is not yet funded, there's a chance it may never come to fruition.
Thoughts? Questions?
Would you use Vortx to add another sensory level to your favorite media? Let us know in the comments!
Get the best of iMore in your inbox, every day!
Tory Foulk is a writer at Mobile Nations. She lives at the intersection of technology and sorcery and enjoys radio, bees, and houses in small towns. When she isn't working on articles, you'll likely find her listening to her favorite podcasts in a carefully curated blanket nest. You can follow her on Twitter at @tsfoulk.