Games of the week: Doodle Jump, Minion Rush, Icebreaker and more!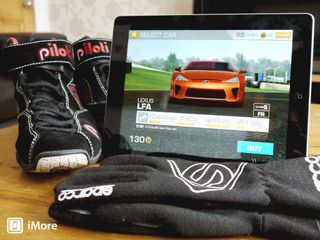 As promised, we've started to split apart our app picks every week so that we highlight games separately to regular apps. Not everyone plays games on their iOS devices, and likewise some folks play them by the barrel full. So, here's a selection of what the iMore team has been playing this past seven days.
Doodle Jump - Ally Kazmucha
Out of all the games that I've played on my iPhone, Doodle Jump has always remained a staple from the very beginning. I don't even remember when exactly Doodle Jump was released but I know it was a very long time ago. The thing I love about it is that it never really has gotten old for me. I still have friends and family members that play it to this day.
The best part is that the developers still continuously update it and create new themes and crazy monsters. While the premise has always remained the same, it just hasn't seemed to grow old to me. I'm still trying to beat my high scores to this day and occasionally I still get a friend or family member telling me they finally bested my score.
It's an all around great game at just as great of a price.
Knights of Pen and Paper - Joseph Keller
Some friends sit down at a table, write up character sheets, and their adventure begins. This is the premise of Knights of Pen and Paper, where you play the role of a group of tabletop roleplaying game players as the make their way through adventures in their favorite pen and paper game. Select a few players from a diverse group, each with their own unique ability that helps them play the game, then select a class for that player. All classic roleplaying archetypes such as Paladin, Mage, and Rouge, each class comes with a set of upgradable powers to help you battle the monsters your players will encounter. Their adventure will take your players' characters across a vast and varied continent, completing quests such as finding magical stones to battling beasts and saving townsfolk. If you enjoy RPGs and an 8-bit art style, then Knights of Pen and Paper is certainly worth a look.
Icebreaker - Simon Sage
This week Rovio, the makers of Angry Birds, acted as a publisher for a new game called Icebreaker. This is a first for them, but I guess when you've got more money than god, you can make transitions like that. Icebreaker was originally a flash game, and involves slicing through blocks of ice in order to get abandoned vikings to their longboats. Those blocks of ice can be smashed up if they get to the boat after sliding or swinging across the stage, since your main character is there at the ready with an oversized hammer. There are also bonus chests scattered around the level to earn extra coins, which can be used to unlock new branching stages. Icebreaker is actually an awful lot like Perfection, which I looked at last week, only with a bit more of a Cut the Rope vibe. What I like most about Icebreaker though are the chunky, low-fi graphics and the nuggets of funny dialog between each level.
The lovable little minions are back for Despicable Me 2 and to help promote that they've got a pretty fun little movie tie in game as well from Gameloft. It's a classic swipe based game where you have to collect bananas and avoid whatever may pop up in your path. That all sounds a bit easy but it's really not. Trust me. I've wasted a good amount of time on this. If you're a Temple Run kid of fan, you'll like Minion Rush plus, it's got a lot of humor in it. The game is free to download but has the typical in-app purchases of "coins" to help you progress through the came which can add up.
MetalStorm: Online - Peter Cohen
It's one thing to fly jets in iOS games; it's another thing entirely to do it online with other players. MetalStorm: Online is a modern jet dogfighting game that's free to download (in-app purchases can be used to improve your jets). It's easy to control and play using a combination of gyroscopic support, swipe commands and clearly marked buttons on the HUD. Despite its name, MetalStorm: Online has plenty to do offline, too - single player missions that don't require other folks. Of course, the online games are where this one shines - chat with others using an in-game voice system and leverage Game Center to find other people to play. AirPlay support means you can stream games to your Apple TV.
Real Racing 3 - Richard Devine
I know, I know, the in-app purchases in Real Racing 3 really haven't been handled that well. But truth be told, I haven't spent much more than the cost of its predecessor on it, and I'm still enjoying it immensely. In fact, it's about the only game I play on my iPad every single day. I love racing, and I love racing games, and Real Racing 3 (ignoring the IAP's) is about the best racing game I've ever played on a mobile device. The graphics are sublime, the control system is excellent, and you can get a decent amount of life out of it without handing over a penny. I'm not a fan of how they handled the IAP's on this one, but I'm also not letting it ruin my enjoyment of a truly fantastic game.
Get the best of iMore in your inbox, every day!
It's an old one, but presumably to drum up interest in Plants vs Zombies 2, the original (both iPad and iPhone versions) are free with redeem codes at ign: http://www.ign.com/prime/promo/pvz-ipad Highly recommended if you haven't already played the original on some platform.

Love that game. Have it for the iPhone and my Playbook. Just tried grabbing it for my iPad and of course the deal is only available in the US. :(

The game i have played easily more than any other on a ios device is bejewelled blitz !! It is crazy addictive and still after so long i play it on a daily basis.
But recently i have been playing Tetris blitz a little and although it is not totally polished yet it is still a very good game.

I have a question about Real Racing 3: I don't usually play video games, but I'm thinking of sending a "gift app" to my son; so what is the difference between Real Racing and Need for Speed? How do you pick between them? Thanks!

So, Real Racing 3 is free to download and play, so there's not much of a gift there. The way Real Racing makes money is by offering optional purchases to speed up progress, unlock new cars - that kind of stuff. As far as I know, you can't gift that kind of content. Need for Speed is something you could certainly gift, though.

I love Real Racing 3 and have been able to consistently progress throughout the game on nothing more than skill. I have honestly spent $0 on the game, so I don't understand what all the hooplah is about with the in-app purchases. I view them as "cheats" or "shortcuts". Use them if you want to jump ahead, or practice until you get good enough to progress on your own. It can easily be done, actually. Sent from the iMore App

rouge (rzh)
n.
1. A red or pink cosmetic for coloring the cheeks or lips.
2. A reddish powder, chiefly ferric oxide, used to polish metals or glass.
v. rouged, roug·ing, roug·es
v.tr.
1. To put rouge onto: rouged her cheeks.
2. To color or prettify as if with a facial cosmetic: "Their job is to rouge up the war . . . to turn the horror into cheering press releases" (Richard Corliss).
v.intr.
To use rouge.