Get travel time for frequent destinations on your iPhone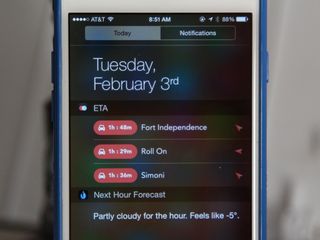 I don't drive around Boston a whole lot — the perks of working from home and living in a fairly walkable city — but when I do, it's often to specific locations: my roller derby league's practice space, "Fort Independence," for example, or my boyfriend's house. Apple provides an easy way to add bookmarks for frequent destinations, but the Maps app isn't so great at being able to see quick traffic estimations on the go. Asking Siri "How long will it take me to get to X?" will get you directions from the Maps app, but there's no quick way to preview travel time or routes.
Enter ETA (opens in new tab): the $1 app and accompanying Notification Center widget not only stores your frequent locations, but gets accurate walking or driving time estimates for you from your favorite map app, too.
The app itself is minimalistic in nature, displaying clear and easy-to-read entries for each of your destinations. Tapping on one will reveal its precise location along with how long it'd take you to get there if you were walking (or driving, if you have walking enabled by default); your estimated arrival time; and shortcuts for driving directions, a text message that contains your ETA, and editing name for the location. If you want to quickly toggle between driving and walking, you can also swipe to the right on any location.
Adding new locations is as simple as tapping the plus button and entering an address (or selecting a contact); once you've added it, the location appears in your ETA list.
One of ETA's big perks, for me, is being able to select which maps app I want to use for estimations and directions: Apple Maps, Google Maps, or Waze.
But the cherry on top is the app's Notification Center widget, which displays the most recent three destinations in Notification Center's Today view and lets you tap them to get turn-by-turn directions. It's a little annoying that you can't select which three destinations you'd like shown, but I'm hoping that'll get tweaked in a future version. Regardless, it's become one of my most-used Notification Center widgets, and it's an awesome app for any frequent traveler.
ETA - $1 - Buy Now

(opens in new tab)
Serenity was formerly the Managing Editor at iMore, and now works for Apple. She's been talking, writing about, and tinkering with Apple products since she was old enough to double-click. In her spare time, she sketches, sings, and in her secret superhero life, plays roller derby. Follow her on Twitter @settern.
Isn't this a feature already built into iOS? I get travel ETA in my Today tab for frequent locations. Sent from the iMore App

You'll get "It should take you X minutes to get to X" based on where iOS thinks you're going next, but you won't get multiple destinations, nor do you have the option of choosing which app calculates them.

The one built into iOS only does the location that it detects you're likely to go to next, and doesn't show your other frequented locations. I'd like one to keep track of the address of my next scheduled calendar appointment & give me an ETA for that.

This is a great little app. And as weird as it is, I love that the arrows point the direction you go based on your location, and move based on the direction of the phone. It simply provides more granular control over the info than what's built into iOS. Has iMore done a "what's in my Today tab" article for anybody?

Not yet, but it's on our to-do lists. :)

Isn't these features already incorporated into iOS, which also works profoundly with google maps and its walking directions?

You'll get "It should take you X minutes to get to X" based on where iOS thinks you're going next, but you won't get multiple destinations, nor do you have the option of choosing which app calculates them.

This is such a perfect recommendation for me right now. I just got a new schedule that keeps me at work until rush hour hits and I've been looking for a good alternative to Google maps to get me home faster. Does this app take traffic into account and give alternate routes? If it does, it's bought. Sent from the iMore App

If you want alternate routes, it'll shunt you out to Waze or Google Maps or Maps, but it does reflect the route with the shortest estimated traffic time, which I love. (Also, if you're not using Waze yet, give it a try — my Los Angeles friends and family swear by it for navigating terrible rush hour traffic.)

Plus 1 on Waze, have used it in the Puget Sound area (think Seattle traffic) and it can really be extra useful at times.

Just ask Google Search and save a buck. It doesn't have the notification center widget but that's fine.

Yup... I was just going to say that Google NOW does that for free, minus the notifications widget. It even alerts me to heavy traffic on my route home from work before I leave. Then I can take an alternate route. :)

Serenity - You're awesome! Bought & downloaded, and I LOVE IT!

Waze recently updated to include a widget and if you have your "home" & "Work" stored, it will show up in the notification center.

Great tip, giving it a try. Thanks! Sent from the iMore App

Downloaded it this afternoon...I like what I see so far. Sent from the iMore App

I can do this for free with IOS 8 Sent from the iMore App
Thank you for signing up to iMore. You will receive a verification email shortly.
There was a problem. Please refresh the page and try again.