Getting slow speeds or dropped connections on your Apple AirPort Wi-Fi router? Here's how to fix it!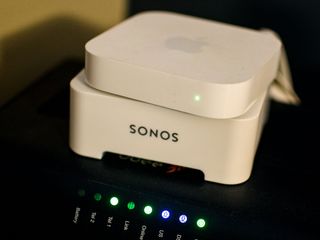 Wi-Fi seems magical. Unless your connection keeps dropping or slowing to a crawl. Interference can cause that. Sometimes it's a microwave or a automatic garage door opener or an elevator, sometimes it's other devices on the same Wi-Fi channel. If you have an Apple AirPort Extreme, AirPort Express, or AirPort Time Capsule as your Wi-Fi router and you're experiencing disconnections or interference one of the first fixes to try is changing the channel.
How to change the channel on your Apple AirPort Wi-Fi router
Launch the AirPort Utility on your Mac while connected to your AirPort Express or AirPort Extreme.
Click on your AirPort Express or AirPort Extreme on the main screen.
Click on the Wireless tab in the top navigation.
On the next screen, click on Wireless Options...
Select a different channel than what you're currently on. (You can do this for both networks if you'd like).
Now click Save.
Your AirPort Express, Extreme, or Time Capsule may reboot causing you to lose connection for a few minutes. After that you should be back up and running. If you started on one end, try the other. If neither work, try in the middle. Keep trying channels and you should find one that's loud and clear.
I've had issues in the past when adding components such as a Sonos system that required me to change channels so two devices weren't fighting each other for a connection.
Are you having internet issues? Give the above steps a try and let me know if it helped solve any issues for you!
Get the best of iMore in your inbox, every day!
iMore senior editor from 2011 to 2015.
The Cake Is A Lie? :)
Great info, Ally: Thanks!

What's the difference between leaving the channel selection on automatic and specifying a channel?

In theory, Automatic will channel hop and find a place with the least traffic. In practice, sometimes it isn't so bright and overlaps with someone else's hotspot. This is more likely to happen in densely populated areas, like an apartment building. I like to keep my Apple stuff on Automatic and it seems to work well for me, despite having lots of other potentially-interfering wireless systems around.

Allyson Great post. Can you explain more about keeping the channel automatic and picking a specific channel.

Your timing on this was perfect. Just got Sonos today and had problems with it dropping.

How do you decide the channel to switch it to? Mine only allows choosing channels from 1-11 (it's an older one) Should I try them at random? How do you choose a Radio mode?

The channels that are available depend on which country you are in, the Uk has a few extra channels compared to the US, for example.

Worth noting that adjacent WiFi channels overlap each other, so you will want to be a few channels away from the strongest interference sources in your neighbourhood. (I use iStumbler on my mac to discover where the least congested bands are where I live.)

I'm having some trouble getting my airport express to extend my AirPort Extreme network wirelessly. I know it can be done, and was told it was simple. The more comments I read though, I'm finding that untrue. Can anyone help? Sent from the iMore App

Nice Post, thank you!! I also recommend the "WiFi Explorer" Mac App, the application show the neighbor networks, and the channels, modes and levels of each one, in 2.4Ghz and 5Ghz Channels. Based on that information you can make a better selection for a less used channel. By the way, the 5Ghz channel on my TimeCapsule works only with manual channel selection.

I like the article. If I may suggest a follow up to the topic with information on how to use OSX built-in network diagnostics tool to determine what the best channels are in a crowded wifi space.

Thanks! I'll look into it!

Thanks for the article. But you don't mention that after clicking "Save" you need to click "Update." At least, that's what I had to do. Sadly, it did not fix my problem. My upload speeds are normal - around 5Mbps, but download speeds are less than 1Mbps, when they used to be around 30. Is there any way I can troubleshoot this? I did just get a new modem installed, after Internet died for a couple of days. But its ethernet behavior seems to be fine, which makes me wonder if it's the Airport that's the problem.

From less than 1Mbps to 29.71Mbps immediately after changing from auto select to randomly selecting some channels. Thank. You. iMore!

I just had to deal with this so I thought you guys might update this post with some additional info. You don't need to buy wifi scanning software to see the channels of surrounding wifi. Since I think Mavericks this is built in to OS X. Just hold down the Option key then click on your Wifi in the top bar. Choose open wireless diagnostics and ignore the window that opens up. On the top bar now click Window then click scan. Then click Scan now in the bottom corner and it will scann for all the wifi networks around you showing the channel, and band along with a lot of other information. Check for congestion on the channels that your wifi router is using and from what you can see pick a channel that is not being used. Also if you hold option down when you click Edit in the Airport Utility you will get a summary screen that will show a lot more info than you usually get. Also if you're getting fast uploads and slow downloads or fast downloads and slow uploads look at your modem/router first. Check if it has a new firmware you need to apply. It seems to be a very common problem.

I just changed ours from Random to specific channels and our speedtest went from 30 mbps to 230 mbps (which is 30 mbps beyond what we pay for). Thanks!