Cord cut: How Apple TV, iOS, and SONOS now run my home theater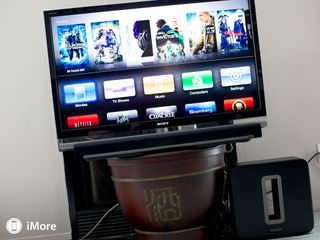 A couple of years ago I pulled the plug on cable TV. Even though my local cable company provided for à la carte channel selection - $10 basic local service, then $20 for 20 channels or $30 for 30 channels - there just wasn't enough of what I wanted and too much of what I didn't. Since then I've been using an Apple TV as my primary TV conduit. And it's been working amazingly well. Here's what I'm doing...
I have an Apple 802.11ac Time Capsule connected to my internet modem. Not only does that provide a second level of backup for my Macs, it connects to my Apple TV. There's no 802.11ac Apple TV yet, but even if there was, I prefer hardline for anything video related. The Apple TV plugs directly into my HDTV via HDMI. I use that setup for almost everything. iTunes lets me stream everything I've ever bought, and rent movies that aren't available (yet) on Netflix, and I don't want to buy.
The Apple TV is still my preferred Netflix interface as well, it's just clean and simple. While the Netflix content is nowhere nearly as good in Canada as the U.S., for $8 a month it still has tons of catalog content. There's no HBO or Hulu in Canada yet, but I have apps on iPad for my local TV networks - CTV, CBC, Global, and CityTV - which let me watch current shows and specials in near real time. (Though Bell has done everything they can to ruin the CTV app as of late, including removing functional AirPlay.) There's also podcasts, of course, which is filled with great things to both watch and listen to, and having the sound come from the TV is, somehow, much less distracting than having it come from my MacBook.
There are sports channels, but I don't watch sports. I do watch UFC sometimes (far too many to watch all the time anymore) and that's not (yet) an option, which is irksome. I don't watch news, not even Comedy news anymore, since the 'net is better and far less linear at pushing that data. I do miss the Food Network, and hope they make a non-sucky video app one day. Overall, though, I don't miss much.
What I do miss is lack of universal Spotlight search on the Apple TV. Having to search service-by-service is so 2007.
I used to have an Xbox 360 and PS3 as well, but I gave them away to family members a year ago or so. The Xbox never gelled for me, and the PS3 was my Blu-Ray player but even though the quality was superb, I became increasingly frustrated with Blu-Ray's model of slow content delivery, obnoxious ads and trailers, janky DRM implementations, and the damn thing's desire to update - onerously - every time I turned it on. Several of the discs also failed over time, which meant I'd have to re-buy them, which ain't as cheap as just re-downloading a digital copy. I'll probably get another Blu-Ray player eventually, or just transcode them and use Air Video HD to AirPlay them.
I have a Harmony One remote, which I dislike. I set it up years ago using the horrible Java app for Mac, which was gross, and it never fit how I actually use my system. Mainly, it wouldn't let me line-item edit the setups, so it was forever doing slightly incorrect, completely maddening things. I use it very rarely now, mainly in "device" mode to control just the TV or just the Apple TV if I can't find their stand alone remotes. (I don't know if they've since added an "expert mode" where I can just tell it specifically what I want to do, but if not, it'll remain mostly dead to me.)
I also used to have a 7.1 surround sound system but it was a pain to wire in my open, octagonal living room, few titles supported 7.1, and worst of all, I kept having to change the settings on the PS3 to try to get audio to come out. Automatic never worked, so I would often get sound for the menus but none for the films, and had to dig through their terrible cross bar settings interface to try and find which magic PCM/Bitstream/whatever combination would work, and it was invariably different for each disc. Worst of all, the receiver would keep throwing up false HDCP (high definition copy protection) warnings, which locked me out of viewing anything. The hostility displayed by the media companies towards their own, paying customers is so appalling I can't wait for a digitally native upstart to ELE them into the history books.
Now I have a SONOS home theater system. It plugs right into the TV via optical cable, which is simple, straight forward, and mostly bullet proof. It just takes - and takes over - whatever audio is being pumped into the TV. A Playbar sits in front of the set handling center and left/right duties, a SUB sits on the floor beside it making the room shake, and two Play:3's sit on either side of the couch handling surround. (I went with Play:3 instead of Play:1 because, again, big open octagonal living room.) The sound may not be as good as 7.1, but it's amazing enough. That it's controllable via iPhone, iPod touch, and iPad puts it way over the top. Not only are the speaker wires gone from my home (I have electrical outlets on every wall, so there's no problem with power cords), but at the touch of an app interface I can change sound levels, enhance dialog, go into night-mode to pull out the bass, and much more. Combine that with some Hue lighting for mood, and I may not have the Tony Stark house, but it's getting closer to the Tony stark living room. (I just need some Siri hooks now...)
I often have the TV on the way my parents had the radio on - as interesting but not distracting noise to keep me company as I work. Given how and what I watch, cutting the cord and going all-in on Apple's living room system has been nothing but upside. Of course, for people who live on sports and breaking news, it might be unworkable, at least for now. But the seeds are there.
The last major Apple TV hardware update was in spring of 2012, when it went 1080p. The iOS 7 update for Apple TV was entirely under-the-covers, with none of the new interface design language that was brought to the iPhone or iPad. A few channels get added every few months. Given the amazing engineering talent now on the Apple TV project, I'm holding out a lot of hope for the 2014 iteration.
Let me know how you're watching TV these days, and if you're using Apple TV, iOS, or any other streaming devices, how do you have them set up?
Get the best of iMore in in your inbox, every day!
Rene Ritchie is one of the most respected Apple analysts in the business, reaching a combined audience of over 40 million readers a month. His YouTube channel, Vector, has over 90 thousand subscribers and 14 million views and his podcasts, including Debug, have been downloaded over 20 million times. He also regularly co-hosts MacBreak Weekly for the TWiT network and co-hosted CES Live! and Talk Mobile. Based in Montreal, Rene is a former director of product marketing, web developer, and graphic designer. He's authored several books and appeared on numerous television and radio segments to discuss Apple and the technology industry. When not working, he likes to cook, grapple, and spend time with his friends and family.
I've got iOS with airplay, appletv for renting/purchasing movies and shows and digital hd antenna for local channels, city, global, etc which works decent. Would never sign for cable or satellite especially not Rogers or bell.

I use a Mac Mini, Time Capsule, and a Blu Ray player running through a decent 5.1 system.

i would consider cutting the cord if i wasn't a huge baseball fan and sadly MLB atbat wont let me watch my Yankees if im in NY

You can eliminate the regional blackouts by using a VPN service - check out Hide My Ass VPN - I am going to use this service to do the NHL hockey games.

Apple TV, VPN router to sneak through the Great Firewall of China and to allow me to switch from the AU to US iTunes Store to access Netflix and Hulu Plus, then back to the AU store for movie rentals. Air Video HD to play and transcode content from my MBP to Apple TV or any iOS device in my apartment. I left my surround sound system in Australia, so I bought a Yamaha sound bar with subwoofer, which does a reasonable job in a small space. iPad Air in bed (right now) for content from MBP via Air Video HD (great app!). I'm happy with this setup, it works well. Sent from the iMore App

I too have 2 Apple TVs and a few other latest Mac based machines. But Im at an age where I don't want to mess with things to get what I need. So Apple TV is my new Blockbuster for rentals but its Direct TV all the way. My only wish it the Apple TV to function inline with my DVR (also acting as a controlling remote) and not just another hdmi device.

Also my Panasonic DMP-BDT210 Integrated-Wi-Fi 3D Blu-ray DVD Player is the best Blue Ray player EVER (I have 2). My 2.5 year old toddler just opens the tray puts in a DVD which turns on my Samsung TV, auto changes the input port and just play the content. Awesome! That is also my portal for Amazon rental content.

We are moving in that direction... The only reason we're still with AT&T is for local channels & the Universal gateway. We watch Netflix via our Apple TV more than anything.
... I've never understood why AT&T offers SD & HD channels but as a pair. It should be one or the other. Why convolute your TV experience with 1000 channels that AT&T talks about as if they're giving you something extra? Just plain stupid.

I would love to move in that direction as well. The channels I watch on Apple TV requires a cable subscription, so it eliminates the possibility to cut the cord. They got me!

Exactly. The HBO Go app is useless without a cable subscription.

I don't have the Time Capsule in play (Yet). I have my older 17" MBP running as a media server on the network where I can get my movies from as it is using Home Sharing. There is a 1TB NAS drive that feeds the MBP for a storage point. I have both of them wire connected to 1Gb ports on the Airport Extreme as to save the Wireless spectrum for my rMBP, iPads, iPhones and even my wife's Windows (ICK) laptop. I use Netflix and Hulu+ but thinking of dropping Hulu. Just wish Netflix would get a new content deal in place to get more of the latest movies. Sadly Apple is just a tad bit too pricey for rentals.

You lost me at "but I don't watch sports". I would have cut the cord years ago if I didn't watch sports. For all practical purposes, sports have to be watched live and ESPN currently requires that you have cable, amongst other sports networks.

lol. "you lost me at 'but I don't watch sports'". To add to your point, it's not as if all sports are on ESPN either.

Give it another year. Disney is locking down the market starting with CBS and ESPN (not to mention interests in Hulu, A&E, and a host of other cable networks). As soon as they are finished locking down football (already 80% of the way there) they will move to other sports.

You may want to look at the new Harmony remotes - the control state stays in sync from the physical remote and iOS/Andoid apps, and you can program them through much improved software, including on your iOS device. http://www.engadget.com/2013/07/05/logitech-harmony-ultimate-smart-hub-r...

I cut the cord about 6 months ago. I don't miss DirecTV one bit. I replaced the satellite dish with an antenna for HD local stations; works great. Hulu Plus is awesome during the fall season. Since I don't have a DVR, I can watch the current shows I missed thru them. Netflix is also a must have. I've been able to binge watch past episodes of shows that I've never seen, in chronological order. I get my news from internet and I'm not into sports. If your a 24/7 news hound or heavy into sports, cutting the cord is probably not for you. As for me, I can't see myself ever going back to cable or satellite.

I recently purchased a Sonos Play 1 and I love it. I have it in my upstairs loft/spare bedroom/office and it sounds better downstairs than it does when I'm sitting right next to it. I have a 5.1 system in my living room and I'd love to go the Sonos route to replace it; however, I have two concerns: a) the Playbar will not play 5.1 sound from any HDMI source connected to my relatively new Samsung 50" plasma TV (it appears that most modern TVs do not pass 5.1 sound out of the optical port for HDMI connected devices), a hot topic on the Sonos forums; and b) if Sonos goes out of business I'll probably have functioning speakers and their mesh network but will not have access to my non-iTunes streaming music services. I'll probably wait for Sonos to fix this problem before going the Sonos home theatre route. I see that Rene has a Sony TV, and I assume it's one of the Sonys that do support 5.1 out so that he gets all of that Apple TV goodness from his sound system.

In my area of the US, the main choices are Comcast or Century Link. They are also the main ISPs in the area. If I cut the cord with Comcast, my bill for Internet access only increases by 50% per month. Legalized extortion, unbelievable.
So how do people get around this? I'd gladly cut the cord but can't see paying that much more to get even less.
Thanks for any suggestions.

Very similar to my setup, Rene. I see we share a lot of the same philosophies and experiences with physical media that influenced us to jettison the old methods. The only difference is that I am holding on to my old gaming console that connects to my iPad until the next AppleTV refresh, especially after MG Siegler hinted at a possible new control method. http://preview.tinyurl.com/pjsh48v

I use my apple tv to stream movies, watch podcast, netflix, and HBOGo. No special set-up. Sent from the iMore App

I was against AppleTV for the longest time having purchased both AppleTV 2nd and 3rd generation and subsequently reselling them after a short interlude with the product. Primary reason? It would not let me play my own content. Every thing had to go through iTunes, and that meant every thing had to be either .mp4 or .mov for video content.... the only stuff iTunes wants to see and recognize. AppleTV automatically obsoleted a lot of other personal content I have in .mkv, .avi, .mpg, ISO (.DMG) image files of DVDs, et el. Thus, I decided to chuck the AppleTV and just use a macmini in the front room. The macmini being a full fledged computer means I can play just about any audio, video, or image format I feed to it and a computer can deal with. Macmini also have HDMI means I can connect directly to my TV as well. Surely it is a pricier solution then an AppleTV but then, I don't have to make compromises. And, when not serving up entertainment, it can also serve other functionality on the home LAN (i.e., remote access and storage of data, server functionality, etc.). Having said that, I recently I have repurchased the AppleTV (ironic, eh?!) once again! I did that for one simple reason. I discovered a program called 'Beamer' that when installed on your Mac, will let me transmit ANY media data I have stored on my NAS (network attached storage) or home network computers and transmit that content wirelessly (or wired) to my AppleTV and enjoy it on my TV. I simply access the media file on my NAS, drop it on to the Beamer interface, and off it goes to the living room to enjoy. It's a bit archaic way of setting things up but, it works! Beamer is a great 'enabling' enhancement to the home system. And, being in Japan, I don't have to deal with all these HBOs and other cable systems of the world which permeate throughout North America. (I am not that much of a 'couch potato' in the first place! :-) ) And of course, I can also play / access whatever iTunes content is also served up and accessible by default. ( I was given a dialog message as being marked as spam when I thoughtfully tried to add a link to the described software. So, if any one is interested, do a search for Beamer application on the web.)

If you have an iOS device, I suggest you try Air Video HD. You can use an iPhone, iPad, iPod to browse the files on your Mac (after installing the lightweight server app) and either watch on the iOS device or send it from that device to Apple TV. It'll transcode any non-compatible media on the fly. It's elegant, and flawless. Sent from the iMore App

Thanks for the heads up on Air Video HD. two thoughts immediately come to mind....
1. How is the 'smoothness' of the playback of the video? And, is the frame size ! Rate down scaled?
2. It seems to require a conversion process before you can playback versus playing the media file natively.

@tokyojerry it depends upon a few factors, but for me the video is always smooth. There is very good control over conversion profiles for local WiFi, remote or cellular, and conversion rules for these profiles. So depending on your connection and content, you can set it to what you need. For content that Apple TV doesn't natively support, Air Video HD will transcode it whilst streaming, or you can convert / download and play later (or sync to an iOS device). Personally, keeping content on my MBP and transcoding the non-native files in realtime, provides a convenient user experience. Sent from the iMore App

Thanks for the additional feedback. I'll give this a try. The price is right (= cheap! :-) ) However, by not having to transcode data eliminates one extra step and simplifies the process. Leonardo Da Vinci's famous quote kicks in here.... 'Simplicity Is The Ultimate Sophistication'. Anyway, I know what Beamer can do. I will take this Air Video HD for a test drive to see whether or not that is more advantageous to use or not. Cheers....

We're mostly Apple in the house. 2 iphones. Wife on a Macbook Air. I still use a PC, but do most stuff on an iPad Air. Airport router with a drive connected. Kid is about to get an iPad Mini for Xmas (will blow his mind - can't wait). BUT, despite having an ATV, we use a Roku 3 90% of the time. Honestly, it's just better at this point. More channels by a TON. Better remote. Universal search. Amazon content. We keep the ATV connected because we have a bit of content still on there and at times the Airplay is dead simple, but the Roku at this point is a much better cord-cutting device - even for Apple households. Hoping that Apple leapfrogs them and brings us back (NFL subscription - please!) but for now the Roku is a no-brainer.

I have read this so many times, but every time I challenge it I get no response, so maybe you can enlighten me as I don't have a Roku and have used AppleTV for years and love it. What compelling content does the roku 3 provide that is not on AppleTV? My perception is that most of the channels are little more than repackaged video Podcasts. I'm mostly concerned with full episodes, and not the teaser clips but you can point those out if you think there is value there. Note: Somethings I see as benefits to AppleTV over Roku...
1) YouTube - I hear it both ways, but it is my impression that this is ether not there or a pain.
2) AirPlay - This gives me access to everything I can access via iOS.
3) iTunes store for selection and existing content I have purchased.
4) iTunes DRM-fairplay: Of all of the DRM schemes, none allow for the number of devices that iTunes does.
5) Speed and reliability: This is perception and I welcome a challenge, but AppleTV is easy, quick and solid. I have heard issues with Roku.

i found the wdtv player plays all my content natively. Mine's about 5 years old and they've updated thei interface since so it's better but even my old player plays everything i throw at it, iso, mpeg, dts, ac3, .ts. .mov, xvids, divix. I may upgrade next year or maybe try and convert everything but worth checking out to play your own content.

Moving in 2014 and seriously considering not getting any TV provider. I am into MLB and NFL, and know next year won't be the year, but maybe the following will be for NFL Sunday Ticket. Fortunately (?) I don't live in my home state (MA) so most Red Sox games are not blocked out on MLB.tv. Still some screwy weekend blackout rules, but ones I can live with. Sent from the iMore App

We have moved in the same direction by using our Apple TV for watching Netflix and using air play from the Mac for other things. The only annoying thing with the Netflix app is that it will not go to the next episode automatically like on the website and iOS app. It is the same way with shows purchased from iTunes. Rene, if you have your time capsule directly connected to your Apple TV does it share the videos of the hard with the Apple TV? I have burned DVD's I own and put them in my iTunes library and I try to share my iTunes library over the air with my Apple TV. The problem is it sometimes does not connect, my laptop has to always be open, and disconnects over time. Is there a better way to manage this?

$30 for 30 channels sounds outstanding. Wish i had that. That being said in reality, i'm paying for internet. My cable bill alone is like $90 before taxes. cable internet alone is $70 per month. So really i'm paying an 20 for my cable.

I can't cut cable, it's just the best bargain going right now. You only need to subscribe to a few shows on iTunes until things get very expensive. I also occasionally like to watch shows when they're broadcast to have that full twitter experience watching it with the world. That, and cable becomes handy during major news events and, of course, sports. That said, I do subscribe to a few shows on iTunes I know I'm going to buy anyway which I watch on an Apple TV. But, man, those prices hurt. I also subscribe to Netflix for older stuff. I guess I also occasionally get movies on Google Play on a whim to watch on the Nexus 7 (one day I'll pick up a Chromecast). That's about it for digital streaming. I'm still big on Blu-ray and even DVD (especially for TV). It's the extras that I'm mostly hanging on to and, on Blu-ray, the lossless sound. The day iTunes Extras work on the Apple TV and have feature parity with disc will be magical. I have a region unlocked Blu-ray player so I'm not limited to Region A/1. Many wonderful movies are coming out internationally, especially in the UK. I also have a PS3, 360, Wii U, PS4, and Xbox One. So far I've been strictly digital on the XB1 and PS4 but mostly disc on the others. The way things are going with new game releases, it looks like the 360 will be the first to be disconnected. But there is still a considerable backlog to get through. All this stuff and an Energy Take 5.1 sound system (recommended by WireCutter) are connected to a Sony STR-DN1040 Receiver. Both are highly recommended but I'm very interested in a Sonos system. We'll see how things develop in a few years.

In the US, for the most part, if you cancel your cable subscription and keep the internet it is so expensive that you might as well keep the cable subscription for the extra cost. When compared that way it's 'worth it'. I have to be honest though, every time I read one of these cut the cord articles it sounds like people have decided to go 'without' rather than really 'substitute'. And people that legally watch what they want to watch end up buying subscriptions to different sources that add up to as much if not more than cable subscriptions without the option of live tv or dvr. Sporting events for home teams is the real cord keeper for me, I suspect a lot of people are in the same boat.

this is totally my experience. I thought about it this summer and when i realized i'd only save about $20 or $25 i decided it wasn't worth the hassle, the loss of a dvr, the loss of live sports. I think that's a very good point about some people simply doing without rather than finding a substitute.

i'll have to look into that Sonos. But i currently use a 5 year old wdtv live (similar to Appletv) to stream my movies, tv, home videos, stored on two external drives (500gb & 1TB) that are connected to a laptop on my network. And then i got Cable cause i like sports, news, etc. But i live my wdtv cause, though old, it plays everything w/o transcoding. And i still have rips that are in AVI, a few isos. When i get a new computer that doesn't shut down when it get's super hot i'll convert the avis to mp4s so maybe i can then use a roku, or appletv. But now i got tons of mkvs so i'm stuck. Though not really in a bad way. Serves my needs for now.

I use a Roku 3. Far more content and functionality than an Apple TV. Amazon Video and Plex are musts for me and Amazon video is only available on Apple TV by air playing from an iOS device which works very poorly. It's pretty much unusable. You can use Plex on an Apple TV by hacking ip addresses but why should I do that? The Roku also has private non approved channels and an sd card slot. Roku streams miss and other format using Plex which is free. It's just no contest and I am a huge Apple fan. I doubt Apple TV will ever open up enough to compete with Roku for my $$$.

Yeah i'm currently observing all those devices. From my research the big issue with Plex is it has to transcode. But i haven't actually used it to see how well it works, especially if it hast to transcode a few of my 14gb hd movies. But i'd also rather not have to deal with that. I just want things to play. But i'm yeah roku has lots of apps. The big priority for me is the ability to play my own content. I have some old rips. And i want no hassle playing downloaded content which isn't always encoded well. I don't currently use netflix, hbo, hulu, I don't have amazon video so at the moment those are all farther down on priority list in a device. I did hear Google may release a box called "Nexus tv" with Chromecast support. That would be kinda cool from my perspective simply because i already uploaded over 17k songs to Google Play. it be cool to simply have access to them the same way appletv has access to itunes match content. But the devil is in the details like how smooth is the interface, how does it handle subtitles, dts, etc. Time will tell. Truth is Apple could make a killer Appletv product to destroy all products but i honestly don't think they want to. I think they don't want things complicated. But Roku is definitely in the running in the future especially for all the app options.

I find Sonos much more accessible now that my iTunes library is cloned to a NAS drive. I use an rsync script to keep my mac and NAS iTunes libraries in sync, and just point Sonos at the music folder within the networked copy of iTunes.
It's really useful to have access to my music library without having the computer switched on, and also acts as a handy second backup for my precious ripped CDs.

Literally made the leap to Sonos after I saw you got it on Twitter. I've been eyeing it for a while and couldn't resist anymore with all the deals happening. Started with the Playbar and I'm not turning back. The sound is superb and I'm wondering why I didn't jump sooner. Still get most of my TV through Directv but moving in a few months and trying to figure out the best cord cutting technique. Thanks for this article! Sent from the iMore App

Rather than needing to transcode videos and import them into iTunes, might I humbly suggest taking a look at Silver Screen? Silver Screen allows you to watch videos of nearly any format on your Apple TV. It runs on your Mac, and serves up a web app which you can access from any web browser (e.g. on your iOS or Android device) that provides access to your media library. Select your video and Silver Screen sends it to your Apple TV via AirPlay, transcoding on the fly if needed. You can download a free trial at SilverScreenApp.com.

At my house, I have the ATV (3rdgen) tied to the newly released Pioneer Speaker Bar w/ Subwoofer. I love it! I prefer to have my audio optical cable plug directly into the Pioneer system rather than to my HDTV. Why you ask? So if I want to listen to music, I don't have to turn the HDTV on. It gives me the option of either using my sound system with the HDTV or independent of the HDTV.

I've got a Sony BD//DVD/SACD player for music and movies, and Apple TV for MLB.TV and Hulu.

I just signed up for NimbleTv (http://nimbletv.com) and send it via Airplay to the AppleTV. It gives you live streaming TV for most of the major stations. It works well as long as you have a good connection. It is local New York stations and east coast time but I'm in San Diego and works fine for me.

Rene I need help!
I live in a senoirs complex (Nanaimo BC) and we want to have a "eastern new years party" 6-9 PM Pacific. I'd like to set-up my Samsung TV with my apple TV and control input with my iPad2 (newest iOS). We have to connect to a near network to get a connection as the clubhouse has none but I think we can do this. We have NetFlix but can we get a good New Years feed for the party? Will the resolution be bad on a 45" TV? Any info much appreciated. John Moore

I cut the cord about 2 years ago. I currently have an LG HDTV, an Apple TV, & a Roku, connected with an Airport Extreme router and a Motorola modem. I also have a Sonos system, but it isn't connected to the TV. I used to have a Netflix subscription, but let that expire. Now, I generally stream Hulu Plus and Amazon Prime videos, but also have an account on Vudu that I can stream directly thru the TV. I may not resubscribe to Amazon Prime video, and if I let that go, I would be able to remove the Roku from the system. Altho my MacBook Pro is not current enough to support AirPlay, I CAN play things from my iPad Mini thru the Apple TV with AirPlay. Thru my ISP, I now have a subscription to TV service again, because - evidently - I needed faster connection speed, and there was a deal on the internet/TV bundle that was cheaper than what I was paying for internet alone. (Do you think they want to drive people back to "the cord?" ;) ) At the moment, I can't quite wrap my head around what I would need to do to reconfigure the system to include the "cable box," so I'm considering leaving all of those parts in the box they arrived in and continuing to stream, as I was before. The reduced rate is worth it even if I only used the internet part of the bundle, right?

Good article and an interesting setup which is not too different from mine that I switched to mid-2013. I have an Apple Airport Extreme and Apple TV connected to a AV receiver and my TV; my active speakers are currently connected to the receiver, although I am contemplating the Sonos integration to minimise cabling for rear & sub speakers as well as a more flexible music-on-demand configuration. I also dropped cable TV in favour of Netflix via the Apple TV and love it; certainly don't miss the cable TV content (/adverts!) nor its pricing!

All I can say initially is no, no, no. Being a old home theater tech I have devised a way to have a complete whole home based system that completely runs off my mac that you could consider a complete cord cutting solution. This is how I achieved it and now have a $40 a month comcast bill and a $0 a month tv bill for the end of time. Step 1 buy a mac that you can install a esata card, thunderbolt or whatever to create a raid server. Attach a nice large raid array of your desired size and budget requirements and store a ton of media on it using plex media server to protect your media. Plex media center has a vast content library including channels as well as media sharing called myplex between friends and family. Also install plexconnect on your mac to serve as many apple tv's as you desire in your home. Do yourself a favor and hardwire your mac don't use wifi since it's going to be a server. You also don't need mac server edition basic mac OSX will work just fine. Step 2 install a centralized stereo amplifier that has a zone 2 capability that you can hook a aebs (AirPort Extreme base station) that is also hooked to your modem. Also have a Logitech link near the amp for control purposes from any ios device. This will run your entire home and if you need expansion buy multiple airport express's and an auto sensing amp to split to your whole home audio speakers if needed. Step 3 install a Apple TV at each desired tv location and install plexconnect on it to access you plex media server. If desired use a Logitech link at each tv location. Step 4 install Logitech link on your ios devices so you can control any of your Logitech links within in turn controls your appletv or any other av/lighting/etc equipment at each tv location which can be split into a it splitter to run as many devices as you desire anywhere by simply splicing cat5 and ir emitters (just cut the ir cord and use 3m scotch lock gel splices to extend the ir to nearly any length you desire). Step 5 optional install a radio thermostat in place of your old hvac thermostat and install the app on your ios devices (the app is free) to control your hvac at home or anywhere you have internet and save money by setting temperature schedules. Any questions? Don't use netflix, don't use hulu, don't pay for these overpriced commercial filled worthless internet based services. The content does not compare to plex media server.

Great article. Any thoughts on whether the Apple TV will support streaming to multiple Airplay speakers. I have the Pioneer A4 speakers in my house but can only stream to one of them at a time which isn't idea. I discovered a great app from Whaale that lets my iOS device stream to multiple speakers and stream different songs to different rooms, which provides great flexibility but the Apple TV limitation is killing me.
Thank you for signing up to iMore. You will receive a verification email shortly.
There was a problem. Please refresh the page and try again.