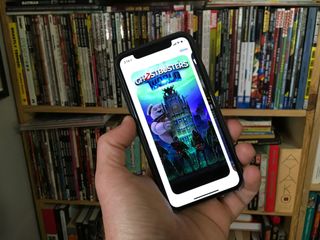 Apple's ARKit, in combination with Google's ARCore, is positioned to create a new category of games that allow us to interact with the real world in a fantasy way. Ghostbusters World is one of a handful of games that takes advantage of both companies' augmented reality (AR) technology to let us experience what it might be like to be a real Ghostbuster (without all of the — you know — slime). Here's everything you need to know about Ghostbusters World.
What's new with Ghostbusters World?
October 15, 2018: Pre-order Ghostbusters World now!
There is great news for those of you who are just itching to get started busting ghosts! The game may not come out until October 22nd but you can get ready now. Pre-orders for Ghostbusters World are now available in the App store. Head on over to save yourself a space in the queue to dive right into Ghostbusters World the moment it comes out!
What is Ghostbusters World?
Ghostbusters World is an AR-based game for mobile devices. Players take on the role of a Ghostbuster and head out into the real world to catch these apparitions before they wreak havoc in our neighborhoods.
It uses Apple's ARKit and Google's ARCore to bring the world of Ghostbusters to you. The streets outside your home become the environment in which you track down and capture unwanted specters.
We don't know a whole lot about how the game works, but from recently revealed pre-alpha gameplay footage, it looks like players will use their mobile device to view the world and see ghosts out and about. We'll have to fight off attacking ghosts while attempting to trap them in our proton streams. With a well-timed throw of the ghost trap, we'll be able to capture them and store them, just like a real Ghostbuster.
You said 'ARCore' — does that mean I have to use Google Maps?
Nope. ARCore is Google's API for sharing some of its wealth of mapping data with developers. Game makers can use this information to create immersive environments based on the real world. It makes it possible to set up virtual buildings or spots where things like ghosts will appear without worrying about whether it will happen inside someone's private residence or out in the middle of the ocean.
It's not unlike what Niantic has done for Pokémon GO, which also uses Google's mapping technology, although the company spent many years getting to where it is today. In fact, there's a chance that the tech that Niantic developed with Pokémon GO is very similar to what ARCore uses now.
So it's like Pokémon GO?
Yes and no. From what I can tell, Ghostbusters World does take some concepts from the game style of Pokémon GO. You go outside into the real world and find creatures, in this case ghosts, and capture them. There is also a virtual mapping system that looks similar to the one in Pokémon GO, which shows nearby ghosts, as well as what looks like possible ghost containment units (?).
That's about the only thing we know is similar to Pokémon GO. Whether there will be something similar to PokéStops or gym battles is still unknown. We don't even know whether the game will be free to download or an up-front cost (though it's likely to be free to download since it's supporting marketing for the Ghostbusters franchise).
We also know that there is a lot more to capturing a ghost than simply throwing out a trap. From newly released pre-alpha gameplay footage, players will have to battle the ghost to bring it's health down to below 50% before a trap will work. Monster battling is something Niantic chose not to include with its Pokémon title. So that's a major difference between the two.
When does it come out?
The game's three collaborators, 4:33 Inc., Sony Pictures, and Ghost Corps, have only noted that the game is due out in 2018. Other recently announced ARCore-based games are set to hit this spring, so we're hoping it'll only be a few more months.
How much does it cost?
At this time, we don't know whether Ghostbusters World will have an up-front cost or be free to download with optional in-app purchases.
How do I play it?
We'll have to get back to you on this one. We'll have more details once we get our hands on the game. In the meantime, here's the latest gameplay footage from the pre-alpha version.
Get more iMore in your inbox!
Our news, reviews, opinions, and easy to follow guides can turn any iPhone owner into an Apple aficionado