The Apple Store experience, good and bad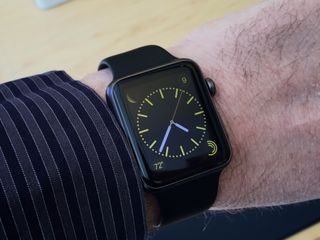 My weekend job is working at a local independent Apple reseller. For the past week or two we've had a steady trickle of customers who have come in looking for the Apple Watch. We have to tell them we don't have it — the only places where you can find the watch right now are Apple retail stores and a few select high-end boutiques.
What's interesting to me is their reason for wanting to come to us: They don't want to go to an Apple Store. They've been there, either for a Genius Bar appointment or to buy something. And they're not anxious to go back.
Apple runs the most profitable retail business in the United States. For 2014, their sales per square foot were higher than luxury brands like jeweler Tiffany & Co. and designer boutique Michael Kors. Not just by a little, either: Tiffany, which is in second place, eked out barely 65 percent of what Apple manages to move per square foot - almost $4,800 per square foot, according to a March report.
Apple is very picky about where it puts its stores. Many customers have to plan trips to the stores because they're not nearby. My closest Apple retail store is almost an hour away, for example — which explains why the customers in my local store try to avoid it, too. When you finally get to an Apple Store, they're too often overcrowded. Showing up at most stores for Genius Bar help without making an appointment is fruitless and frustrating. Even with an appointment, they often run later than your scheduled appointment time. Stockholders and analysts can't argue about Apple's retail profitability. Traumatized customers are a different story.
That's why I said last week that the new Apple Watch experience has been such a welcome change. It was a pleasure to be able to walk in to an Apple Store and not have to deal with people crowding around tables to gawk at the new device.
It was delightful to have unmolested one-on-one time with the product and the full attention of an Apple Store employee who was there only to help me. It was a level of personal connection to the product and the store that I haven't had in an Apple Store in many, many years. I also anticipate this experience changing before too long.
In an email to employees last week, Apple's retail chief Angela Ahrendts noted that this new process isn't a permanent change for Apple Stores. She called the Apple Watch rollout "a completely new approach" to launching a new product.
I have little doubt that Apple is using scarcity as a tactic to drive interest in the Apple Watch, because it's an entirely new product segment. That's smart business: Smartwatches haven't exactly sold in volumes that would make Apple think they could sustain indefinite high-volume sales from day one.
What's more, analysts have wildly disparate predictions about what sort of sales Apple will announce after the watch starts shipping, which tells you that the rest of the industry doesn't really have a clear idea, either.
I also think trying that same strategy with the MacBook is foolish. I hope that particular bottleneck resolves itself a lot faster than the Apple Watch.
Apple, we know what a laptop is and how it works. The Force Touch trackpad and the new keyboard are cool. The razor-thin architecture and iPhone-matching color give it an elegant panache, but the MacBook is still just a MacBook.
MacBook though it may be, it also poses some unique engineering and production challenges for Apple and its manufacturing partners that's taking time to sort out. So I don't believe the issue with the MacBook is forced scarcity as much as simple production issues. Hopefully we won't have to wait until June to see them available in quantity.
Get the best of iMore in in your inbox, every day!
Forced scarcity. Very well put.

Which the author believes to Not be the case.

The adapters being backordered 4 to 6 weeks are a huge problem for some who have their MacBooks now. I really like my space grey MB, I knew going in that I would use the adapter so having one port wasn't a big deal, for me. Now thanks to someone's decision at Apple I'm considering returning mine because I can't connect it to my work monitor. Hope they are enjoying hanging out in Milan with the special people, foolish indeed,

Milan: Because the primary responsibility of the head of sales and design is not production or fulfillment. Geez.

Since you apparently have written the job descriptions for upper management, any other details you would like to share? Keeping customers happy is probably in there. Geez

You can find 3rd party USB-c adaptors. Google has them, and I believe a third company but the name escapes me. "I'm da Blur boys!" - Me with 1200 ping. Fiber in Nashville? Save me based Google.

Yeah Google makes a single input adapter but I haven't found a multiple input so I can charge at the same time.

Hi sectime. I've not 'looked' yet but Monoprice is where my wires are purchased. Found them during the early HDMI days (6' @ $4.50!) and I haven't shopped anywhere other since. They've got USB 3/3.3 type A, B, C....the lost goes on. Not sure if the HDMI + Apple Power + standard USB 3 breakout is there yet but it'll be there. Sooner than later;). Self explanatory. iMore has deals too. Keep your eyes on this site down the road. Good luck (I'm grabbing my wife one too)

The only issue I ever have with the Apple Store (two around where I live) is with the store being crowded. And for some reason, when people are in a crowded area, they lose their common sense.

Speaking of scarcity, my Apple Watch order got its estimated delivery date today, and it's the 8th May! When I order it I went for the sport band because it said it would be delivered on the 24th April. I understand estimates and so forth but even so, I'm going to feel cheated if it doesn't turn up on Friday.
Has anyone else's date 'slipped'?

Most people I talk to are getting early to mid June for delivery even after ordering literally within the first few minutes. What I find especially puzzling is that I ordered extra bands about a minute later, and they are not only without a delivery date, they are without an estimated ship date. I don't see any reason why Apple would not have manufactured a warehouse full of those white and black Sport bands, which are easily the most popular bands and will ship with almost every watch. To order a plain white rubber band (literally the most popular one) on April 10, and be told that by "late May" it "may" be ready to ship, is just really, really bad service. There is not way to spin it otherwise IMO. Shipping usually takes four weeks itself. This is a two and half month wait, for a simple rubber band that is the most popular they make, and ordered at literally the first available minute. But ... the Apple Watch launch is apparently *not* a failure, and this is somehow *not* unexpected or a big deal according to the press. :roll eyes:

I got my order it maybe a minute after the pre-orders opened and l originally wanted the link bracelet and the black sport band. If I ordered the watch with the link bracelet the estimate was May sometime but if I ordered it with the sport band it was the 24th April. Okay, whatever, so I ordered the link bracelet as a separate order. Now, I get a delivery estimate of 18 days for the watch and 11 days for the bracelet!
I hope, for all of us, these estimates firm-up as we get closer to / past Friday, the initial rush is over and they know what they have in stock.

What do you mean by "forced scarcity"? Are you suggesting that Apple really could have made a lot more of these first-gen devices, but just chose not to? Or do you believe that there are crates of these things just sitting around, but are bing held back so the preorder dates can be artificially extended? I can understand your frustration from what seems to be a poorly communicated roll out, and poor expectation management. But I did not expect this "forced scarcity" trope from iMore. I believe they are selling everyone they can make, and making every one they can sell. They wanted to have walk-in stock for a huge launch. Demand seems to suggest they could have sold twice as many, and still had a backlog. If you have s source for your "forced scarcity" hypothesis, please share.

I am in total agreement with this post. To read Peter Cohen's conspiracy theory is just sad. The idea that Apple either chose to limit production of the watch knowing it could sell more or that it has crates of the things secreted away in a warehouse so they can say, "Ha, ha, ha, you can't have one, we're sold out" is beyond the pale. My theory is that people like Mr. Cohen simply cannot accept the fact that the watch is going to be a massive hit. The idea of a smartwatch is anathema to them. How many times have we been beaten over the head with the "nobody wears watches anymore" meme. We've told that the younger generation will reject it out of hand. We've been told that it is too expensive. Then there's the fact that the competition products have utterly failed to ignite the market much like previous tablets, smartphones, MP3 players and the like. As for the whining about store locations it's a simple fact of life. We're never going to see an Apple store on every corner like Starbucks. Some of us will just be lucky. I live near St. Louis, Missouri and have TWO Apple stores within thirty minutes of my home.

I think Peter is just on the wrong side of Boston. ;) I am in southern NH. I have 3 Apple Stores within 30 minutes or less (all the NH stores) and if I want to drive an hour? Likely add about 5 more. I have 12 less than 50 miles from me. All that said? I love going to the Apple Store - but only if I get there before the mall opens. Ours all seem to open an hour before the mall. And as I am not buying an iPhone, I can skip the queue of "regulars" that I always see at my closest store. Sent from the iMore App

I don't believe this is a marketing illusion. Many companies do this "forced scarcity", but not with the Apple Watch. Apple have proven for years that they are masters of scale. Their ability to keep low inventories world wide and still meet most demand is just part of their economic genius. Before their last reported quarter began, they were ready, but not making estimates, to match 74M iPhones of whatever mix. With the Watch they can't simply manufacture for initial demand, they have to remain as efficient as they ever have, not sure of a 1st gen's popularity nor how frequent consumers will participate in further Watch generations. They're going to need a few quarters to figure this out.

What is amazing to me is that we all wonder, with every new product rollout, at Apple's initial supply and demand differential… This is typical Apple roll out, why they do it? Who knows.

This time, fairly sure it's intentional.. but I don't think it's some scheme of diabolical proportions.. Simply put, they had no clue as to what would be 'most popular'.. They would have an idea, but when you've 8 choices of sport band, even more of the standard watch.. then you have to guess of which sport and standard people would want.. Then, on top of that .. no one has made a Smartwatch really work.. hell, Android only sold 700-800k in one year.. So how many of what do you prefabricate? lol.. they were hedging their bets and didn't make a lot because they simply did not know what demand would be, much less where that demand would fall in the product line.

Another way to put it: Occam's razor - They didn't know how many of what to build, so they let the pre-orders tell them.. and surprise! it was a lot of everything.. lol

Agreed. The theory of postponed fulfillment is well known. Instead of flooding the sales channel with every possible variant and having too much and too little of the slow and popular sellers respectively, a smart company builds a small stock, but mostly takes pre-orders and does a BTO to make sure capacity is directed exactly in what the customers want. This cuts costs, increases profits, and eliminates the cost associated with sales to adjust channel inventory.

I agree, but I would argue that the *perception* they gave everyone with that "buy it on the 4th, get it on the 24th" stuff was the exact opposite of what was actually going on. The rather regular *deception* that Apple engages in lately is both new, and to me, disturbing. It's easy to comment that this is just the way capitalism works or whatever, but capitalism actually sucks and Apple typically did things differently. It's disappointing to see them hide behind the same old tricks that every other company does now.

"What is amazing to me is that we all wonder, with every new product rollout, at Apple's initial supply and demand differential." You, Sir, are so correct. It has almost become comical.

Only a fool capacities for the full demand that occurs at launch, to go so guarantees that later in the life cycle there will be mucho excess unused capacity. If you listen to the earnings calls with Apple they talk quite openly about time to reach supply-demand balance.

True, but one could easily argue that with the Apple Watch, that time period will likely be very long, and also much longer than any other product in recent memory. They still kind of f*cked up on this launch in particular, and they still can be accused of purposely telegraphing the exact wrong message to the public about availability. Apple is getting a very "cushioned" ride from the press over this launch when in fact there is a lot to criticize about it.

The genius bar experience is always bad. They treat their products as though they were human. I understand the concept and reason for making an appointment, but only if you are expecting service on the spot. What about if my laptop has a problem, and I just want to drop it off for Apple to fix it on their own time and I can pick it up a week later. JUST LET ME DROP IT OFF WITHOUT AN APPOINTMENT!!! This scenario happened to me recently. I had some minor issues with my macbook that they told me would take 3 to 5 days to fix. I can't leave my macbook with them for that long because I need it for work. I had a vacation planned, so I thought it would be a good time to drop it off and pick it up when I came back from vacation. 4 days before my vacation, I tried to make an appointment, but there were no available slots for the next 5 days. That is outrageous. I wasn't asking them to fix it on the spot. All I wanted to do was to drop it off.

I rarely go to my local Apple Store (right down the street, walking distance) because it's just not a pleasant experience. I used to go there to grab a cable or a drive, or what have you, just on a whim. Now it's just not worth the hassle. Even the watch try-on appointment was messy. Got there five minutes early, still had to wait 20. When they got to me, it felt rushed. There is something disconnected about shopping there now. I think losing Ron Johnson was a mistake.

This is basically my experience too. I think especially outside of the USA, they often build Apple stores in very small, mall-based locations that are simply too tiny for the sales. Then when they realise they need to expand, they add extra *stores,* instead of making the one big one downtown, bigger. The net effect is lots of little stores (my city has a half dozen or so), all very crowded, and each one hard to get to.

The apple devices my family and i have are ipads and iphones. Any time i have gone to the apple store ( 3 different locations in my area) i have found their service to be among the best of any retailer or service center i have dealt with. Shop somewhere else and let reality slap you in the face.

I have always had a great experience at the store. I always prefer to go there if I can. My son who is 5 runs to the back to play with the iPads and lets me do what I need to do. When I set my appointment for the watch it went smoothly and was able to start my time before the schedule time frame. I do hope the allow the watch to be sold in stores quickly because I dont want to have to order my wife one and wait.

Apple service and sales ATTENTION are the best of any sales/service store i have ever gone to . And the Genius Bar will take the time to work my problem till it is fixed. I may have to wait a bit after my appointed time, but, since i know they will work on the previous customer with the same conscientious work habits, i am more than willing to respect theirs. I guess I'm more patient than some contributors, I'm old too.

In regards the Apple Watch and forced scarcity, several analysts are now saying what I have been saying all along (and been shouted at for my trouble), which is that they are basically "building to order" with Apple Watch. The whole "order on the 4th get it on the 24th" was pretty much BS all along, and each and every order is actually being made for you *after* you order it. They never intended to build any stock ahead of time so supply wasn't just "limited," it more or less didn't exist in the first place. So much for "supply chain magic."

You ended up being wrong. When my order was placed on the 24th it had a ship date of June. I just got it yesterday because Apple decided to use the stock they made for retail sales for preorders.

The Apple Store, every time I go in, is the worst retail experience I have ever had. Typically, I am sent to at least 5 employees just trying to find someone capable of handling the daunting task of taking payment for the items I want to by. I've tried paying online and going through the in-store pick up process, only to be sent to a number of different people and then left to wait for nearly 30 minutes before someone could hand me the things I had already payed for. If it seemed like anyone at that store cared, even just a little, it wouldn't be nearly as frustrating. But no, they sit on their Apple thrones and scowl down at us lowly customers.

Scarcity by dint of the Apple Watch being manufactured in a just-in-time manner. One might call that "forced scarcity", but it's really just good inventory control.
Thank you for signing up to iMore. You will receive a verification email shortly.
There was a problem. Please refresh the page and try again.