Google updates Google Sync for iOS devices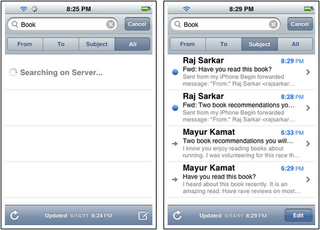 Google has updated Google Sync for iOS devices, a service that lets iPhone, iPad and iPod touch users sync with Google's Gmail, Calendar and Contacts via Microsoft's ActiveSync protocol.
Google Sync keeps your phone's native mail and calendar apps in sync with your Gmail, Calendar and Contacts. Today, three new updates to Google Sync for iOS will allow you to:
Search all your emails in Gmail, not just the emails stored locally by the iOS mail app.
Accept, decline or edit calendar events from the iOS calendar app.
Send email from the address you want. We recognize that some of you manage multiple email addresses from a single Gmail account.Gmail's "Send Mail as" feature lets you send messages with another email address listed as the sender instead of your Gmail address, e.g. joe@altostrat.com instead of joe@gmail.com. Now the iOS mail app will respect these settings.
All of these are welcomed additions to Google Sync, specifically the ability to search all mail in Gmail instead of just what's stored on the device -- right from the native Mail app in iOS.
Let us know how these new features are working for you in the comments!
[Google Blog via Phonescoop]
Get the best of iMore in in your inbox, every day!
Andrew Wray is a Salt Lake City, Utah based writer who focuses on news, how-tos, and jailbreak. Andrew also enjoys running, spending time with his daughter, and jamming out on his guitar. He works in a management position for Unisys Technical Services, a subsidiary of Unisys Corporation.
Was this the first update ever??

Brian,http://www.google.com/support/mobile/bin/answer.py?answer=138740&topic=1...

I have been using Google Sync for my iPhone since they released it. It works great. Does anyone know how I can access or enable these new features?

Is Google Sync enabled by adding a Gmail account as an Exchange account or by adding it as a Gmail account? I am not getting the results described above with Gmail configured as Exchange and the Gmail account add option does not show anything about contacts. I am so confused!!!

Brian,http://www.google.com/support/mobile/bin/answer.py?answer=138740&topic=1...

So far from what I have seen, searching on the server for results seems to really mess with your unread messages count on the mail icon. I went from less than a dozen unread messages on the notification to over 60 just by looking for messages from a specific sender.
Also hoping this doesn't keep the messages downloaded permanently.

I too just had this problem. How did you get rid of them?

Same thing happened to me. I reset the phone and the message count went back to normal. Obviously a bug that needs to be fixed.

I was looking at the setup for Google Sync and I do not have the Mail, Contacts, Calendars option within my settings.
Any thoughts on this?

I think it was because Poof was hiding my Mail icon. After unhiding it and respring'ing, I got the setting back.

If I already have Gmail set up via Exchange on my phone, do I have to delete the account and then set it up again to get these features?
Thanks in advance.

No you don't have to set it up new. I did it because I thought then it will get enabled. But now I know how it works. Just go on m.google.com/sync select your device and then enable the "send mail as" feature. Done!

At first it didn't work. I set up exchange with the gmail account completely new on my iOS devices but the emails still got send out via the gmail address. Now I found out how it works. You have to enable the "send mail as" feature for your device under m.google.com/sync and then it works.

Has Google made it so you can DELETE an email or is the only option to Archive it still?

Hello there, You've performed an incredible job. I will certainly digg it and in my view recommend to my friends. I'm confident they will be benefited from this website.
Thank you for signing up to iMore. You will receive a verification email shortly.
There was a problem. Please refresh the page and try again.