Why I'm holding out hope for a smaller-sized Apple Watch X
Opinion: One size does not fit all.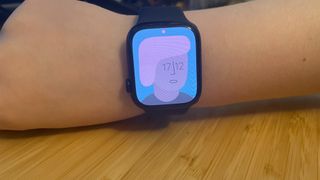 (Image credit: Future / Apple / James Bentley)
My first Apple Watch was the Apple Watch Series 7. I saved up and bought it for myself around my birthday in May 2022 and picked the biggest possible size I could: 44mm. Apart from a few scratches, I haven't had a single problem with it.
In public, I want to talk about my Apple Watch. I look for the chance to recommend one, to those who love Apple and have a little spare cash. Unfortunately, the limited range of sizes the wearable offers, makes it a very tough sell and it looks like they're only getting bigger with time, such as the debut of the 49mm Apple Watch Ultra in 2022.
The small watch face available for the Series 6, at 40mm, is now obsolete, with the smallest Apple Watch Series 8 face being a more hefty 41mm for some. The bezels get smaller every year, roughly making up for the raw size but, for someone like my partner, that screen is just too big.
With rumors that an Apple Watch X is debuting in 2024 or 2025 as an anniversary release, much like the iPhone X in 2017, I'd love to see a smaller size debut.
Bigger isn't always better
Going back to the early days of Apple's wearable, the Series 3 was available in 38 mm and 42mm. Though this might not seem like a big deal, the 6mm difference between my watch and the smaller Series 3 makes it just under 16% percent bigger.
From here, the Apple Watch Ultra is a whopping 49mm and the comparatively cheaper SE line starts at 40mm and goes up to 44mm. Unfortunately, this means that my partner's dainty wrists are locked out of Apple's most premium devices. It's not only the size of the frame, but the display is almost intimidatingly big on their wrist.
Though one could say the same about the huge size of the 6.7-inch iPhone 14 Pro Max, you can change the way you hold and use this phone - but this same luxury is not afforded to a watch in motion. When it moves while you're on a run, for instance, that extra size can chafe off the side of your hand.
This leads me to ask: "What else is out there?" Luckily, there's quite a lot. The Garmin Lily's selling point is how small and light it is. It's a very pretty watch with some useful smart health and calendar tracing features, such as sleep tracking through its Garmin Connect app. And while it's compatible with your new iPhone, you can only get text and email alerts through Android devices.
The smaller competition
Though a very different type of watch, the Fitbit Charge 5 is a smartwatch almost solely focused on your health. If you want something to track your heart rate, tell you the time, and track exercise, this does it all while looking nice. Unfortunately, it doesn't have all those great features of the Apple Watch, such as the ability to respond to messages and check notifications.
Ultimately, researching other watches led me to the conclusion that a smaller Apple Watch is all I'm looking for. Though every other smartwatch has a unique selling point, the Apple Watch is the device that would complement my partner's lifestyle the most.
Leaving their iPhone on silent mode all the time, while being able to ping it from a distance would save hours of searching for it. So would its impressive set of responses and reactions to notifications in real-time like pre-made responses and even audio recordings.
With there being so many different iPhone models to choose from, I can't help but wonder why the Apple Watch hasn't taken inspiration from its iPad line with a Watch Mini or even the iPods with an Apple Watch nano.
If you take a look at a certain model on the Apple Store, you'll have to decide which model works best for you, even if some may be missing some features from other models. The iPad Air is missing FaceID, the iPhone 15 will have a worse quality camera than the iPhone 15 Pro. For the next line of Apple Watch SE to be smaller and cheaper, an understandable cutback could be made.
Though it would be great to see a new line with smaller sizes, this doesn't feel absolutely necessary for Apple. If you buy the Series 8 Watch, you do get some extra size choices but Apple could offer a little more. If the Apple Watch Series 9 or the rumored X model offered me a smaller-sized option, it could give me and many others a better fit on our wrists, both in style and comfort.
Master your iPhone in minutes
iMore offers spot-on advice and guidance from our team of experts, with decades of Apple device experience to lean on. Learn more with iMore!
James is a staff writer and general Jack of all trades at iMore. With news, features, reviews, and guides under his belt, he has always liked Apple for its unique branding and distinctive style. Originally buying a Macbook for music and video production, he has since gone on to join the Apple ecosystem with as many devices as he can fit on his person.
With a degree in Law and Media and being a little too young to move onto the next step of his law career, James started writing from his bedroom about games, movies, tech, and anything else he could think of. Within months, this turned into a fully-fledged career as a freelance journalist. Before joining iMore, he was a staff writer at Gfinity and saw himself published at sites like TechRadar, NME, and Eurogamer.
As his extensive portfolio implies, James was predominantly a games journalist before joining iMore and brings with him a unique perspective on Apple itself. When not working, he is trying to catch up with the movies and albums of the year, as well as finally finishing the Yakuza series. If you like Midwest emo music or pretentious indie games that will make you cry, he'll talk your ear off.