Hearthstone's single-player Curse of Naxxramas update is now live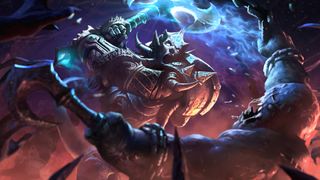 The insanely popular free-to-play card game, Hearthstone, has launched their first expansion today called the Curse of Naxxramas. Themed after the floating Necropolis of Warcraft lore, Curse of Naxxramas will have five wings, each unlocked separately every week for the following month.
Instead of the usual online players versus player battles, Curse of Naxxramas will challenge single players to defeat scores of undead and other grisly abominations for the chance to win one of 30 new, exclusive, legendary cards. Beat it, and you can have another go in the considerably tougher Heroic mode of the wing. In addition to the 15 bosses and their heroic counterparts, there are 9 class challenges available.
The first section, The Arachnid Quarter, will be available for free through the whole first month and will stay unlocked for anybody that gives it a try during the launch period. The subsequent wings (Plague Quarter, Military Quarter, Construct Quarter, and Frostwyrm Lair) will cost 700 gold each to unlock, or a quick $6.99 in-app purchase. You can grab all five for $24.99, or $19.99 if you manage to snag the Arachnid Quarter first.
For those unfamiliar, Hearthstone is a turn-based fantasy card game where players build decks based on their favorite World of Warcraft classes, such as Hunter, Warlock, Paladin, and Mage. Players earn gold coins for completing daily challenges, which can be spent on booster packs with additional cards. Duplicate or unwanted cards can be disenchanted into dust, which can then be used to craft specific cards. Multiple game types appeal to just about every challenge level. Hit up our Hearthstone review for a deep dive.
I'm pretty excited for a strong single-player mode, though there will still be an online requirement to play them. Blizzard is framing Naxxramas as a distinct new game type with its own menu item, so it's safe to assume more will be on the way. Anyone Hearthstone players out there? How high up the ranks have you climbed?
Get the best of iMore in in your inbox, every day!
Editor-at-very-large at Mobile Nations, gamer, giant.
Just be prepared for it to be laggy. Blizzard is/was having some issues.
Thank you for signing up to iMore. You will receive a verification email shortly.
There was a problem. Please refresh the page and try again.