Hello Neighbor: Hide and Seek for Nintendo Switch: Everything you need to know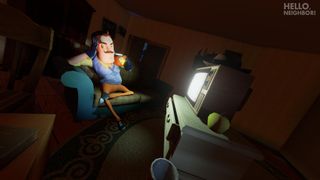 "Get off my lawn!" That's the classic outburst of irritated neighbors everywhere. Most neighborhoods aren't all that exciting, what with actual friendly people living around, and all. But things will be different in Hello Neighbor: Hide and Seek. What is this game, exactly? No, seriously, get off my lawn and I'll tell you.
What is Hello Neighbor: Hide and Seek?
Neighborly encounters happen on a wide-ranging scale just like anything in life. You've got some neighbors who have no idea you even exist. Some will smile and say hi on their way to work in the morning. Some like to build fences on your highly-contested property line. And others make you want to commit mildly violent acts of frustration.
In Hello Neighbor: Hide and Seek, things take a turn for the weird, creepy, and downright horrifying: this game is all about breaking into their house and seeing what sort of secrets you can find, and one of those secrets is something straight out of the idea book of a Saw writer.
The original Hello Neighbor launched for nearly every platform imaginable, including Nintendo Switch, PlayStation 4, Xbox One, PC, smartphones, and tablets. Made by Borderlands developer Gearbox, it's the exact sort of weird humor you'd expect from the edgy company. This prequel, then, aims to deliver more of the same.
What's the story so far?
As wacky as it looks, there's actually a pretty intriguing plot behind Hello Neighbor. In the original, a young boy is playing in the neighborhood when he hears a loud scream from his neighbor's house. Curious as ever, he gets a closer look to see what's going on, and it appears The Neighbor — that's his actual name in the game, by the way — may be locking someone or something in his basement.
Somehow, the boy got into The Neighbor's house and took a look inside the basement for himself only to find a dungeon, only no one was down there. Well, at least no one was until he himself got captured by The Neighbor and placed there.
The boy eventually managed to escape… or so he thought. He had been living as a man on his own for a while, but after getting evicted from his apartment he decided to go back and live at home, where the neighbor's house sits in ruin.
But that night upon falling asleep, he is awakened by a scream, not unlike the one he heard as a boy. This time when he went to check the house, it was back, and bigger, and more mysterious than ever, with a whole new weird and scary set of circumstances to battle and experience.
It's never confirmed, but it's believed that the boy is actually reliving his own horror throughout this game. He was the one who was kidnapped, and this game is like living in the nightmares he still has about it to this day.
As for Hello Neighbor: Hide and Seek, the game is officially billed as a prequel. While there aren't many details on the plot point just yet, it's likely we'll learn more about The Neighbor's history, which supposedly includes a family that was no longer around by the time the original game took place.
The cover for the game shows two children playing inside a room with The Neighbor watching over them. Looking closely, you can see that they're playing with a doll that they've squirted ketchup all over as if the doll is bleeding from its head.
This could be a nod to themes of domestic violence, which may be a clue as to what happened to The Neighbor's family. Other theories suggest the mother died in a car crash which led to one of the children reacting to that ordeal in a negative manner. The official descriptions for the game also suggest as much with the expectation that you'll be playing as the neighbor's daughter and witnessing how the two children deal with the loss of a family member.
What do you do in this game?
In terms of gameplay, Hello Neighbor has a mix of stealth and puzzle elements throughout. The chief goal is to hide and make sure you're not caught by the neighbor, which would result in you getting taken back to the dungeon, or worse.
You'll have items you can find that'll help you stay hidden and access different areas of the house. You'll also have to complete puzzles which are inspired by the death traps that have become so prevalent in today's horror films.
Hello Neighbor's big gameplay gimmick is its adaptive AI. This feature monitors how you play the game and may change your experience to try and trip you up. If there's a certain door you often find yourself going through, a trap may be set there to prevent your preferred approach in the future. If you attempt to escape a lot, the neighbor will become more aware and take shortcuts to catch you. As such, the game is meant to be played more than once, as each playthrough is supposed to offer different challenges as The Neighbor gets smarter.
Whereas the original game largely took place in two different versions of the same house, Hello Neighbor: Hide and Seek is boasting as many as 5 fantasy worlds. It seems inevitable that at least one of those worlds will be back inside The Neighbor's house, but perhaps a version of it that's actually normal and devoid of scary horror dungeons in the basement.
Is this game meant for children?
While Hello Neighbor: Hide and Seek appears to be a friendly game of Hide and Seek on the surface, the game is not suitable for children. In fact, it has a Teen rating by the ESRB.
The original game had a rating of Everyone 10+ for its mild violence, so expect Hide and Seek to feature more mature themes that may be unsuitable for younger children. As mentioned previously, the themes present in both this game and the original are inspired by horror films, as well as uncomfortable topics such as death and grief, and potentially more.
Is there multiplayer?
Nope. Hello Neighbor is an entirely single-player experience, so there's no need for a Switch Online subscription and you'll only need your one set of Joy-Cons to enjoy this one.
When can you play it?
Hello Neighbor is set to arrive December 7, 2018. You'll be able to play it on Nintendo Switch, Xbox One, PlayStation 4, and PC. Those with a gaming PC can try the alpha version out right now by heading to the Hello Neighbor website.
$35 at Amazon (opens in new tab)
Get the best of iMore in in your inbox, every day!
Thank you for signing up to iMore. You will receive a verification email shortly.
There was a problem. Please refresh the page and try again.